Sweat is a fitness app geared towards helping women achieve the figure they want by offering intensive workout programs, a meal plan, and a supportive community. Created by one of the world's most recognized female fitness trainers, this app has a lot to offer, but it is also one of the more pricey options out there.
If you want to know whether the Sweat app is right for you, you're in the right place. In this sweat app review, we take you through the ins and outs of what you can expect, making it less challenging to see whether this is the app for you. So, let's dive in!
About The App
If you've looked into the fitness world on YouTube or Instagram, chances are you've encountered the name Kayla Itsines. This Adelaide-based fitness trainer grew a name for herself through her Bikini Body Guides and, in 2015, expanded by launching her app Sweat by Kayla.
The app, designed to offer women a selection of workouts and a community that provides support throughout their journey, has skyrocketed to success. With over 30 million downloads and over a million monthly active users, Sweat proves its effectiveness through its popularity.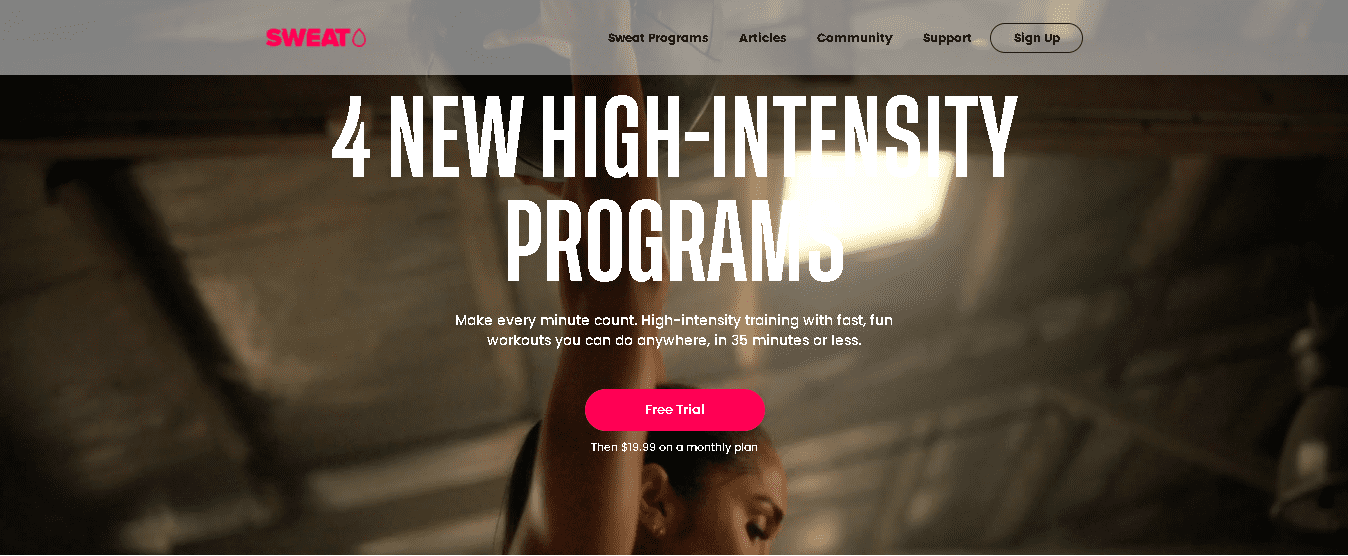 The Subscription
Before we look closer at the app itself, we need first to address the subscription cost. Unfortunately, Sweat is considered to have one of the higher subscription fees. While this is no issue for some, those of us on a slightly more restrictive budget may find this a deterrent and give the app a pass altogether. While many apps offer similar features such as meal plans and workout programs at little to no cost, few are as comprehensive, nor do they offer the community that Sweat provides.
What does a Sweat subscription cost?
A monthly subscription costs $19.99
An annual plan comes in at $119.96 (equating to $9.99 a month, making this the more cost-effective option.)
For those interested but aren't too sure they want to spend that kind of money on the app, there is the 7-day free trial. However, you will need to input your credit card details to sign up for this trial. Considering this, it is best to make sure you unsubscribe before the seven days are up to prevent being charged should you decide this isn't the app for you.
So, is the Sweat app worth this higher asking price? Let's find out.
Signing Up
If you've decided to give the app a try, then you'll want to download it from the Apple App Store or the Google Play Store, depending on your device.
When you open the app for the first time, you are offered two options you can sign in using your Facebook credentials or create a new account.
One thing to note about Sweat is that the app does not provide fully-customized programs. However, it does offer workouts and meal plans that are in line with your fitness goals and will help you achieve your goals. To better understand what you want to get out of the app, it presents you with a series of questions after your initial sign-in. These include:
How would you like to train? (Follow a Sweat program or choose your own workouts)
What are your fitness goals?
Here you can select three options from a list, with your first choice being your main goal. Some of the options here include Lose Weight, Get Stronger, Get Flexible, and Build Muscle.
What is your fitness level?
Where would you like to train? (Gym or Home)
How would you like to train? (With or without equipment)
Which training style interests you?
This last question allows you to select more than one and offers options such as Yoga, Pilates, Barre, HIIT, Strength, and Cardio.
It is essential to mention that answering these questions accurately is a must if you want to achieve specific results and get the most out of the app. Once you're done answering the questions, the app does its calculations and opens onto the default page, the Workouts tab.
The Workouts Tab
The "Workouts" page features two sub-tabs that you will find near the top of the page. These are labeled "My Program" and "On Demand."
Tapping on "My Program" will take you directly to the workouts suggested for you. This detailed program makes life more straightforward in that it negates the need to find a gym, a personal trainer, or a series of exercises that make achieving your fitness goals a possibility.
The "On Demand" tab is a recent addition to the app. It allows you to explore the over 3,500 available workouts the app offers. Filters allow you to find the workouts that best suit your needs quickly.
The home page on the workouts tab also provides you with a host of options, including the chance to "meet the coaches" by reviewing their profiles and credentials. Here, you will also find a selection of challenges to participate in and the various workouts according to workout types (pilates, yoga, HIIT, etc.) or according to the muscle groups you want to focus on.
The Workouts
An aspect of this app that left us impressed was the variety and number of workouts offered. There is an assortment of programs that make it easy to target the various areas of the body and experience different exercise styles.
You will find that Kayla Itsines developed and presents some of these programs but not all of them. Joining her are a selection of female instructors, experts in their fields of training. These fitness trainers are impressive and left us feeling like the workouts we were getting were top class.
Let's look at some of the workouts provided:
BBG (Bikini Body Guide) – Kayla Itsines
This program is based on Kayla's BBG workout guides. It features resistance workouts with two high-intensity circuits, each repeated twice over seven-minute periods, taking your training to around 28 minutes if you don't factor in rest time. The length of these workouts ranges from 28 to 40 minutes.
If you're looking to lose weight, this program makes a great choice. However, this plan also requires that you choose and complete cardio sessions three times weekly and that you engage in low-intensity activities like swimming or walking.
Keep in mind you'll also need equipment for this program, like dumbbells, a skipping rope, and resistance bands.
BGG Zero Equipment – Kayla Itsines
If you don't have a gym membership or equipment at home, this plan offers the ideal solution. It provides you with the same results as regular BBG without the need for equipment.
These training sessions are slightly shorter than those found in BBG, lasting between 15 – 28 minutes. If you are just getting started on your fitness journey, the low-intensity options offered here are a must.
BGG Stronger – Kayla Itsines
If you would rather do your BBG workouts in the gym, then BBG Stronger is the program for you. It incorporates exercises using gym equipment and machines combined with regular BBG exercises. The program is aimed at helping you to build strength and tone muscles. Some of the machines you can expect to use here include the leg press and cable machine.
PWR – Kelsey Wells
Kelsey Wells is the mastermind behind the PWR workout, which also comes in the "at home" and "zero equipment" options. PWR focuses on strength building, and the workout is designed t be carried out in a gym. Each exercise routine lasts between 45 to 60 minutes, so you need to allocate time in your schedule for this one.
The program includes three resistance sessions a week to strengthen and grow your muscles. You are also expected to perform three cardio sessions a week.
PWR "At Home" – Kelsey Wells
Instead of using the weighted machines at the gym, this workout program uses free weights such as dumbbells, kettlebells, and a set of serious resistance bands. Some of these workouts also require the use of a bench. This do-it-at-home version of PWR aims to get you the same results as the original program but in your own environment.
PWR "Zero Equipment" – Kelsey Wells
If you don't have the equipment needed for the "At home" version of PWR and you don't have a gym contract, this option may be the one you need. It features shorter workouts (15-35 minutes) that utilize your own bodyweight to strengthen and grow your muscles.
If you are just starting with strength and resistance training but aren't sure it's for you, this is an excellent option to try before piling money into expensive equipment.
Fierce / Fierce "At Home" / Fierce "Zero Equipment) – Chontel Duncan
Using her training in Muay Thai, Chontel Duncan has put together a challenging and effective strength-focused HIIT workout program called Fierce. While this workout is set to be done in the gym, there are also versions that allow you to perform the training at home and without equipment.
These sessions vary between 30-45 minutes and combine high-intensity circuit-style training sessions to boost cardio and help with weight loss and resistance training for toning and strengthening at the same time.
One thing to keep in mind with this course is that it is fast-paced and relatively advanced. If you're beginning your fitness journey, we suggest trying out the beginner sequences first until you get the hang of things.
Build – Stephanie Sanzo
If building muscle through heavy weight training and powerlifting is your vibe, then you'll want to give Stephanie's Build program a try. This program is designed to be performed in the gym. However, if you have a well-equipped home gym, you can do it there.
The program consists of a 12-week beginner course designed to get you lifting weights like a pro. The 50-60 minute sessions focus on form and utilize the concepts of bodybuilding and powerlifting to help you build and strengthen your muscles. Squats, bench presses, and deadlifts are some of the compound movements you can expect. Keep in mind that this program is created for lifters with some experience. Newbies, you have been warned.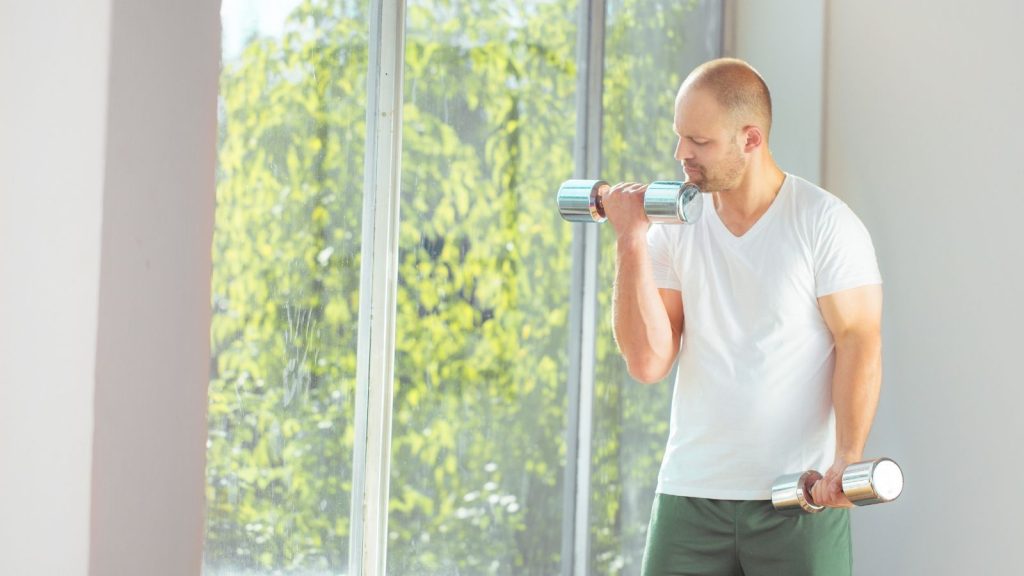 Lifting At Home – Stephanie Sanzo
Beginners and intermediate lifters will benefit from this workout program. It features sessions of between 30-40 minutes that use free weights like dumbbells, kettlebells, a chair, bench, and resistance bands. It works your upper and lower body and your midsection.
The program starts you off with four foundation weeks that each feature three workouts, after week for it ups the ante, asking you to perform four sessions a week. If you want to build muscle at home, give this program a try.
High-Intensity Strength with Cass – Cass Olholm
Cass combines HIIT, lifting, and functional training to create her ten-week training program. The sessions range from 15 to 40 minutes and will help you reach an impressive strength and fitness level. This workout has a style that is reminiscent of CrossFit. The variety keeps things exciting but be warned; these sessions are not for sissies.
Barre with Britney – Britney Williams
If you love ballet, you'll love this program. It combines HIIT, barre, and resistance training to get you lean and fit. The 12-week program features four 40-minute sessions each week and requires you to have equipment like dumbbells and resistance bands.
You will also find that these sessions differ slightly from other Sweat workouts. They come as short flow videos instead of the usual rep-oriented exercises. Keep in mind that these workouts are nothing like dancing, so if you're looking for that style of training, this isn't it.
Pilates with Sara – Sara Colquhoun
A mat, skipping rope, chair, set of dumbbells, and resistance bands are all you need to participate in Sara's pilates program. Sara introduces us to the key elements of pilates: control, breath, and flow, through her ten-week program.
Five workouts a week is all it takes to improve flexibility, mobility, and strength while tightening up your body and improving your physique.
These workouts are intense, so we suggest trying out a few beginner courses first to raise your fitness level before punishing your body with these sessions and potentially gaining an injury.
Yoga – Ania Tippkemper, Sjana Elise, Phyllicia Bonnano
If yoga appeals to you, then these programs are worth trying. You will see that there are three yoga instructors, each offering a different form of yoga.
Phyllicia offers a six-week beginner's plan that teaches you the yoga basics. Each week, three sessions focus on relaxation, flexibility and strength, and a full-body flow.
If Vinyasa yoga is more your style, you'll want to join Ania's classes. Three 40-minute workouts a week, spanning six weeks, will also provide you with a full-body flow, relaxation, and strength and flexibility. However, these build on the foundation classes, making them ideal for intermediate yoga fans.
Sjana Elise's Body and Mind program is the longest of the three and lasts 24 weeks, after the four-week foundation course, that is. Strength, flexibility, and a fantastic sense of zen are what you can expect to gain from this program. It is by far our favorite, and at the end of 24 weeks, you will see the change in your body and your capabilities.
Post-Natal Programs
New moms wanting to get their figures back or regain their strength will benefit significantly from these two programs. These programs include:
Kayla's Post-Pregnancy: These include low-intensity, low-impact, and strength training. Each session is between 15-25 minutes.
PWR Post-Pregnancy: The training features low-intensity, low-impact, and strength exercises. Each session varies between 28-40 min in duration.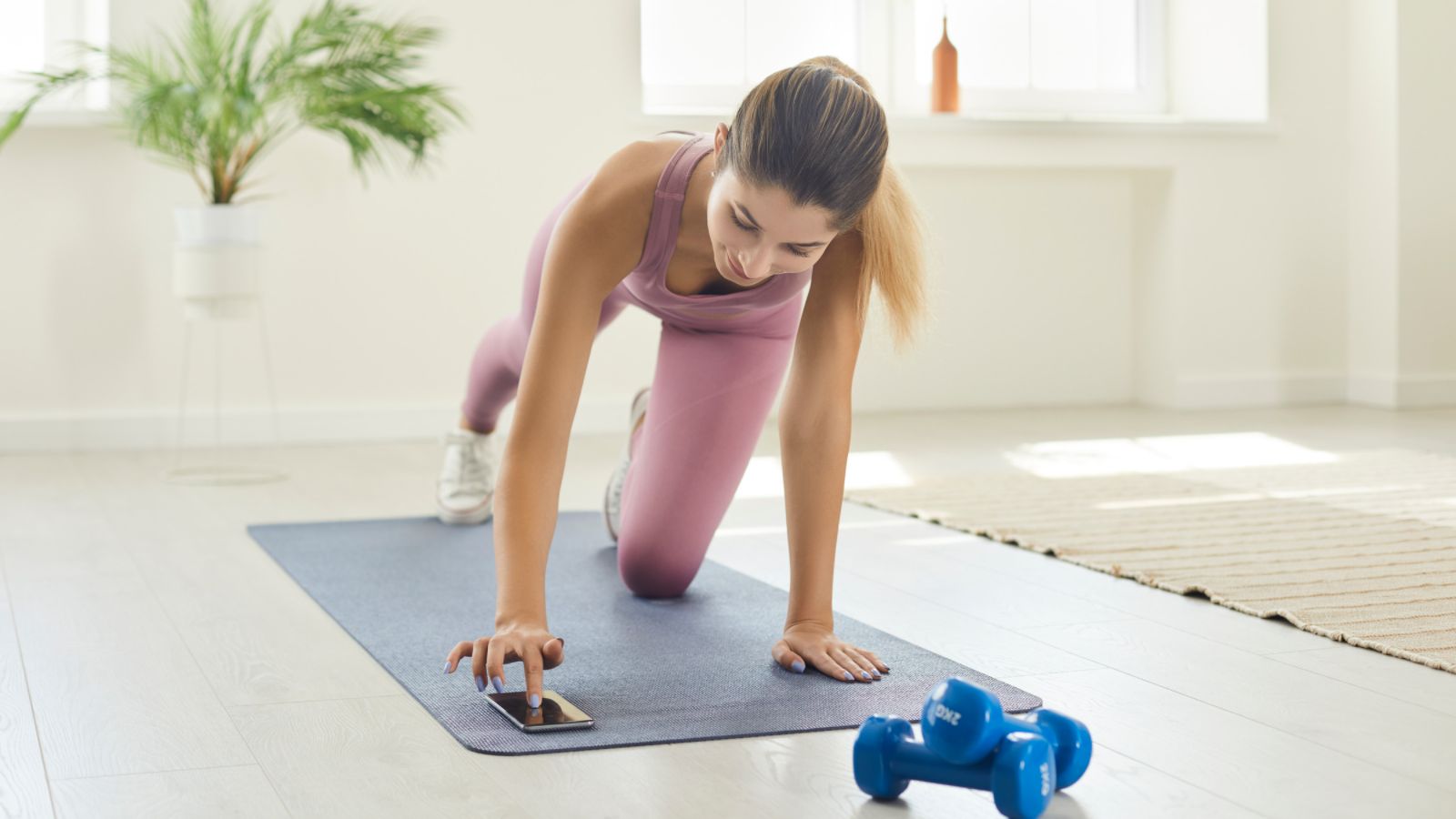 The Ease of Use
While the variety of the workouts is impressive, the presentation of these workouts needs a little work. With the exception of the yoga, pilates, and barre classes which come as a series of flow videos, the other activities come in a different format.
These feature short videos that span a rep session. These videos show the instructor performing the move and come with voice-over audio, and a siren signals the end of the reps. However, to advance to the next move, you'll need to tap your screen to start the following video sequence.
We found this rather frustrating as it messes with your rhythm, intensity and has a rather interruptive effect on the workout as a whole. What we did appreciate was the option to add your own music to the workout without having to open a new app on a different device.
How Feasible Are The Workouts?
The duration of the training sessions varies from 15 minutes to 60 minutes. This variety makes it easy to find a short workout to squeeze into a busy day but still leaves you feeling like you have gotten in a good sesh. It also makes finding an extended, more intensive training session simple.
The "On Demand" option allows you to supplement your existing program with others that interest you or that you want to try out for an extra challenge. Thanks to the built-in planner, keeping track of your scheduled workouts is easy.
One area that Sweat could improve is the intensity levels of these workouts. While most of them are graded as intermediate and advanced, these workouts are not for the faint-hearted.
If you're a novice, we highly recommend starting with beginner training first. The reason for this is two-fold – beginning with a program that is too intense may leave you feeling as though they're too tricky and discourage you from continuing before you've even gotten started.
The second is that performing exercises without understanding the correct form or that is beyond what your body can handle can lead to serious injury. Easing your body into a fitness routine is the best way to stay safe and prevent injury.
Another area that could use some improvement is the trainer's voice-overs. These give very little information or instruction when it comes to form. Understanding how to perform an exercise correctly ensures you get the most out of the practice, target the right areas, and prevent injury.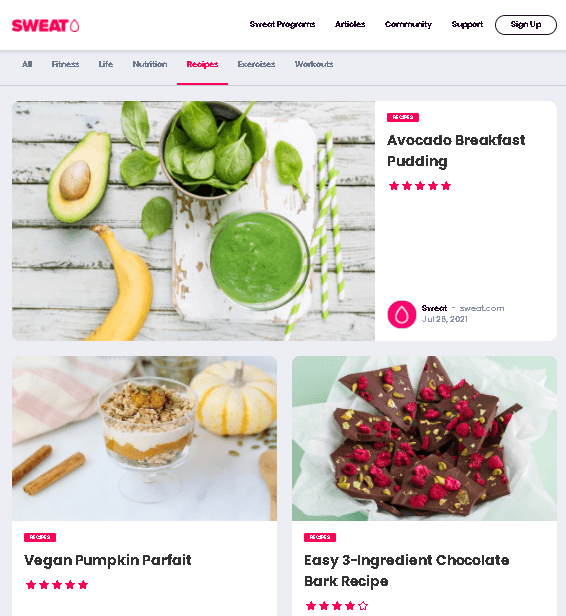 The Food Tab
In addition to the workouts offered by Sweat, the app also provides a meal plan. This plan is devised to help you create meals that are healthy and high in nutritional value. One thing to keep in mind is that Sweat does not personalize these meals for each individual user. However, they are customized according to your dietary requirements.
You have the option to select from four dietary groups – Standard, Vegan, Vegetarian, or Other (Ovo-vegetarian, Lacto-vegetarian, or Pescetarian.) Once you've made your choice, Sweat will provide a meal plan that features three meals (breakfast, lunch, and dinner) and a morning and afternoon snack.
The meals are then listed daily (tapping on each day in the mini-calendar at the top will call up the plan for that day.) Each meal is accompanied by a high-quality image of how the meal should look, how long it takes to prep, the period it takes to cook, how easy it is to make, and how many servings. Following this info is a list of ingredients you'll need and the method to follow to make the meal.
Overall, the meals are straightforward to create, and we were impressed at the variety and how delicious they were.
Another feature that Sweat includes is a shopping list, which we found handy as it meant we didn't need to struggle to create our own.
The Planner Tab
Sweat incorporates a planner into its app. The planner is designed to assist you in scheduling your various workouts and proves pretty handy when you want to include additional exercises in your existing program.
The ability to schedule workouts into your busy day and then receive reminders is how the app keeps you accountable. Subtle reminders make it easy to stay on track.
The Progress Tab
Next to the Planner tab, you'll find one labeled "Progress." Here you can track your progress, see how many workouts you've completed, and how far along you are in your program.
This tab offers another great way to keep motivated. Continually seeing the progress you're making provides a little boost that keeps you going, especially on the days you feel like throwing in the towel.
Community
One area we feel Sweat shines is with the community tab. One aspect Kayla Itsines wanted to include when developing this app was a community where women from across the globe could support one another in their fitness journeys. The community has evolved to be far more than that and now offers a platform for learning and interaction
.
On the community tab, you'll find educational content relating to fitness and nutrition and have the opportunity to engage with trainers about various aspects of wellness.
Here, you can also ask any questions you have about workouts, meals, or any other areas of your fitness journey. You can also respond to the questions others have and offer support to those in the community. It gives the sense that you are not alone, and the idea that others are also working towards similar goals makes your personal challenges seem less daunting.
This sense of community works wonders in keeping you motivated and accountable. It also helps you feel a little less alone if you do your workouts from home. Kayla's goal of offering a space that promotes sustainability, encouragement, and education comes together nicely in the community tab.
The Pros
The app is well-designed and simple to use. Navigating from one page to another is simple, and the overall look and feel are appealing.
The videos and images are high quality and easy enough to follow.
The app offers a wide selection of workout programs, each tailor-made by professional trainers to help you achieve your fitness goals.
You can choose the workout based on your location, whether you want to exercise at the gym or at home. You also can go with a "Zero equipment" workout.
The Sweat app offers workouts of varying lengths, so you can pick the one that fits your schedule each day.
The app offers an impressive selection of meal options that are well-presented and easy to make.
Sweat's planner makes it easy to track when your next workout session occurs.
The community keeps you motivated and offers a platform to ask any questions you may have.
Sweat makes it easy to track your progress.
You have access to over 3500 different workouts, so you never get bored with the selection, and you can keep challenging yourself. New programs are added relatively often.
The Cons
The subscription fee is somewhat pricey.
Although some workouts are tailored to be done at home, you'll still need equipment like dumbbells and resistance bands.
The "Zero Equipment" workouts are often much shorter than those created for use with equipment, which can be frustrating if you don't have access to a gym or gym equipment.
Sweat requires you to tap your phone to proceed to the next set during workouts – this can hinder your pace, intensity, and flow when working out.
The trainers provide little information on achieving the correct form when going through each exercise.
The training program and meal plans are not personalized to fit your body type.
Many of the workouts are intensive and advanced and are not ideal for beginners.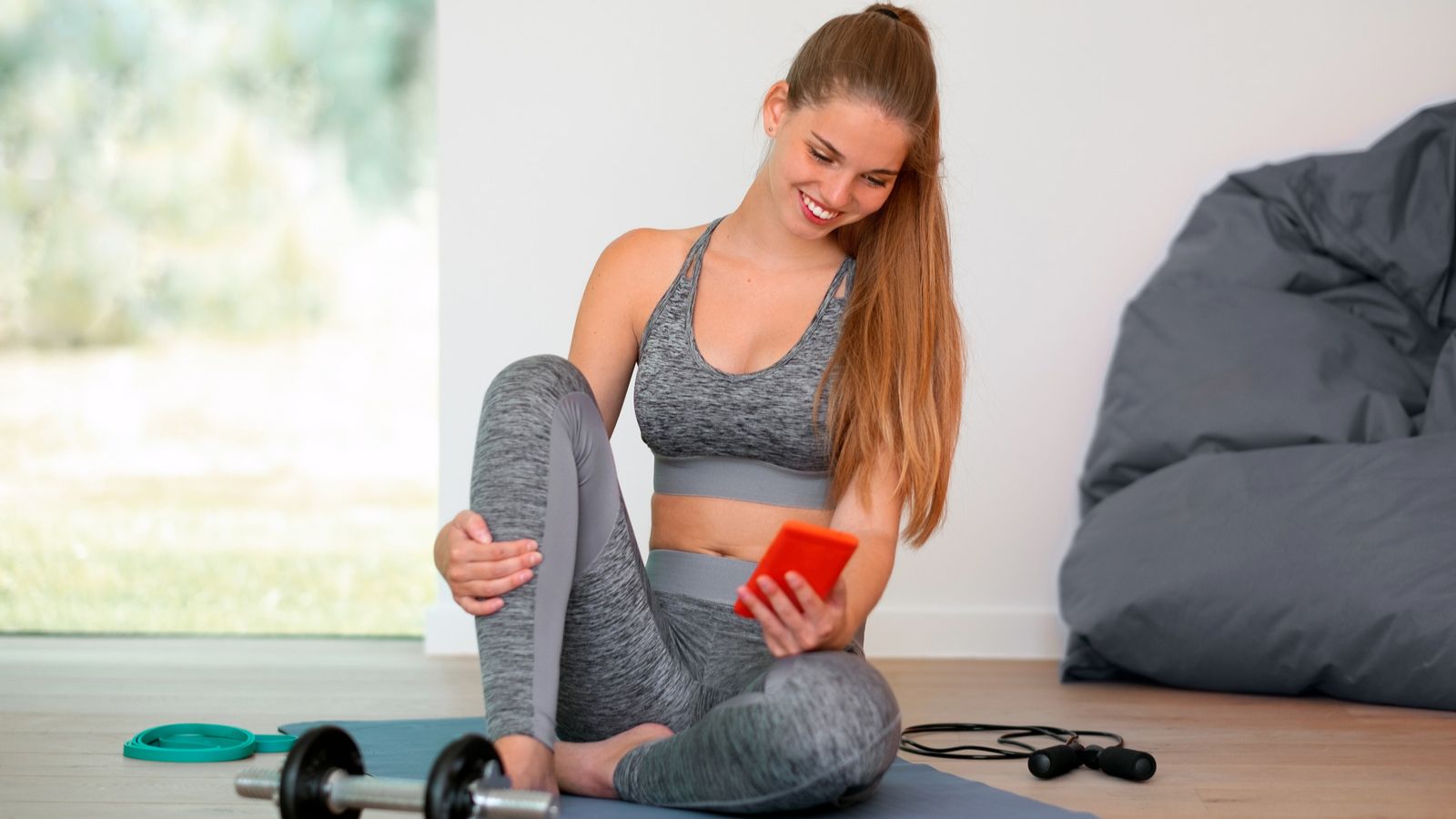 Who is the App Best For?
Sorry guys, this app is aimed at the ladies. While men could potentially make use of Sweat, it is tailored to suit the needs of women.
Advanced fitness fanatics will find a wide variety of intensive and progressive workouts that will help you to challenge yourself. This level of training is not often found on fitness apps, making Sweat ideal for those wanting the extra challenge.
If you have more than one fitness goal, then Sweat may be an app for you to try. The assortment of professionally designed workouts makes it easy to reach weight loss and strength-building goals.
If powerlifting and bodybuilding are goals you have, then you'll enjoy this app. It features a unique training program called Build that will help you reach these goals.
Beginners looking for an app that will help them advance in their fitness journey and keep them motivated and accountable will get great use out of Sweat. It allows you to grow as you buildup your strength and fitness, and the community will keep you motivated.
If you're looking for an app that offers community, an impressive selection of workouts, and that will guide you in healthy eating, Sweat is a must-try.
Final Thoughts: Sweat App Review
If having an app that offers numerous workouts targeting various areas of your body is important to you, you'll want to try Sweat. The tailor-made programs are all created by fitness industry professionals, so you know you're getting in an effective workout that will help you achieve your goals.
Combining the activities with a community and a meal plan makes the app's effectiveness more remarkable. Sweat is an app that provides results, which is why we award it a double thumbs up.
We hope our Sweat App review has made it is a little easier to see whether this is the app for you. If you're still uncertain, give the free trial a go, it's the best way to see if Sweat is a fitness match for you.