You have stuck to your New Year's Resolution of getting back to the gym and now you are curious to see how you measure up against other athletes in your area. Sounds like it is time to sign up to the CrossFit Open.
Today, the CrossFit Open has become one of the world's largest sporting events. It draws participants from over 175 different countries. It is open to all CrossFit athletes from the complete novice to the pros and is now a requirement for those wanting to compete in the Games.
However, the Open is not exclusively a competition for those who want to qualify for the Games. There are many objectives for the open; it is a space for CrossFitters across the globe to test their endurance, strength, and development against themselves and one another.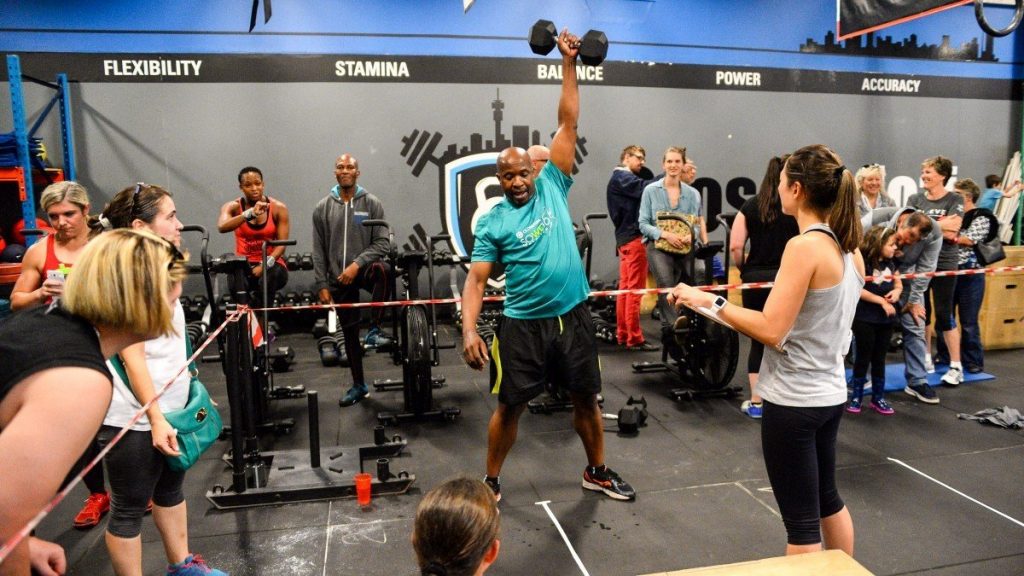 Additionally, it provides a means to gather the global CrossFit community who can all take part in the event as one, something that feels more valuable now than ever before.
What is the CrossFit Open?
The CrossFit Open is an online contest organized by CrossFit HQ over several weeks. In past years the competition for five or six weeks, 2021 sees a shorter three week competition.
A workout is released every Thursday and competitors have until the following Monday to complete their workout and post their best scores. The names of the workouts are always categorized by the year and order in which they occur – for example, the first workout of the 2021 Open is referred to as Workout 21.1.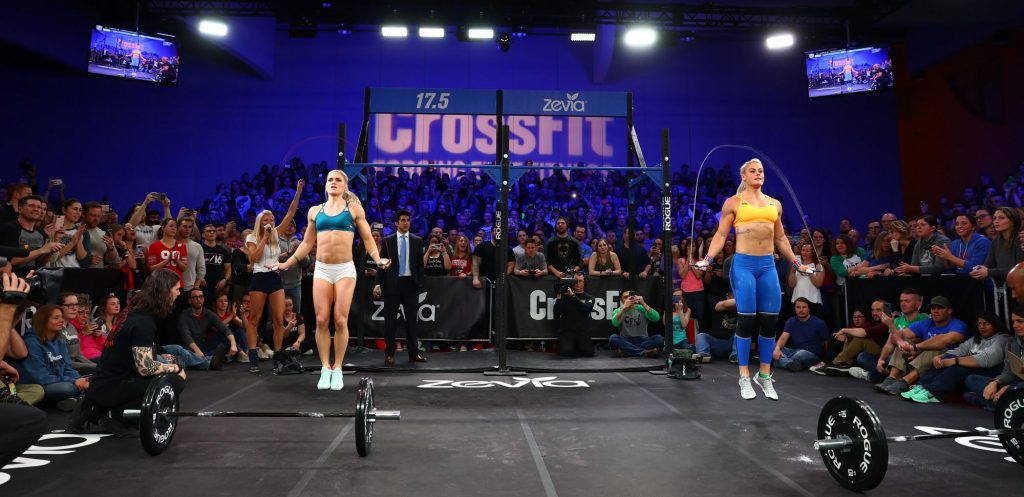 Every week during the Open, the designated workout is streamed from a different location, sometimes there are clues as to what athletes can expect at the Games. The livestreams typically feature some of CrossFit's biggest athletes, fighting it out to earn their spots at the Games.
Competing in the Open is a very simple process, and there are no requirements – anyone who is interested in joining is encouraged to sign up. Registration typically starts a couple of months before the first workout is released.
Each workout is scored in a different way, but they will be based on time taken to complete the workout, the weight lifted, or the number of reps completed in a set time.
Normally, there are around 300,000 people who sign up to the Open. In 2019, this number peaked at 358,646, but fell to 239,106 in 2020, with many gyms closed because of Covid-19. For 2021, the organisers wanted to guarantee CrossFitters that the workouts be accessible and that they could complete them at home.
What are the age and competition groups for the CrossFit Open?
The CrossFit Open is accessible to anyone over the age of 14. The competition offers a total of 34 different divisions for individual participants, including new adaptive divisions – and one division for teams.
There is an online leaderboard that groups athletes based on their age and gender, giving people all over the globe the opportunity to see how they stack up against others, and to track their progress from previous years.
The competition welcomes everyone regardless of whether they have just started their CrossFit journey or are a seasoned pro.
"Each year, athletes of all ages, from a range of backgrounds and with varying ability levels, unite to complete the worldwide Open. Among them are the Fittest on Earth as well as the average Joes and Josephines, and by the end, all have new accomplishments to celebrate," writes CrossFit.
There are a total of 34 divisions for individual competitors and one division for teams:
Men (137500) and Women (108650)
Boys (1500) and Girls 14-15 (1400) (Born on or between 07/15/2005 and 7/14/2007)
Boys (1900) and Girls 16-17 (Born on or between 07/15/2003 and 07/14/2005)
Men and Women 35-39 (Born on or between 07/15/81 and 07/14/86)
Men and Women 40-44 (Born on or between 07/15/76 and 07/14/81)
Men and Women 45-49 (Born on or between 07/15/71 and 07/14/76)
Men and Women 50-54 (Born on or between 07/15/66 and 07/14/71)
Men and Women 55-59 (Born on or between 07/15/61 and 07/14/66)
Men and Women 60+ (Born on or before 07/14/61)
Men and Women Adaptive: Upper Extremity
Men and Women Adaptive: Lower Extremity
Men and Women Adaptive: Neuromuscular
Men and Women Adaptive: Vision
Men and Women Adaptive: Short Stature
Men and Women Adaptive: Seated Athletes (with hip function)
Men and Women Adaptive: Seated Athletes (without hip function)
Men and Women Adaptive: Intellectual
Affiliate Cup Team
Changes to the Open
CrossFit did not hold the Open in 2020, so CrossFit HQ were thrilled to announce some new elements for 2021.
Previously the Open would take place later in the year, but it has now been moved to March.
This year's Open takes place over three weeks, as opposed to five. Giving athletes all the more reason to give it their all.
There are two new divisions in 2021:
Foundations: Designed for complete beginners and those not sure if they can complete Scaled workouts.
Equipment Free: As the name suggests, no equipment is needed for this. This means participants can complete it from home – ideal if your box is closed or you're having to isolate.
Each category will have its own leaderboard.
The 2021 CrossFit Open at Home – Two Ways to Compete
The 2021 CrossFit Open introduced more flexible options, allowing for participants to compete either at their local gym or at home. For athletes who could not compete in a gym, CrossFit announced two divisions to Open workouts from home: basic equipment and equipment-free.
For those completing the CrossFit Open from home with equipment, the following items are required:
A dumbbell
A barbell and plates
A plyo box
A jump rope
A pull-up location
For athletes without access to equipment, CrossFit also offered "a gearless version of each Open workout," the only thing needed is a clear space to workout in.
"The last year has been tough for everyone, so we want to kick off the 2021 season with a compelling and accessible Open that can meet the needs of every athlete in the world," said Dave Castro, GM of Sport for CrossFit.
2021 saw CrossFit taking a different approach to the Open, it was truly designed to be accessible to everyone who wished to participate, from beginners to pros across all ages, backgrounds and fitness levels.
Purpose of the Open
The Open was introduced in 2011 as a qualifier for athletes hoping to prove their fitness and compete at the CrossFit Games. However, the Open is not uniquely for Games athletes. According to CrossFit Games athlete, trainer, and the Fittest Woman In America in 2020, Kari Pearce: "The CrossFit Open isn't just for people that are Games-bound. It's a great way for everyone to test their fitness."
It is a fantastic opportunity to work towards a CrossFit goal, be it toes to bar, body weight squat, double unders etc. The Open also provides a great tool for people to track their personal fitness progress over a year. Competitions often bring up fears of falling short of other people, but the CrossFit Open is not so much about beating others, it is more about striving to do the best that you can and tracking your own progressions. The Open will most likely expose both your strengths and your weaknesses. It offers a baseline for the next year of training and shows you the holes in your game.
Last, but by no means least, the Open is a wonderful way to strengthen the bonds with your fitfam! Even if you are not physically with your training buddies, this is still an important time to show your support!
A place at the Games
As previously mentioned, the Open is the first stage in qualifying for the CrossFit Games. The top 2 per cent of those who complete the Open will progress to the quarterfinals. The quarterfinals will also be held online.
Following the quarterfinals, there will be 10 in-person semifinals held globally followed by the Games which will be held in Madison, Wisconsin.
Prize money
There is a total prize money of US$21,063. That is broken down into: $2,021 per round win and $15,000 for the overall Open winner. Second place gets $10,000, third $7,500, fourth $6,000 and fifth $5,000, for both men and women.
How Hard Are the CrossFit Open Workouts?
In the same way that many sports are broken into professional leagues and amateur leagues, CrossFit has two divisions in the Open: Rx and Scaled. Rx stands for 'as prescribed' and is typically for more advanced athletes who can complete all the necessary movements and have a decent base level of strength. In theory, if you have just started CrossFit, you can join the Open as long as you scale the workouts (with help from a coach) to your ability. Unless your goal is to go to the Games there is no need to complete the Rx workouts.
For those who are considering competing in the Rx category a good rule of thumb is if you can complete most, or all of the movements and weights in the workout safely for at least 75% of the workout. If this is beyond your current capacity, it is better to compete in a safer manner and go scaled. For example, if the weights prescribed are near your one rep max and the workout calls for multiple reps, it is best to complete a scaled version of the workout. Your coach can always help to guide you if you are unsure which version of the WOD to do.
The History of the CrossFit Open
Background
The CrossFit Games launched in 2007 in Aromas, Ca as more of a fun quest to find the fittest man and woman. In 2007 all you needed to do was register in order to compete.
In 2009, to whittle down contestants, they introduced the regionals, and in 2010 the Sectionals were established to determine who would compete at Regionals. As CrossFit's popularity continued to grow around the world, and there was increasing demand for competition spots, CrossFit replaced the Sectionals with the Open which now allowed any athlete in the world to participate.
The CrossFit Open 2011: The Beginning
The very first CrossFit Open was a 6-week competition that took place between March and May 2011. Over 26,000 competitors signed up, making it one of the largest sporting events in history. Participants were organized by region, and the 60 fittest athletes and 30 fittest teams secured invitations to one of 17 Regional CrossFit competitions.
2011 was a very significant year for CrossFit as it was also the first year that the Games partnered with Reebok. This noteworthy sponsorship meant that there was a substantial increase in the prize money. $1 million was added to the winnings, with $250,000 apportioned to the male and female winners of the Games.
When the Open began there were four categories athlete could take part in: Men, Women, Masters Men, Masters Women. In CrossFit, Masters are classified as anyone over 35 years old. Participants could either complete the workouts in real time as they were streamed live, or they could post their scores at a later date and submit video evidence.
Who Has The Most Worldwide Open Workout Wins Of All Time?
Winning a global CrossFit Open WOD is by no means an easy accomplishment. There are however some incredible athletes who have managed this multiple times over the past few years, and some who have even won consecutive workouts. Some of the names below are familiar, but there are also a number of lesser-known athletes who have done extremely well at the Open. Funnily enough the athletes that shine in the Open do not always do so well at the Games and vice versa.
Most Open Wins of All Time (Men & Women)
SAM BRIGGS – 12
(13.3, 13.4, 14.1, 14.4, 14.5, 15.3, 16.3, 16.5, 17.2, 17.4, 18.1, 20.5)
RICH FRONING – 7
(11.1, 11.3, 12.2, 12.3, 14.4, 16.4, 19.2)
JOSH BRIDGES – 7
(11.4, 11.6, 13.5, 14.5, 15.2, 16.1, 16.5)
MAT FRASER – 6
(15.5, 17.4, 17.5, 18.5, 19.3, 19.5)
KRISTAN CLEVER – 5
(11.4, 12.1, 12.3, 12.4, 13.1)
BEN SMITH – 4
5 Tips To Prepare for the Open
Preparing both your body and your mindset for competition is key if you want o crush the contest, or simply enjoy the Open season. Here are some tips to help you:
1. Work on your Aerobic Capacity
Developing your capability to complete work over a lengthier time period will make a big difference to your performance in the Open. Most of the workouts tend to focus less on skills and more on endurance and reps.
Essentially, a great way to prep yourself is to work on your cardio. This means more rowing, more running, and more of everyone's favourite cardio – the assault bike! A super-efficient way of training your cardio is by completing relatively long EMOMs, 20 – 30 minutes. These kinds of workouts will help you to set a pace and find a rhythm. This is extremely important, particularly if it is a longer workout.
Try these to get started:
Cardio WOD 1
30 Minute EMOM (modify targets to be at a difficult but achievable number)
Minute 1: 15 Calorie Row/ 35 Double Unders (if you cannot access a gym)
Minute 2: 15 Burpees
Cardio WOD 2
1800m Run
3:00 Rest
1200m Run
2:00 Rest
800m Run
1:00 Rest
400m Run
Cardio WOD 3
4 Rounds for Time:
10 Burpees
100 Meter Run
10 Air Squats
100 Meter Run
10 Push-Ups
100 Meter Run
10 Sit-Ups
100 Meter Run
2. Work on Skills
A great way to prepare for a competition (and at the same time work towards CrossFit goals) is to dedicate some time to skills work. This may mean working on your double unders, muscle ups, handstand walks etc. CrossFit Open workouts often have one or more of these more complex movements which test the amateurs and challenge the more advanced CrossFitters.
Conquering these movements will help you massively in the global rankings. Even if it is just one rep, or one metre handstand walk, this will help to boost your score. These milestone movements are also part of what make the CrossFit Open so enjoyable. You have all seen videos of someone's first muscle up and how the rest of the gym cheers them on.
Work on developing strength and mobility, and even your tempo, whatever is necessary for you to level up your skills.
3. Keep Injury Free
It goes without saying that all efforts should be made to avoid injuries. Work on mobility, make sure you warm up and cool down properly. This will not only help you to keep injury free, but it is a smarter way to train and to protect your body. This also means focusing on recovery, taking time off, and keeping a check on nutrition.
4. Follow and Stick To a Program
Find a CrossFit program that works for you and commit to it. Regardless of whether you follow a program online or if a coach at your box helps you with a program that will help to work on your weaknesses, sticking to a program helps to give your training purpose. A program not only keeps you on track, it also helps to keep you accountable.
There are endless free CrossFit programs out there, keep your eyes peeled for one that targets your needs. Are you looking for a program to help develop your strength, work on your engine or perhaps a more skill specific program?
Working towards a goal is extremely motivating. Keep the Open in mind whenever you train or head to the gym. Set SMART (Specific, Measured, Achievable, Realistic, Timely) goals that you can work towards. Remember your 'why', why you are trying to better your fitness, why you are spending time and energy focusing on yourself.
5. Eat to Perform
Diet and nutrition play a very important role in any training program. However, much like a workout program there is no 'one size fits all' magic diet. Trends will come and go, there is always a new superfood, or diet that everyone is talking about. The truth is there is no secret, no magic formula or superior supplement. The best way to manage your nutrition is through informed, well thought out decisions that are linked to your own needs and objectives. There is often a desire to overcomplicate, often simplicity truly is the best solution. Here are some very simple steps to get nutrition right:
Eat to reinforce your goal – this should be a pretty simple rule to follow. If you are looking to gain weight, eat more. If you want to lose weight, eat less.
Eat real food – probably the most important factor. The quality of your food is incredibly important. Look at the ingredient list, avoid chemicals and overly processed foods. The general rule of thumb is the closer to nature your food is the better!
Eat a healthy balance of carbs, proteins and fats – at each meal, try to ensure that protein, fat, and carbohydrates are well represented from high grade sources. To begin with, I would recommend about a third of your calories from each source.
Eat regularly – to avoid overeating at a single sitting. A great way to manage how you eat is to have small meals throughout the day. This can help to boost your metabolism and will help you to make better nutritional decisions. We often make bad decisions when we are starving.
Don't be too hard on yourself – the more restrictive a diet the harder it is to maintain. Balance is key. There is no sense in totally cutting things out and then going totally overboard. You should feel free to occasionally enjoy a drink, dessert, or another food that you love.
Listen to your body – a diet that works for someone else may or may not work for you. Each of us have our own individual needs. The key here is to do what works best for you. Listen to your body, take note on how it responds to certain foods.