With the rise of exercise systems like calisthenics, TRX and CrossFit, bodyweight exercises have become increasingly popular in recent years. Every gym you can find will boast a variety of equipment catering to bodyweight training, ranging all the way from simple pull up bars to more complex gymnastic equipment.
Powerlifters, bodybuilders and everyday gym goers use them for the great benefits they give, increasing body strength, improving muscular stamina and reliably aiding hypertrophy by recruiting a plethora of muscle fibres.
Prime, compound movements like push-ups, dips and pull-ups all have proven track records in delivering these results and have quickly become some of the key tools in any gym-goer's arsenal.
It may come as no surprise, therefore, that power towers have seen an ascendency in tandem with these exercises. They are one of the best options for anybody looking to make the most out of their bodyweight in home based workouts: they are usually durable, relatively affordable and provide all the necessary functions for a full range, challenging bodyweight training session.
But what are they, exactly?
What Is a Power Tower?
The power tower is a piece of equipment that helps you to build upper body and core muscular strength. Also known as a knee raise station or a captain's chair, it gives support for leg and knee raises, dips, pulls ups, chin ups and push ups, allowing for a full torso workout consisting of a full range of compound movements.
Power towers will typically have a padded backrest and padded armrests for support during abdominal exercises; when used like this, minimal arm strength will be required as most of your movement will be in your hips and abdomen, utilising those muscles almost exclusively.
Alongside these core training features, there will also be handles on a power tower for use in performing dips, as well as a pull up bar attached to the top for pull- and chin- ups. There will also often be push up handles at the power tower's for use in deeper, Atlas push ups, specifically tailored to push your chest muscles to the maximum.
Top 5 Power Towers
Now that we know what power towers are, it's time to jump right in with my top five rated commercially available power towers. They are ranked in no particular order, but I will end this piece by telling you which, out of the list below, is our most highly recommended product on balance.
Our Top Pick
The five picks for this list are all strong, despite flaws in several areas. Any of the above would serve you well, and if they sound appealing then my advice would be to go for the one you want: they will all deliver what you are looking for, to a greater or lesser degree.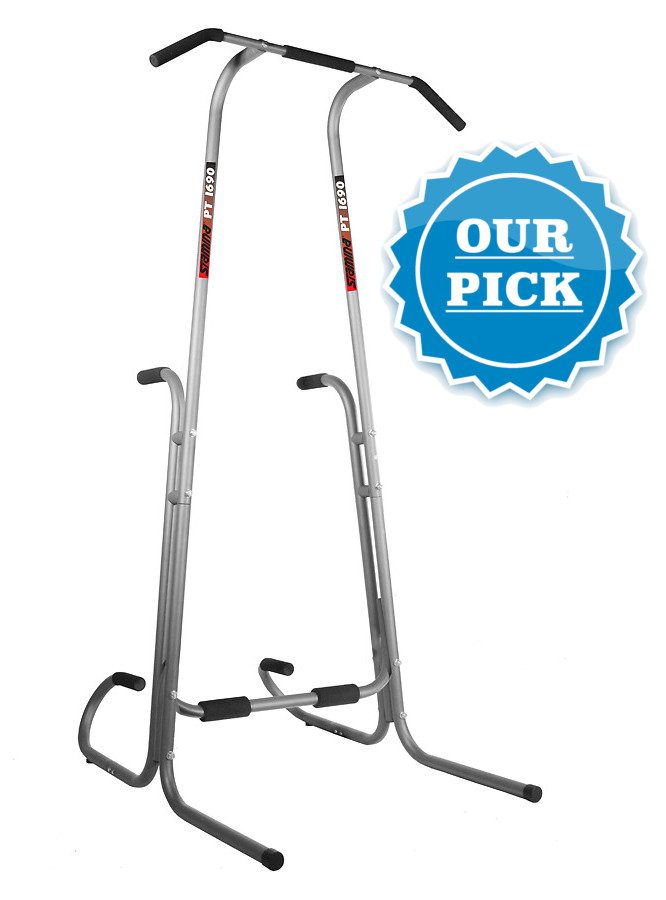 However, for me, there is one outright winner, based on its fantastic mix of affordability, elegantly simple design and overall quality: the Stamina 1690 Power Tower. There are better power towers out there, for sure, and there are cheaper ones. But none that I have found so far give such good value for money, or such a sturdy, straight forward approach to your training needs.
The Stamina 1690 might be low cost, but it is far from cheap: it bats far above its weight.
[letsreviewaffiliate url="https://www.amazon.com/gp/product/B002Y2SUU4/ref=as_li_tl?ie=UTF8&camp=1789&creative=9325&creativeASIN=B002Y2SUU4&linkCode=as2&tag=thisiswhyimfi-20&linkId=7afd520ddda7e996dc5879ec68f03afd" text="Check Latest Price" size="small" rel="nofollow" target="samewindow" accent="#f8d92f"format="2″ skin="1″ border="on"]
How We Picked Our Winner
Beyond the basic categories of what a straightforward power tower should include – dip bar, pull up and chin up bars, backrest and armrests for abdominal raises, and possibly push up handles – we faced a fair degree of variation in areas like ease of construction, use, stability, aesthetic and dimensional functions… Every brand offers the basics, and then they offer their own takes on all of the above and more.
All power towers must, at the very least, deliver a satisfying workout, be relatively affordable, and must be something that you would willingly and realistically find room for in your own home. With this in mind, all of our finalists had to:
Enable you to perform pull ups, chin ups, dips and abdominal raises. We only considered power towers whose structure allowed these fundamental movements to be performed in relative comfort and with overall good form. Any that missed these out were immediately discounted from our judgement.
Include provision for variations on these key exercises. A power tower should be versatile enough for you to be able to do at least simple variations of the pull up, chin up, dips and abdominal raises. From wider to close grips on upper body work, to space in which to perform oblique raise variations, all of our featured products would allow you to hit your muscles with a range of different stimuli.
Be easy to use and handle. There should be no unnecessary complications with a power tower. For all that they allow for multiple functions to be performed, they are at heart a simple piece of apparatus. Our selections reflect this fact – training on them should be simple and easy, and all of the above allowed for this.
Be easy to install, maintain and clean. Some of the above might take longer than others to put together, but they are all simple enough for anyone without any prior DIY experience to set up. They require at most two people and will be relatively easy for a couple of people of average strength to put up and shift into place. They take no special skills or equipment, with bolts and screws sliding into place without hassle, and no oil or grease is needed in their construction or maintenance. They are also all easy to clean – important, considering how much sweat will find its way onto them! A simple rubdown with a disinfectant spray and some paper towel is the most any of them will need.
Look good and get positive reviews. This one is important: what do the majority of consumers who actually live with these pieces of kit make of them? We only looked at those with a high rate of positive feedback and good customer satisfaction, so that you know they have been thoroughly tried and tested: we didn't look at anything that was rated below 3.5 stars on average, with the vast majority of the products we tested being 4 or above. They have all been rated by people who live with them and who are overwhelmingly positive about their reliability. We also only looked at ones that looked good to us, and that others agreed were OK to have in their homes. You have to live with them, after all!
Best Power Tower Reviews
Let's start with something from the middle ground, a selection which balances price and value rather well. The Weider Power Tower is one of the more popular pieces of kit going. It has a reputation for stability: it will likely not wobble too much, even under heavier loads, and is well known for being built like a tank.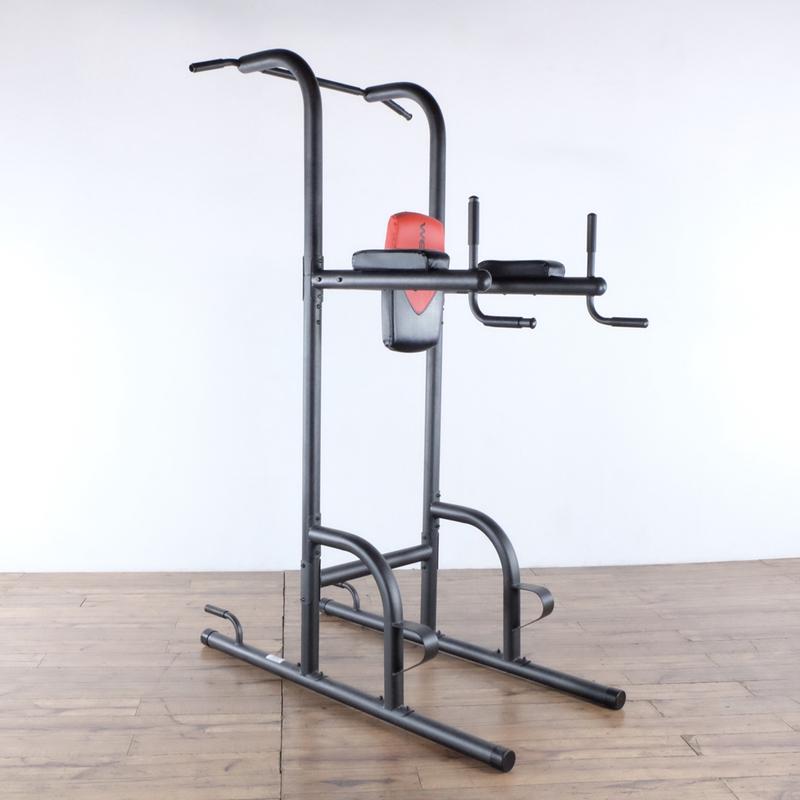 The Weider Power Tower is also very comfortable to use. It is built quite high, topping seven feet by a clear margin, so that taller people will be able to use it without any issues, and the bars and pads are all well cushioned.
However, the Weider Power Tower has some problems. The price of its being so heavy and sturdy is that it arrives in pieces in a very heavy box, which can be quite a challenge to handle. In addition, it takes a long time to assemble and often has faulty and/or defective component parts and poorly bored holes. Needless to say, this undermines its stability quite badly. We have also experienced issues with shipping and customer support and missing parts from deliveries when dealing with Weider.
It is a solid product that, when it works, works really well: however, Weider's customer care and attention to detail can be found drastically wanting at times.
[letsreviewunique title="Our Verdict" pros_title="Pros" pros="Good value for money,Sturdy,Comfortable and easy to use" cons_title="Cons" cons="Heavy and unwieldy to put together,Takes a bit more assembly than others,Poor customer service and delivery by Weider" affiliate="Check Latest Price,https://www.amazon.com/gp/product/B0098MAYNY/ref=as_li_tl?ie=UTF8&camp=1789&creative=9325&creativeASIN=B0098MAYNY&linkCode=as2&tag=thisiswhyimfi-20&linkId=0ac259d93fdd5b16991a4c01c895a0cd" accent="#f8d92f" final_score="85″ format="2″ skin="1″ animation="1″ design="1″][/letsreviewunique]
Now we move onto something of an enigma, with the BowFlex Body Tower. It is more expensive on average than a lot of models. However, it offers a wider range of exercise variability- far more so than other power towers- due to some of its more unique features. These include adjustable dip bars as well as handle and sling attachments. It deserves praise for being so well designed and is solidly built from good quality materials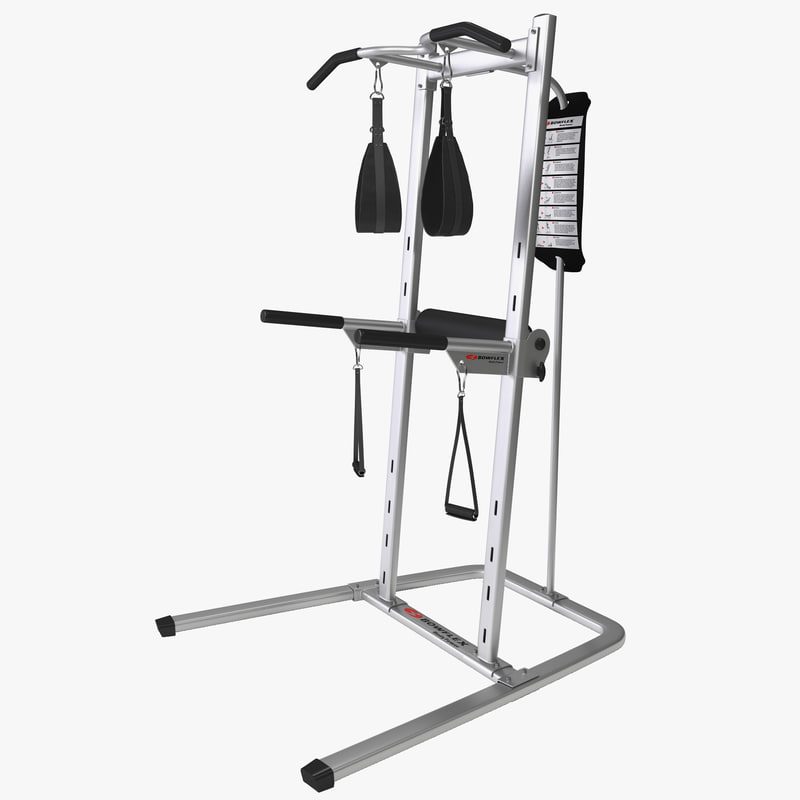 For the most part, the BowFlex Body Tower is easy enough to put together when everything comes as it should, though many customers report receiving the wrong number of screws, bolts and even whole bars, making assembly slightly trickier.
For all that the design is innovative and pretty impressive, there are some issues with the BowFlex Body Tower that we cannot overlook. Firstly, the pull up grips aren't glued down so they rotate when you're trying to use them. This makes pull ups unnecessarily awkward to perform. Secondly, there is an oddly spaced triangular section to the pull up bar that we found you have to dodge as you perform your reps. Finally, it's on the shorter side at below seven feet: perfect if you're limited on space- not so much if you're built to even slightly over average height.
So, full marks for innovation here, and it's definitely worth a try if you're looking for variety. It's just a bit of a shame that some of the design features lag so far behind the others.
[letsreviewunique title="Our Verdict" pros_title="Pros" pros="Fantastic exercise variability,Very innovative design,Easy to assemble" cons_title="Cons" cons="It's expensive,Some design elements let it down – most notably the pull up grips" affiliate="Check Latest Price,https://www.amazon.com/gp/product/B006353HCE/ref=as_li_tl?ie=UTF8&camp=1789&creative=9325&creativeASIN=B006353HCE&linkCode=as2&tag=thisiswhyimfi-20&linkId=cbf29a4eb40fa5c3217a9d3cf5593c82″ accent="#f8d92f" final_score="82″ format="2″ skin="1″ animation="1″ design="1″][/letsreviewunique]
The Stamina 1690 Power Tower is one of the more basic products of its type available in the marketplace. It's a far cry from the BowFlex Body Tower's many added features and gadgets. A lightweight (only 27kg) and fairly simple affair, the Stamina 1690 doesn't take up much room, allowing you space for other pieces of kit should you so wish.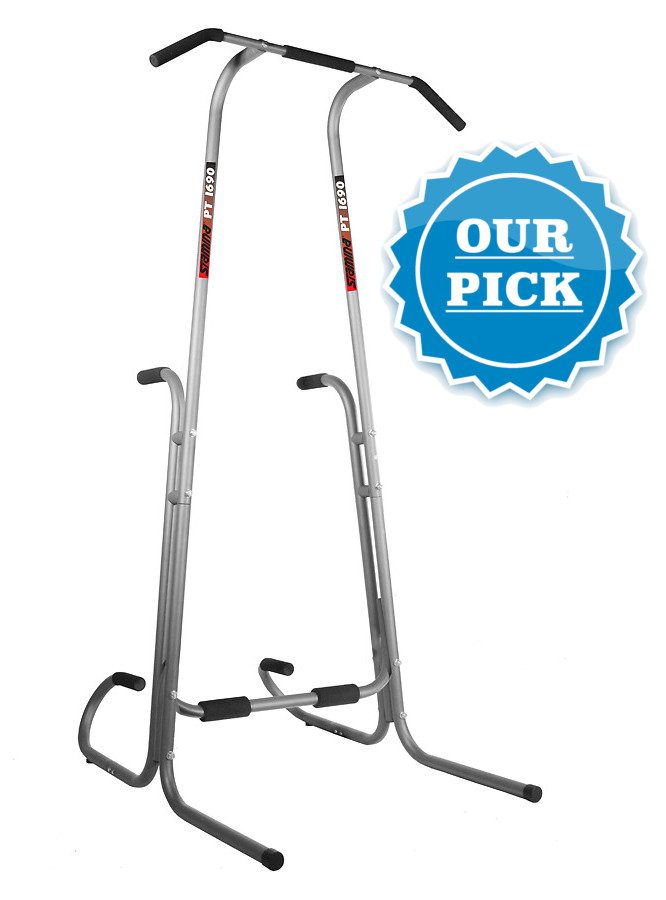 The Stamina 1690 Power Tower is also one of the most inexpensive power towers around, thanks to its no frills approach. If you're looking for value for money, a durable piece of kit and something that will allow you to easily perform the fundamentals of bodyweight training, you could do a lot worse and not much better than this.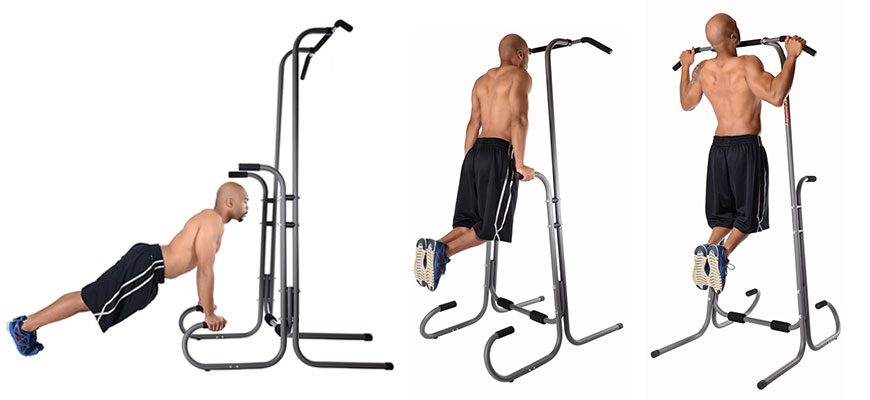 However, small though it might be, it's sturdy, with a maximum capacity of 300 pounds- this will be more than enough for most people. This also makes it good for more advanced lifters and athletes who may want to supplement the resistance of their own bodyweight with a few added kilos of iron. It's easy to put together, as well- the whole experience is a bit like building Lego as a kid!
[letsreviewunique title="Our Verdict" pros_title="Pros" pros="Great value for money,Very stable and easy to use,Easy assembly,Supports a great deal of additional weight" cons_title="Cons" cons="A little basic – there really are no frills with this one!" affiliate="Check Latest Price,https://www.amazon.com/gp/product/B002Y2SUU4/ref=as_li_tl?ie=UTF8&camp=1789&creative=9325&creativeASIN=B002Y2SUU4&linkCode=as2&tag=thisiswhyimfi-20&linkId=7afd520ddda7e996dc5879ec68f03afd" accent="#f8d92f" final_score="96″ format="2″ skin="1″ animation="1″ design="1″][/letsreviewunique]
Next up, we have the Body Champ VKR1010 Power Tower.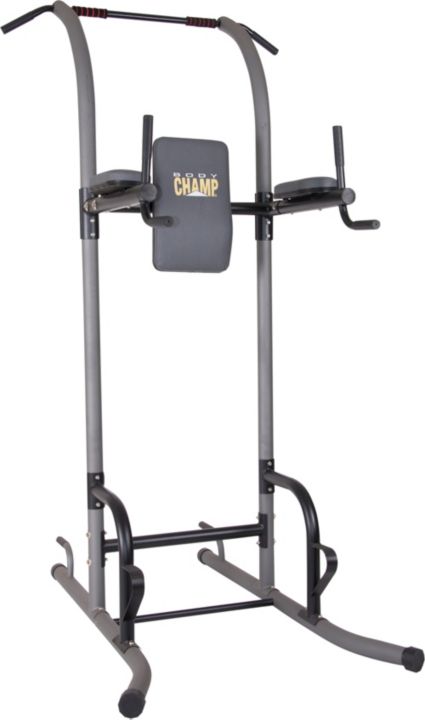 This is another tower not necessarily built for larger athletes: the back pad is comfortable, but on the small side, and bigger men might not feel too well supported. However, the frame as a whole is sturdy and well built, with a stable base and a variety of different, adjustable positions available on the bars. It comes well packaged and is easy to put together, and the fact that it isn't the largest piece of kit in the world means that it fits nicely into a more compact space.
The ab straps are decent, too. They are good quality and will be of great added benefit to some more advance users wanting to try them out. The sit up bar is small and sturdy, much like the rest of the frame, and given that many power towers don't have one, it comes as a very welcome bonus.
The pull up element of the design is slightly lacking, though. The Body Champ VKR1010 Power Tower doesn't have a straight chin up bar. While most of the exercises you could want to do are possible, especially with the range of pull up grips you get, this is a strangely fundamental thing to lack. Added to this is a lack of push up bars at the bottom: there will be no Atlas push ups with the Body Champ, unfortunately. Again, it seems odd that the designers would neglect both of these two simple, fundamental functions.
The Body Champ VKR1010 Power Tower is therefore a sturdy, good quality piece of kit, but it could do with a couple more additions to really bring it up to par.
[letsreviewunique title="Our Verdict" pros_title="Pros" pros="Comfortable pads,Good quality straps and handles,Sturdy and well made" cons_title="Cons" cons="Some key features are lacking,On the smaller side" affiliate="Check Latest Price,https://www.amazon.com/gp/product/B002JBBRV4/ref=as_li_tl?ie=UTF8&camp=1789&creative=9325&creativeASIN=B002JBBRV4&linkCode=as2&tag=thisiswhyimfi-20&linkId=2207218933d1052bec2814a592f90b16″ accent="#f8d92f" final_score="93″ format="2″ skin="1″ animation="1″ design="1″][/letsreviewunique]
The XMark XM-4434 has been designed to solve a common problem inherent to power towers. Power towers often struggle to strike a balance between dip bar positioning and overall structural stability. With this in mind, the XMark XM-4434 has been built with a thinner, longer frame in an attempt to reconcile the two issues, and it largely works.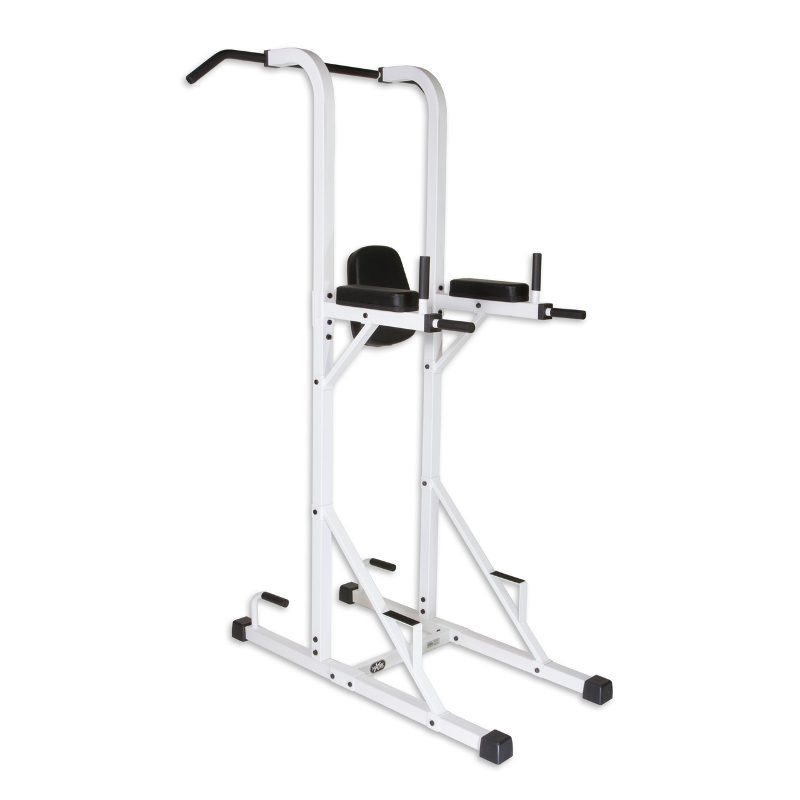 The dip bars being closer together comes with a couple of physiological advantages, too. It allows you to really zone in on your chest muscles and triceps, without causing any undue stress on your rotator cuffs- a common issue with pressing motions in general, and dips in particular. You can go for the full range of motion without this being an issue.
The pull up and push up bars are also on the opposite side of the frame to the dip bars. A sense of space is thereby created, allowing you more freedom to perform your exercises without feeling hemmed in in any way.
However, these benefits arguably do not make up for any of the XMark XM-4434's several deficiencies.
The XMark XM-4434 has rubber end caps on its feet to prevent any undue movement during training… but they do not work, unfortunately. Though it is highly rated online, many people have regretted their purchase on this basis. The power tower shakes and wobbles far too much for comfort, detracting from what should be a stabilising, well grounded workout.
The back mat and arm rests are slippery as well, making it quite hard to secure yourself for any volume of abdominal work. The dip bars are not thick enough, looking more like bicycle handles than anything else. This leads to poor performance and will likely promote bad form in the longer run. The pull up grips are uncomfortable too, meaning that of all the uses you will need out of a power tower, many of the primary ones are impeded by the XMark XM-4434's design flaws.
It's a cheap piece of kit, making it seem tempting, but it's not necessarily all that cheerful.
[letsreviewunique title="Our Verdict" pros_title="Pros" pros="Very inexpensive,Well balanced with good proportions" cons_title="Cons" cons="It really does feel cheap,Lack of stability in some of the pads and support,Lack of support in some of the handles" affiliate="Check Latest Price,https://www.amazon.com/gp/product/B016AI5NQQ/ref=as_li_tl?ie=UTF8&camp=1789&creative=9325&creativeASIN=B016AI5NQQ&linkCode=as2&tag=thisiswhyimfi-20&linkId=ba7893bb1ad2316f8d551eebe9209f90″ accent="#f8d92f" final_score="81″ format="2″ skin="1″ animation="1″ design="1″][/letsreviewunique]
Primary exercises with the power tower
So, that's my selection for the top 5 commercially available power towers suitable for a home gym. Before I go, however, let me take you through one of the most important parts of investing in such a piece of kit: what it is for.
What exercises should you be buying your power tower for, and what benefits can you expect from including them in your fitness regime? Read on to find out.
Pull ups and chin ups
These are the big back builders: speak to anyone in the gym who has a broad, strong looking back and they will doubtless tell you that they use pull ups and chin ups often, and can go at them for many reps.
For chin ups, keep your forearms parallel with your palms either facing one another, or facing you. Hands should be a little closer than shoulder width apart. The aim is to pull your body upwards until your chin is over the bar. In this way, you will be working, to a greater or lesser degree: your forearms and grip strength, biceps, chest, and several important portions and functions on the upper back, with particular emphasis on the latissimus dorsi muscles.
Pull ups work similarly, though for these you will want your palms facing away from your body, with your hands slightly further apart. Keep your shoulder blades pinned back and your chest flared as you pull yourself upwards. The aim here will be to bring your chest as close to the bar as possible, working the same muscles as with chin ups but with a slightly different emphasis on the latissimus dorsi.
Dips
Dips are one of the greatest chest and triceps builders out there. They will have great carry over into any pressing motion, from bench pressing and overhead pressing to more athletic movements like throws and punches.
To perform them, hold onto the power tower's parallel handles: the aim is to 'dip' yourself down between them before extending once more. Make sure that you never bend your elbows to more than 90 degrees, allowing the tension to remain within the muscles throughout the movement, and open the chest as much as possible in the movement's bottom portion.
Keep a slight forward lean in order to put the emphasis more into the pectoral muscles of your chest, or keep your torso straighter, perpendicular to the ground, to put more pressure into your triceps.
Deep 'Atlas' push ups
These are deeper variations of the regular push up, as should be made clear enough from their name! There will often be handles at the power tower's base. Using these to elevate your hands slightly from the ground, you can lower your chest down further, below your wrists, for a greater range of motion. This will give you a greater level of resistance than regular push ups and will activate more muscle fibres, more fully, as your pectorals are stretched to their maximum capacity.
Knee and leg raises
These exercises will work your lower outer abdominal muscles and your inner rectus abdominus. Simply brace yourself against the power tower's backrest, arms on the arm rest, and lift your knees up towards your chest- these are knee raises, and they are perfect for beginners looking to quickly increase their core strength.
For a harder, more advanced version, try leg raises. Do the same motion, but keep your legs straight, aiming to bring your thighs up to above the level of your hips. Keep a slow eccentric motion as you lower your legs back down, controlling your muscles all the way.
With a twisting, rotation movement, a variation of each can also be added to work your oblique muscles.
Some research has shown that knee and leg raises performed on a power tower or captain's chair elicit great electromyography responses that standard crunches or sit ups would. There will be more activation in your abdominal and oblique muscle fibres than would be given by regular sit ups. Many fitness professionals would agree with these findings: going for reps of leg raises on one of these pieces of kit will have you fatiguing fast and will lead to very significant, very immediate strength gains.
Resistance and progressive overload
Resistance can be increased in all of these exercises by adding weight. This is recommended for more advanced users and can be done by wearing a weighted vest, belt or ankle weight, holding a dumbbell or kettlebell between the feet, or using a resistance band. In this way, progressive overload can be achieved, gradually raising the resistance levels as your body adapts.
Outro
As I said at the start, bodyweight exercises rule supreme in many arenas in the fitness world. Even experienced lifters and strength athletes benefit from them, showing that no matter what level you're at, the basic movements promoted by power towers are an adequate challenge and a great stimulus for adaptation.
Hopefully, you know a little bit more about power towers than you did before reading this article. By now, you should have a fairly good idea of the power towers available to you, their potential pitfalls, and what others have said about some of the top products out there.
You know my pick, but what's yours? Do you have a preference? Have you tried out a few, or any from our list? Let us know in the comments below: what power towers would you recommend?