Being lactose intolerant, or just wanting to forego lactose on any other health grounds, should not and does not mean you can't have all the benefits that protein powder can bring. From dairy free, vegan alternatives, to traditional whey protein that's been specifically treated, there are a host of options for you to get your protein in without suffering any negatives.
For us, Vega One Organic is a clear winner, as we will go into in more detail below. It's completely vegan, good quality, is very reasonably priced and brings a host of benefits to the table including a stellar micronutrient and antioxidant profile.
There are other products in today's market that are also fantastic, however, so we have brought together a list of honorable mentions and economically viable products below, giving you the pick of the best that the industry has to offer.
Our Top 6 Lactose Free Protein Powders
The following list all have their strengths and weaknesses, and all deserve their place on this list.
Our Top Pick
Vega One Organic is made from non-GMO pea, pumpkin and sunflower seeds. It's completely dairy- and gluten- free, hence it's naturally lactose free: it will be a good bet for anybody looking to lower their lactose intake.
A single serving of Vega One Organic will give you 20g of diverse, high quality plant proteins. What puts this product above the others, however, is the micronutrient payload it delivers. Loaded with antioxidants, it will give an anti-inflammatory effect (helping you to recover from training faster.) Probiotics such as Bacillus coagulans will help with digestion (often an issue with protein shakes.) Omega 3s will keep your joints supple and flexible.
Alongside these, carrot and acerola cherry juice included in its formula mean that Vega One Organic gives you plentiful doses of Vitamins A and C.
It's also very tasty, with a lovely, smooth chocolate flavouring that is delicious.
[letsreviewaffiliate url="https://www.amazon.com/gp/product/B079HY58ZT/ref=as_li_tl?ie=UTF8&camp=1789&creative=9325&creativeASIN=B079HY58ZT&linkCode=as2&tag=thisiswhyi072-20&linkId=005e7129ab0ef40021d11cc95b54cff6″ text="Check Latest Price" size="small" rel="nofollow" target="samewindow" accent="#f8d92f"format="2″ skin="1″ border="on"]
Main features:
It delivers 20g of protein per serving
It is rich in antioxidants and probiotics
All ingredients are non-GMO certified
It delivers Vitamins A and C, alongside Omega 3 and healthy probiotics
Completely plant based, so perfect for those looking to cut out lactose
[letsreviewunique title="Our Verdict" pros_title="Pros" pros="High protein content,Good micronutrient and probiotic content,Competitively priced,Non-GMO,,,," cons_title="Cons" cons="Non-animal protein base may put some users off,,,,,,," affiliate="Check Latest Price,https://www.amazon.com/gp/product/B079HY58ZT/ref=as_li_tl?ie=UTF8&camp=1789&creative=9325&creativeASIN=B079HY58ZT&linkCode=as2&tag=thisiswhyi072-20&linkId=005e7129ab0ef40021d11cc95b54cff6″ accent="#f8d92f" final_score="95″ format="2″ skin="1″ animation="1″ design="1″][/letsreviewunique]
Runner Up
Isopure Zero Carb is a whey powder that has been treated to be both lactose- and gluten- free.
It blends down nicely in water and any form of (lactose free or plant based) milk. However, it has myriad uses other than just being blitzed up into a shake. You can use it in baking to make low carb, lactose free cookies and brownies.
You get 25g of good quality protein with every serving, it comes at a competitive price, and will make a great addition to your daily supplement regime.
[letsreviewunique title="Our Verdict" pros_title="Pros" pros="Lactose and gluten-free,Fully keto friendly with no carbs,Lovely taste,25g of complete proteins,A range of lovely flavours,," cons_title="Cons" cons="No other real benefits,,,,,,," affiliate="Check Latest Price,https://www.amazon.com/gp/product/B000E95HP0/ref=as_li_tl?ie=UTF8&camp=1789&creative=9325&creativeASIN=B000E95HP0&linkCode=as2&tag=thisiswhyi072-20&linkId=0fca88f9942c6b139d82483ac4af4027″ accent="#f8d92f" final_score="91″ format="2″ skin="1″ animation="1″ design="1″][/letsreviewunique]
Honorable Mentions
This is a beef-based product, meaning that all proteins will be complete and good quality. You get 23g per serving, and it is all fast absorbing and great tasting. As it's based on red meat, it's rich in creatine and maltodextrin, is virtually carb free and contains no lactose, gluten or dairy.
[letsreviewunique title="Our Verdict" pros_title="Pros" pros="23g complete protein per serving,Rich in creatine and maltodextrin,Gluten-free,Lactose-free,Dairy-free,," cons_title="Cons" cons="Meat-based at a time when many are trying to limit their consumption,,,,,,," affiliate="Check Latest Price,https://www.amazon.com/gp/product/B004HY325K/ref=as_li_tl?ie=UTF8&camp=1789&creative=9325&creativeASIN=B004HY325K&linkCode=as2&tag=thisiswhyi072-20&linkId=0a6ea444583690363631a58b4f67c0ab" accent="#f8d92f" final_score="85″ format="2″ skin="1″ animation="1″ design="1″][/letsreviewunique]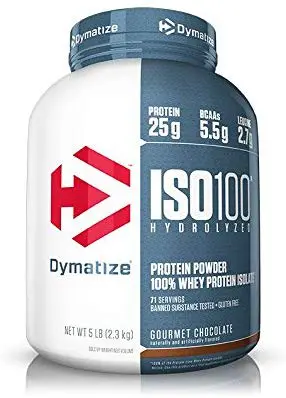 Dymatize ISO is another lactose-free whey protein powder. It delivers a full 25g of good quality protein per serving, including 5.5g of BCAAs and 2.7g of leucine. In terms of pure protein hits, this is one of the best lactose free powders going.
It's also delicious, with a smooth, chocolatey taste at less than a single gram of sugar or fat per serving.
[letsreviewunique title="Our Verdict" pros_title="Pros" pros="Top quality protein content including BCAAs,Hydrolysed for fast digestion," cons_title="Cons" cons="Some users report issues with packaging (and sanitation),Not all flavours are consistent in quality,,,,,," affiliate="Check Latest Price,https://www.amazon.com/gp/product/B002N6F2UW/ref=as_li_tl?ie=UTF8&camp=1789&creative=9325&creativeASIN=B002N6F2UW&linkCode=as2&tag=thisiswhyi072-20&linkId=4b917eb9b8f6318b6e129a1819baaa7b" accent="#f8d92f" final_score="87″ format="2″ skin="1″ animation="1″ design="1″][/letsreviewunique]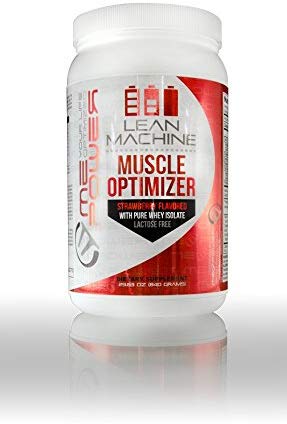 With ME POWER Lean Muscle Optimizer, you get 28 servings of whey protein at 26g per serving: this is tremendous. The strawberry flavour is particularly good, and the formula itself is free from lactose, cholesterol, fat and sodium. Other than this, there isn't too much to say: it's a solid option and well-worth looking into for anybody looking for a good quality, lactose free protein power.
[letsreviewunique title="Our Verdict" pros_title="Pros" pros="Good quality whey protein with a full array of amino acids,High dosing,Handy packaging, Cholesterol-free, Lactose-free, Fat-free" cons_title="Cons" cons="Not much customer feedback available,No added benefits,,,,," affiliate="Check Latest Price,https://www.amazon.com/gp/product/B01N1ZD95G/ref=as_li_tl?ie=UTF8&camp=1789&creative=9325&creativeASIN=B01N1ZD95G&linkCode=as2&tag=thisiswhyi072-20&linkId=5f2be2ee862c22d5964109074a76a60b" accent="#f8d92f" final_score="82″ format="2″ skin="1″ animation="1″ design="1″][/letsreviewunique]
Budget Pick
This is a great, economical product, at around 20c less per ounce than the others on this list. It's another lactose free whey powder, with a fast absorbing formula that should leave you without any kind of bloat. No fat, no carbs, no lactose, with 24g of protein per serving: if you're conscious of the pennies, this is the one to go for.
[letsreviewunique title="Our Verdict" pros_title="Pros" pros="Economical, Good quality whey protein, No fat or carbs, Lovely taste, Fast absorbing" cons_title="Cons" cons="No added benefits which is fine for the price,,,,," affiliate="Check Latest Price,https://www.amazon.com/gp/product/B00MA28CLU/ref=as_li_tl?ie=UTF8&camp=1789&creative=9325&creativeASIN=B00MA28CLU&linkCode=as2&tag=thisiswhyi072-20&linkId=2d6671e2a51ac673ee5e2ef4f3b2a239″ accent="#f8d92f" final_score="90″ format="2″ skin="1″ animation="1″ design="1″][/letsreviewunique]
Protein Powder and Lactose
Most easily available, popular protein powders are dairy, made from cow's milk. Whey and casein proteins, which form the bulk of these, are by-products of the process of making cheese. From here, they are scooped up, treated and turned into the tubs of protein powder we know and love.
For people who are lactose intolerant, many of these will be unsuitable. Unsurprisingly, they contain lactose in the same way in which raw milk and cheese do. From nausea to bloating to abdominal pains, all the usual symptoms will be present.
However, there is a filtration process that can make whey suitable, removing most of the lactose. Running the whey liquid through a sequence of ceramic filters, hardly any of the original lactose will remain: many protein manufacturers have taken to doing this specifically to cater for those looking to keep their lactose intake down.
Whey concentrate has the most lactose and should be avoided. However, whey protein isolate has less lactose than whey concentrate, and whey hydrolysate has less still. Therefore, if you're looking to keep your lactose intake down when looking into whey powder, you will want to avoid products that contain whey concentrate.
Obviously, we didn't look at any products that contained whey concentrate.
However, whey isn't the only option. If you want to go milk free entirely, there are a range of different protein sources that manufacturers use to make their protein powders, including:
Meat products like beef, fish and chicken
Bovine (beef) collagen
Plants like soya, peas, rice and wheat
Egg whites, either as a powder or liquid
Theoretically, any of the above should be suitable for a lactose-free diet, and we looked into all of them whilst compiling this list.
Choosing the Best Lactose Free Protein Powder
What makes a good protein powder?
Without the proper fuel to help you repair and recharge from training, you'll find strength, power, speed and hypertrophy dropping. You will likely feel a lot weaker than you otherwise would, as your muscles aren't getting what they need to mend themselves and adapt. You may even suffer atrophy, the loss of muscle mass.
A good protein powder, in its most basic form, will deliver enough protein at regular enough intervals to stop this from happening. Many people in the past have drunk their protein shakes in a 30 minute 'metabolic window' after training. This myth has been firmly debunked. When doesn't matter anywhere near as much as total volume when it comes to protein consumption.
Protein shakes are first and foremost a tool to get total volume up.
However, though there is no specified timing to protein intake, protein powder's very nature makes it suitable to be drunk on the move. As a midmorning snack, as a late-night top-up to your daily macros, or even to be drunk as you train to keep yourself fuelled and hydrated, protein powder needs to be easy to mix, consume and digest. This is a basic requirement these days that everything on this list meets.
Though they come in a variety of forms, flavours and styles, all protein shakes should give you a degree of satiation with minimal gastric distress and should be quick and easy to digest assimilate. The following list is made of supplements that of course achieve this.
Where possible (and it should almost always be possible), protein powder should be complete. This means that they contain all of the 21 amino acids that the human body needs to repair and grow, including the essential amino acids that the body cannot make itself.
Whey, casein, and any other animal-based protein source will manage this easily enough. Many plant-based protein sources will do so, too: modern science allows this of their formulas.
Every product on our honorable mentions list will enhance your performance over time and spur on your recovery, which is what you should expect of any protein product, and which is a must for the money you pay.
What are we looking for?
Bearing all of the above in mind, there are a few things we are looking for in good quality lactose free protein powders.
Firstly, know your consumers: public opinion always matters when you're talking about supplements. Users are the harshest critics and the people with the most experience of living with a product. All of the products on our list therefore have a plethora of positive reviews and feedback from across the web.
Other than general user experience, expert feedback is always necessary to know that a product is legit and delivering what it's promising. We have therefore reviewed each of these products all the feedback we give is based on our professional experience. The formulas have been scrutinised, the protein contents and breakdowns gone over, and the wheat separated from the proverbial chaff.
Last, and by no means least, we look at results. This matters more than anything else. Can a formula deliver what it promises, feeding your body with everything it needs to feel sated and build muscle; can it help you with adaptation and overload, making you stronger, faster, more muscular and more powerful? All of the items on our list can, to a greater or lesser degree.
They are all first class supplements, and would all represent a fantastic addition to any supplement regime.
The Thinking Behind Lactose Free Products
Broadly speaking, there will be one of two reasons that someone might be looking at buying protein products that are free from lactose. Either they are lactose intolerant, or they are foregoing animal products and sticking to a plant-based diet.
Why would either be the case, however? Let's look into it in a bit more detail.
Understanding Lactose Intolerance
If you have ever felt any of the following symptoms after consuming dairy products like milk, cheese or yoghurt, then there is a good chance that you are lactose intolerant to a degree:
Excess gas or flatulence
Bloating around the stomach and/or gut
Nausea
Digestive issues
If you're lactose intolerant, it's obviously a good idea to go lactose-free, or at least to cut down on your intake. This is where lactose free protein powder will predictably come into its own.
But what causes lactose intolerance in the first place?
Lactose is a type of sugar that is to be found in milk and anything derived from milk (cheese, yoghurt, whey protein, etc…) If you are lactose intolerant then your body has a very limited ability to properly digest lactose.
Lactose intolerance is generally due to something called lactase deficiency: your body doesn't produce enough lactase, which is a digestive enzyme used to break down lactose. Because it's a lack of enough, not usually a complete absence of, this enzyme, tolerance (and intolerance) will vary person to person.
If you produce a little under normal, you can probably get away with eating a little dairy- this is the position many find themselves in. Keep it moderate and you should be fine. If you want to mix in a little high-quality whey isolate, you should be fine.
If you produce hardly any lactase, then obviously you will be able to eat very little dairy before the above symptoms occur. Here, you want to minimise or even remove lactose consumption entirely: stick rigidly to our list to keep your health on track.
Though the symptoms may be different between people, the above gastric related complaints are generally quite representative of what you can expect when you over-eat lactose with a lactase deficiency. Within just a couple of hours of eating or drinking dairy, nausea, digestive issues, cramps and even vomiting can come into play.
Of course, you want to avoid this if you can.
The Long Run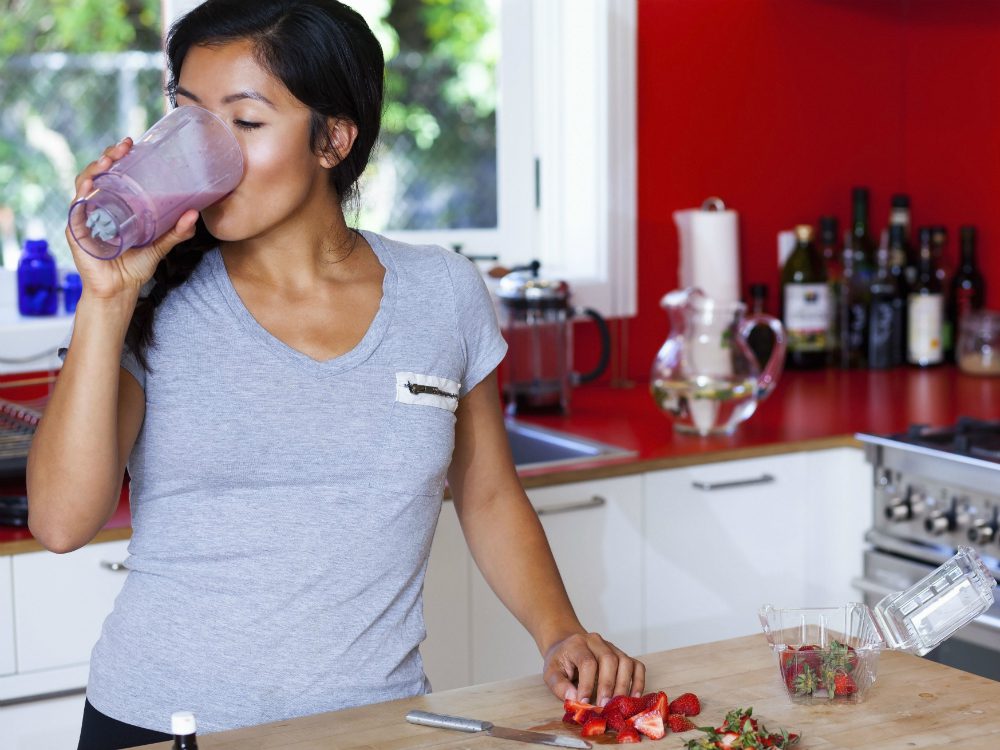 Though some cases of lactose intolerance- like gastroenteritis, for example- are temporary, there isn't a cure as such for full lactose intolerance, no wonder drug to make you suddenly be able to digest lactose. Rather, the way to cope with lactose intolerance is to adjust your diet to control, and even get rid of, the symptoms of lactose intolerance.
Though the exact changes you will need to make are dependent on the severity of your intolerance, as mentioned above, there will be a list of foods to take off the menu, replacing them with these kinds of lactose free alternatives.
Taking supplements like the ones on this list counts towards this. Taking your protein from non-lactose sources will be important for anyone. For somebody looking to build muscle or in any way fuel their athletic endeavours, it's crucial.
It's very important that if you do decide to experiment with what you can and cannot eat, make sure to introduce new foods gradually, rather than all at once. This will minimise impact, and will allow you to catch anything too troublesome early on, before you're taking in too much.
Sources of Lactose
Any foods or supplements with the following in them should be cause for concern if you're lactose intolerant. Our list of lactose free protein powders is free from most of them, or the products on it have at least been treated in such a way as to remove lactose (as mentioned above.)
Milk: Of course, this is the big one. Milk is a major source of lactose in our diet, including cow's milk, sheep's milk and goat's milk. This will be the first thing to go if you're looking to cut lactose from your diet.
Dairy products: This includes anything made using milk as its base ingredient. Basically, you're looking at cheese, yoghurt, cream and butter. If any fitness supplements include these, or if any recipes include them (grass fed butter or high protein yoghurt may come up a fair amount) then you will need to find a dairy-free alternative (like olive oil spread or soya-yoghurt.)
However, whilst pure milk will likely set off your intolerance, subsidiary dairy products often have lower levels of lactose. If you're going to include any dairy in your diet, it could be worth taking some from this list.
Other sources: Outside of the usual suspects of milk and dairy products, there are some other sources of lactose that it's worth looking out for if you're really trying to cut down your intake. These include:
Salad cream, salad dressing and mayonnaise
Cakes, biscuits and chocolate (made with milk and butter)
Some forms of bread and other bakery products (made with butter)
Some breakfast cereals
Packets of ready mixes, for instance those to make cakes, biscuits, mashed potato and soup.
If you're going to all the trouble of sourcing a lactose free protein powder- which you should, and likely are doing- then you will want to complement this supplementation with as clean a diet as possible. Look out for everything listed above. Cut them out or down, take your lactose free protein shake, and enjoy life as your stomach settles down and your gut health returns to how it should be.
However, it's not just lactose intolerance that can lead you to want lactose- and especially dairy-free protein powder. If you're looking to cut down on the volume of dairy products- or even go the whole nine yards and switch to a plant-based, vegan diet- then many items on our list will be perfect for you.
There are some sound nutritional reasons for wanting to choose these products.
Why You Might Like to Limit Dairy and Lactose Intake
1. Lactose is a Sugar, After All
Dairy products can raise your insulin levels, and people on insulin-controlled diets are often advised to forego milk in large quantities. It's recommended for anybody and everybody to limit excess insulin exposure, but for those with diabetes, polycystic ovary syndrome (PCOS), and other serious metabolic disorders this becomes even more crucial.
Lactose is a type of sugar, albeit a natural one. Milk in any form- yoghurt, cheese and anything with whey or casein- can bring about a tremendous and unhealthy insulin response. If you're chugging down 80+ grams of protein powder every day (easily done in certain circles) then you will be taking in a lot of this lactose. Each mouthful will be spiking your insulin levels as the sugar hits you.
Calming it down and taking in some, or even all, of your protein from lactose free sources like the protein powders on our list is a great way to reduce this factor.
2. Dairy Isn't Actually All That 'Natural'
I called lactose a natural sugar above, but really there's nothing too natural about modern dairy intake.
Though milk does deliver some vital minerals and vitamins, these same minerals and vitamins are available from other sources. In addition, we don't need the exposure to added antibiotics and hormones that are routinely found in conventional dairy products.
These antibiotics and hormones are given to most dairy cows en masse, in great quantities.
It makes sense, in a way. The antibiotics prevent valuable cows from suffering infection. The hormones help cows to grow big and strong, giving larger yields of milk. Bovine Growth Hormone (BVG) is a naturally occurring hormone in cows, and therefore in milk, but dairy farmers routinely give their cows a synthetic version known as rBGH to stimulate milk supply. One of the main effects of this is to increase the insulin-like growth factor.
The presence of this increased insulin growth factor, and the ingestion of it by humans, has been linked to an increased risk of various cancers.
Do without so many of the chemicals: try a few non-dairy options as and when you can.
3. Dairy Can Be Estrogenic
Cutting dairy out of your diet could be very beneficial to your body's hormonal balance.
Regularly consuming dairy promotes excessive levels of oestrogen in the body. This may sound a little bizarre, but it actually makes perfect sense. Milk comes from female livestock and thus contains a fair helping of oestrogen.
If you drink enough of it, milk will regularly make up over 50%- sometimes up to 80%- of your daily dietary oestrogen intake.
For women, excessive oestrogen intake has been linked to an increased risk from various types of cancers. For men, it has been linked to a greater risk of developing testicular and prostate cancer, alongside other health and physique issues like gynecomastia. Mood swings can be commonplace and incidents of acne worsened.
For the sake of your health, dial down the amount of dairy you're consuming: consider switching some of your intake to a plant based, lactose free protein powder.
4. Lactose Can Lead to Digestive Complaints
We've already gone over lactose intolerance, so there's not too much need to revisit it. However, even amongst those who produce adequate levels of lactase, digestive upset can be relatively common on a dairy-fuelled diet.
Many people simply don't have the level of digestive function needed to optimally digest the proteins, sugars and carbs found in dairy products- most notably, the lactose. This can lead to common issues such as bloating, irritable bowel syndrome, excess gas and flatulence, constipation or diarrhoea, and nausea, acid reflux and vomiting.
If you have any digestive complaints at all, consider switching either to dairy-free or lactose-free alternatives, like those found on our list.
5. Dairy and Lactose Can Trigger Other Conditions
Dairy and lactose can commonly lead to an increase of inflammation in your body. This is likely as a result of the other things listed above. Chronic inflammation has various negative effects on your health, not least increasing your likelihood of developing several types of cancer. For athletes, however, the condition extends to recovery: the more inflammation you have, the worse/more slowly you will recover, and the worse your performance will be.
For this reason, if nothing else, it's worth looking to lactose- and dairy-free protein powder alternatives, like those on our list.
As well as inflammation, excess mucus production in the respiratory tract has been linked to dairy and lactose intake. Dairy can also be a trigger for asthma. Limiting intake, or cutting it out altogether, is a good idea for asthmatics and those prone to upper respiratory infections. For any athlete looking to maximise their breathing health, however, it is recommended that alternatives to dairy and lactose laden products be used.
Dairy has also been linked as a trigger for arthritis symptoms, rashes, acne, migraines, narcolepsy, and/or unexplained inflammation. Cutting down dairy and lactose for people suffering with these conditions can greatly reduce their symptoms.
Outro
Hopefully, you are now a little bit more about knowledgeable about lactose free protein powders than you were before reading this article. You should know their uses, their pros and cons, and the benefits of either going lactose or dairy free, or at least cutting down your intake.
The market for lactose free protein powders should have opened up to you: you have seen the kinds of products available, their uses, pros and cons, and what the best of the best really look like.
You know our favourite, but do you have a preference? Have you tried out a few, or indeed any, from our list? Let us know in the comments below: which lactose free protein powder would you most recommend?