Today we're going to discuss Deadlift socks and why a high-quality product, like the Hoplite Compression and Lifting sock, stands out to us.
The defining qualities like the reinforced shin and high-quality material are great examples of the basics, and stands out on the market. We're going to compare to other products and contrast the specifics, so you know exactly what to look for in a deadlift sock!
By the end of this article you'll know exactly what you need and how to get the most from your budget!
Our Top Deadlift Socks
Our Top Pick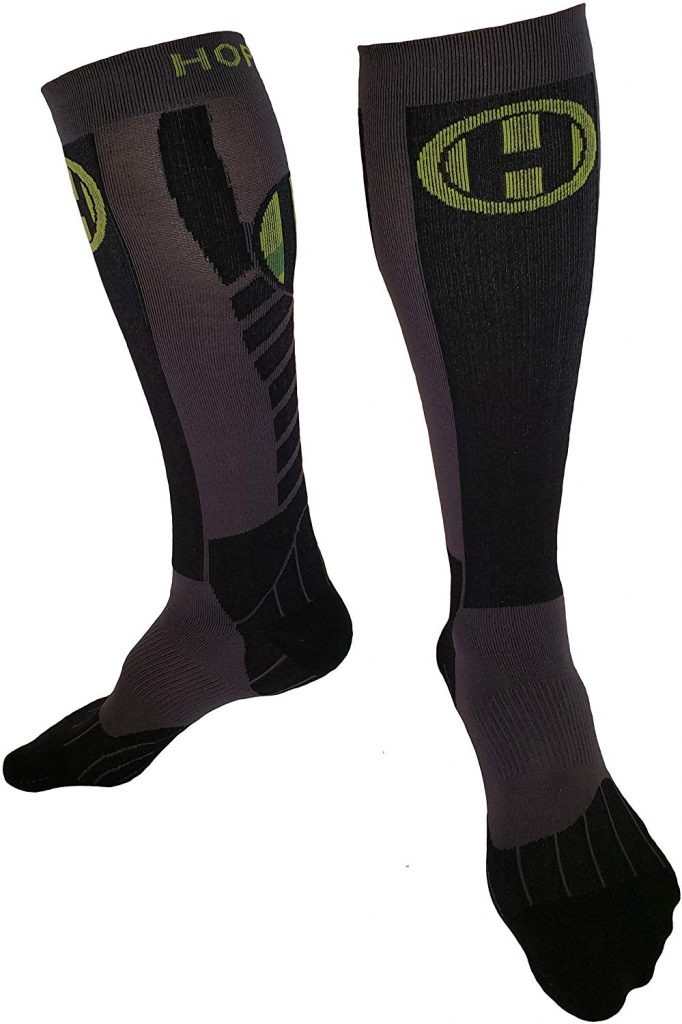 We really like the hoplite approach to a deadlift sock; it offers a combination of good fundamentals and a quality reinforced shin design. This means you're going to get the best of both worlds.
The socks hold up well and are pretty comfortable, while the reinforced shin means better durability and unparalleled protection. This is a quality improvement and the result is a product that covers both the basics and the innovation that we're looking for.
This is definitely the most premium product on the list, and it shows in the price. The expense is much greater than other products, but the quality really stands up to this cost. You're not likely to have to purchase another pair of socks, which is a huge benefit.
[letsreviewunique title="Our Verdict" pros_title="Pros" pros="A great grasp of the basics – materials; knit; and design, Innovation with a reinforced shin pad, and thus improved performance, Great durability and comfort,,,," cons_title="Cons" cons="Premium product with a premium price tag,,,,,," affiliate="Check Latest Price,https://www.amazon.com/gp/product/B07V5LDMLJ/ref=as_li_tl?ie=UTF8&camp=1789&creative=9325&creativeASIN=B07V5LDMLJ&linkCode=as2&tag=tiwif-20&linkId=b6b539a4c6133739164b448767c9c5c5″ format="2″ skin="1″ animation="1″ design="1″][/letsreviewunique]
Honourable Mentions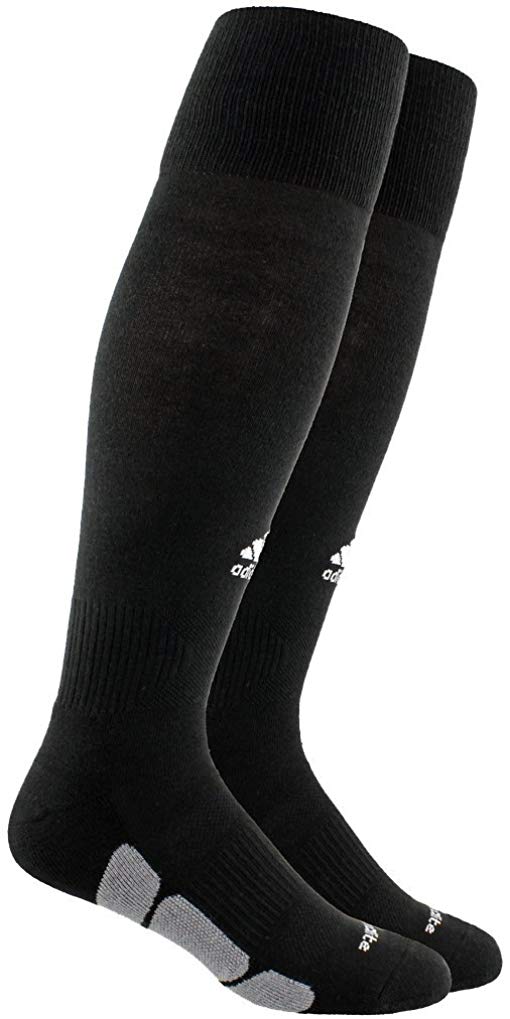 Adidas are a brand you should be familiar with if you're into sportswear in any context. It's a brand with a reputation for quality over the decades and while they have some questionable style choices, the deadlift sock is a simple, effective, stylish number.
It's technically a weightlifting sock, finding favour with Olympic lifters, but works beautifully for any pull from the floor. It's a relatively woollen material, which is an interesting choice, but holds up well for a fair few months.
The heels and ball of the foot are both relatively hard-wearing, but the woollen material will thin over time. You can expect a year or two of use out of these socks if you're training 3 times a week – and you may still damage your shins. They're a great staple and we like them, offering a more premium product within the range. We love the adidas sock and you know you're getting a good band behind a good product.
[letsreviewunique title="Our Verdict" pros_title="Pros" pros="A high-quality brand reputation, Good quality; both in terms of strength and length, Great price considering the quality,,," cons_title="Cons" cons="Woollen material will wear with time, Relatively weak on the bottom of the foot,,,,,," affiliate="Check Latest Price,https://www.amazon.com/gp/product/B0185FE340/ref=as_li_qf_asin_il_tl?ie=UTF8&tag=tiwif-20&creative=9325&linkCode=as2&creativeASIN=B0185FE340&linkId=8c15e0393685fdf94946d1a4774e788a" accent="#f8d92f" format="2″ skin="1″ animation="1″ design="1″][/letsreviewunique]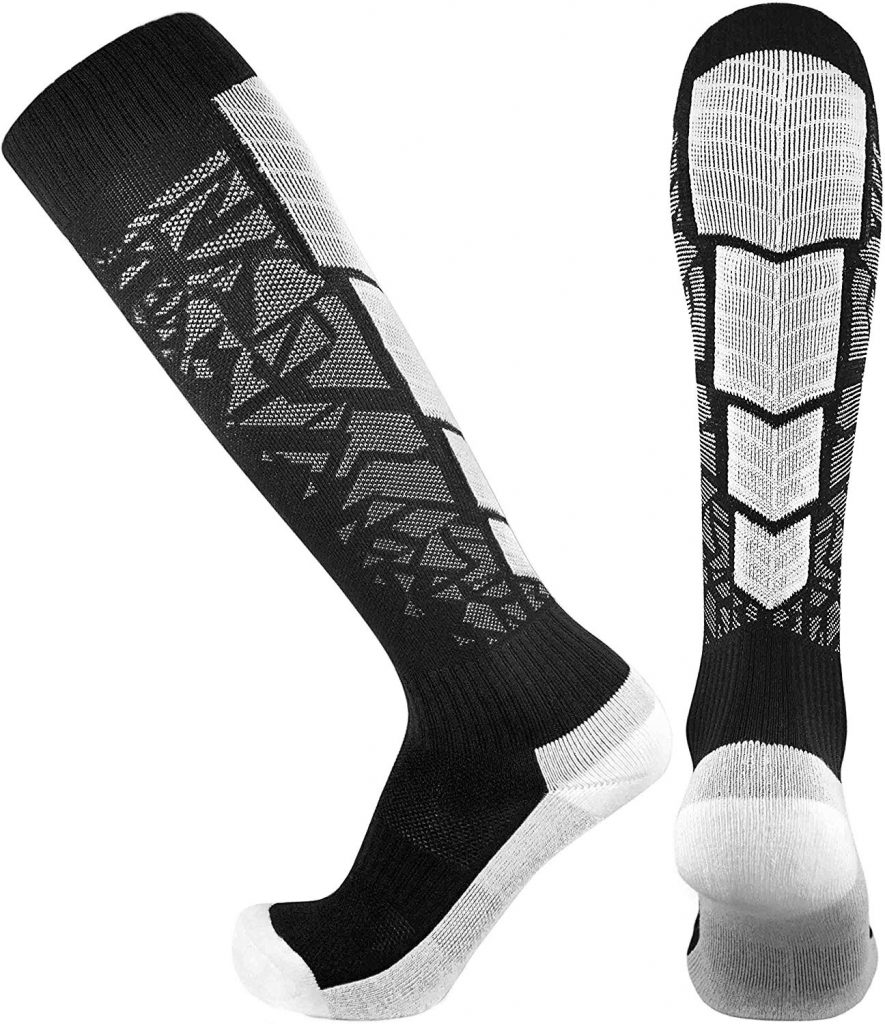 These are a pretty good middle-ground sock that offer some of the benefits we're looking for, while also offering decent value. The designs are pretty sharp and the standards for security and durability are pretty good.
The combination of quality material and decent thickness make them appropriate for deadlifting – and comparable to the Adidas socks we've already discussed. They're a little small in the foot for some, but this is a persistent risk of buying socks.
Be careful when using the sizing guide and make sure to check the foot size as well as the length. It's possible to go over the knee, which may be uncomfortable and could lead to the socks falling down during an exercise.
[letsreviewunique title="Our Verdict" pros_title="Pros" pros="A pretty good standard sock, Cool designs and solid construction, Good quality material and knit,,,,," cons_title="Cons" cons="Lacks the innovation of some other products on this list, Comparable to others but not distinctly better,,,,,," affiliate="Check Latest Price,https://www.amazon.com/gp/product/B07GDRGP2J/ref=as_li_qf_asin_il_tl?ie=UTF8&tag=tiwif-20&creative=9325&linkCode=as2&creativeASIN=B07GDRGP2J&linkId=4b854ebdd1ab88a93c084b504162c40d" accent="#f8d92f" format="2″ skin="1″ animation="1″ design="1″][/letsreviewunique]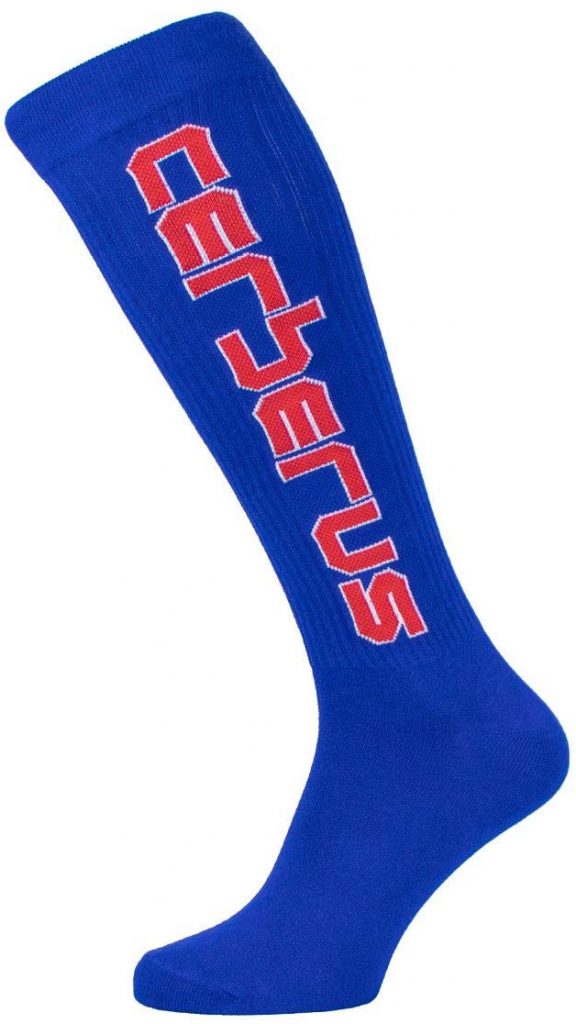 The Cerberus strength brand is a growing one – and in some ways it shows. Obviously, these aren't an economy option when they cost the same as other products on this list – but they offer an interesting alternative.
The options for this product include a ton of colourways, which offers a nice level of choice. These are all cool and have different aesthetics, so whether you're understated or neon, there's something for you.
The problem with this product is that the manufacturer sets expectations too high – the "one size fits all" doesn't seem to be true, while the material itself doesn't offer the kind of protection we'd like. In some ways, it's similar to the woollen material of the Adidas socks but thinner/weaker.
The thinning and eventual tearing of these socks is pretty consistent, which we could write off as an economy thing if they weren't competitively priced. The result is a product that fails to really stand out and often doesn't compare very well to the main competitors.
[letsreviewunique title="Our Verdict" pros_title="Pros" pros="Good designs," cons_title="Cons" cons="Not very thick, Reliability is questionably compared to others on this list, Not cheap enough to justify the inferior quality,,,," affiliate="Check Latest Price,https://www.amazon.com/gp/product/B07TD6FZZ9/ref=as_li_qf_asin_il_tl?ie=UTF8&tag=tiwif-20&creative=9325&linkCode=as2&creativeASIN=B07TD6FZZ9&linkId=53192f1bc092e333f61f28c961dfc3f5″ accent="#f8d92f" format="2″ skin="1″ animation="1″ design="1″][/letsreviewunique]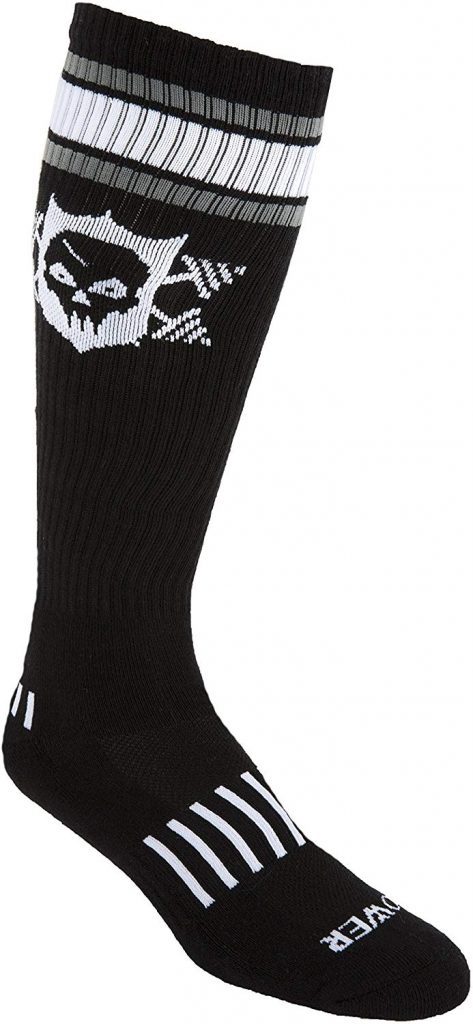 This is a sock brand that is aimed at selling to lifters, but not specifically designed to provide innovative functional benefits. They're long enough to be effective deadlifting socks, but they're not specifically useful for reducing shin-damage or keeping the barbell clean.
You can get some benefits from any long socks, but the specific design here is somewhere between a deadlift sock and a normal long sock. The tight-knit is great for reducing damage compared to a normal sock but we'd like to see a slightly thicker design through the mid-shin.
The designs themselves are cool and varied, which is why this brand has established some reputation and credibility. It's a brand that gives you tons of choices for expression, but probably isn't the sock you'd wear to pull your max deadlift in a competition.
We do like the support for the Achilles tendon and the arch, which is a relatively rare addition. This adds a lot of quality to the product and – as a training sock – this has a pretty good niche. We like this sock in a general sense, but it could do with being reinforced in the shin a little more.
[letsreviewunique title="Our Verdict" pros_title="Pros" pros="Good variety of designs, Length is good for deadlifting, Great arch and Achilles support," cons_title="Cons" cons="Not as hard-wearing as we'd like to see,,,,," affiliate="Check Latest Price,https://www.amazon.com/gp/product/B00BUCHXY8/ref=as_li_qf_asin_il_tl?ie=UTF8&tag=tiwif-20&creative=9325&linkCode=as2&creativeASIN=B00BUCHXY8&linkId=87a56fd7f0f6afe5b1f881d80b5f9852″ accent="#f8d92f" format="2″ skin="1″ animation="1″ design="1″][/letsreviewunique]

The under armour longer socks are primarily compressions socks but offer another option for the deadlift protection you're looking for. This is a viable option and the over-the-calf socks come in a variety of colourways.
The design is relatively light and not as heavy-duty as the things that you'd get with a specific deadlift or weightlifting sock. This shows up in terms of both durability and protection, but will definitely beat out your regular socks for function and performance.
They're also made of a compression material, which is one of the best ways of offering a secure, held-up sock. They bring some style and function to the mix without being a dedicated deadlift sock, so we recommend these as a choice for someone who is deadlifting, but not powerlifting.
The relative frequency is a big change and a sock like this can last years of protection if you're not deadlifting heavy, high-rep, and often. It's not the powerlifter's deadlifting sock but it can be a great choice for the average joe looking to keep their shins and bar safe/clean.
[letsreviewunique title="Our Verdict" pros_title="Pros" pros="Quality compression material and shin-protection, A good quality sock for non-powerlifters, Holds up well due to compression material" cons_title="Cons" cons="Light duty and not deadlift-specific,,,,," affiliate="Check Latest Price,https://www.amazon.com/gp/product/B00VRFEYB8/ref=as_li_qf_asin_il_tl?ie=UTF8&tag=tiwif-20&creative=9325&linkCode=as2&creativeASIN=B00VRFEYB8&linkId=90051d4dab557b2445115e28091bf485″ accent="#f8d92f" format="2″ skin="1″ animation="1″ design="1″][/letsreviewunique]
What's the point of a deadlift sock?
The whole point of a deadlift sock – separate from a regular kind of sock – is that it protects the shins from the knurling of the bar. A powerlifting bar – or an old gym bar – can be sharp (or just disgusting) and you might not want to cut your shins open on it.
The deadlift sock is a longer version of the socks you're familiar with – somewhere around knee height. It puts material between your skin and the barbell, but shouldn't be too high-friction as to ruin your deadlift (and clean) technique/speed from the floor.
This is also for reducing the risk of bleeding on shared gym equipment. We shouldn't need to explain to you that it's gross and should be avoided wherever possible. It's a two-way process and a high-quality sock keeps everything in-tact, clean, and free from bodily fluids. As they should be.
What to look for in a Deadlift Sock?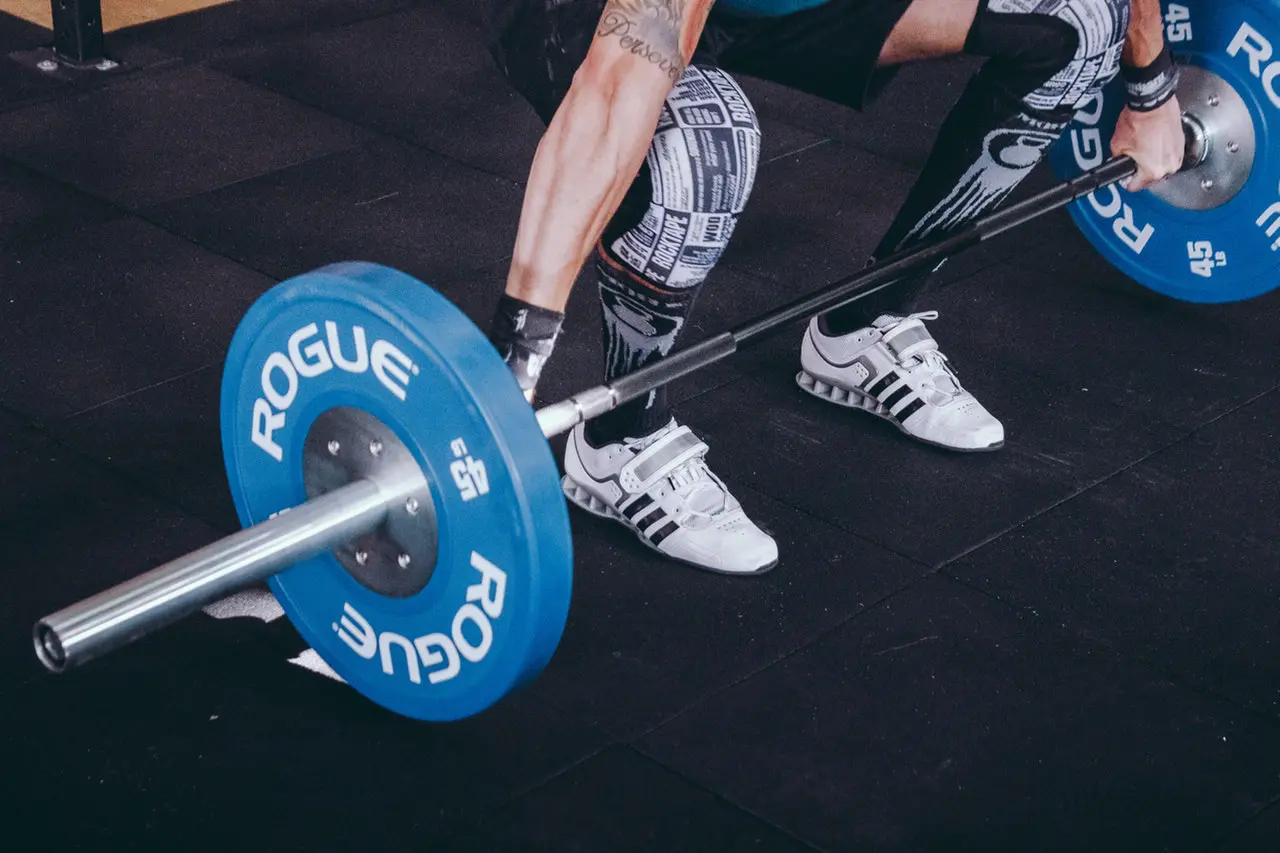 Brand quality
We love checking in on brands and their reputations because, in a lot of cases, these say a lot about the product and the customer service you can expect. The fitness industry does have a lot of shady players, so getting a product from a reliable source is an investment in peace of mind.
While we usually consider this in relation to supplements, where you're putting a product in your body, it's still relevant here. The concern for brand reputation is more about the customer service and the positive, outstanding reputations of some of the brands we're going to look at in our list.
You should always consider the brand you're working with for their customer service, business practices, and their genuine concern for your wellbeing as a customer. We love seeing a brand that is legitimately invested in you, since it bodes well for your future interactions.
Look out for return policies, guarantees/warranties, and always double-check for customer service experiences among existing customers. You never want to get caught short with a company that doesn't care about fulfilling their obligations or taking care of your customers.
Comfortable and Functional
One of the significant concerns you're going to have is to make sure they work well as socks. You want to be comfortable and confident in training and a low-quality sock just won't do – even if you're tough and gritty and only worried about performance.
If two products come at the same cost and the same function, they're going to be separated by the comfort. You have to wear them and you're probably going to be doing so for hours at a time, so you need to have some concern for what they feel like.
We can't communicate the exact feeling of wearing each of these pairs to you, but you can get an idea from existing customers. Equally, we can give you heads-up on the notably-bad and notably-good reputations, as well as an idea of what you might expect from each product.
You may want to check out the kind of material that each item is made of and if you have anything with a similar texture. Equally, the thickness and design are going to play into comfort, so you should pay attention to the style, as well as the materials.
Long enough
Deadlift socks need to be long enough to protect your shin-skin from the knurling of a barbell. Often this means covering up to the knee – coming up to the bottom of the kneecap itself.
A sock that is too short isn't going to offer any significant protection to the shins – it will just mean cuts and scrapes in different places. These aren't the same as effective deadlift socks, so we're looking for something that comes to upper-mid shin or bottom of the knee.
This is a minimum requirement; longer socks aren't always better, but short socks are totally useless for this purpose. You might want to deadlift in old school tube socks, but we're not going to discuss them here (what you do in the privacy of your own home isn't our business).
Strong enough
The material and style both need to provide a significant buffer between your shins and the barbell. It's totally realistic that there will eventually be some damage to the shins, but the stronger a deadlift sock, the less damage to your skin.
Since this is the single reason you're buying them (other than looking cool, perhaps), it's going to be the deciding factor. Once they're long enough, the strength and protective effects of a sock are going to be our #1 concern.
These aren't fashion garments – even if some of them look cool. There are two reasons that you should be buying deadlift socks:
To stop the barbell from churning up your shins, ruining your training, and causing unnecessary pain
Not bleeding on public gym equipment and getting your bio-hazard blood everywhere
Both of these require the strength of your deadlift socks. No matter your other priorities, this comes first and failure here means being a poor quality deadlift sock.
Cool aesthetics and designs
Now we're done being super serious, it's important to consider what you want your deadlift socks to look like. this isn't key but it can sell you on one product over another – you're the one who will have to wear it.
The look of a deadlift sock is pretty uniform – they tend to be colours that hide blood and don't look too out-of-place on most gym outfits. You can get outrageous socks with silly patterns or neon colours on them, but that's a fashion blunder you'll have to commit to by yourself.
We're going to cover the most effective and popular brands – and some personal favourites – so we might not cover your favourite pink and green polka dots. Just know what you want and consider the design if you're going to be investing in a pair – they should last a long time!
Security: Does it hold up?
When we say security we're not talking about the safety, but making sure the socks stay up during a deadlift. This could come in the form of a knitted cuff design or an elasticated band.
The last thing you want is to keep pulling your socks up between reps because they fell down. That's inconvenient, inefficient, and that energy could be spent on more deadlifting – clearly a concern.
A product with a reliable hold-up design is one of the best factors for investing your cash. It might sound trivial now, but it adds up over the years of using these socks that you could be in for. This kind of small detail will drive you mad over time, so best to make sure you're avoiding it.
Good quality and durability
One of the absolute keys to a pair of deadlift socks is the durability to last for many years of heavy lifts. You're going to be wearing them relatively often compared to your normal socks and they'll need increased durability to stay in one piece.
This is tied to strength since weak socks will tear during regular use. On the other hand, other areas of the sock can show up durability problems – especially the ball and heel of the foot. These are areas where quality will show itself and poor products are easily found out.
Powerlifting Socks: Is it IPF Legal?
If you're looking for a deadlifting sock because you love powerlifting and want to compete, you need to consider the fed you're training for. Examples like the IPF have stipulations on what you can wear during competitions and that might factor into your choice.
The different federations have different rules on what they'll allow for your legwear so make sure to check out your rulebook. Given that they are one of the stricter federations, the IPF guidelines are a good place to start for general use, since you're erring on the side of caution.
IPF-approved socks are a good choice but also relatively rare, so we look for compliance with general principles. Legal is best, but compliant will do for most of us; there's no need to buy a specific brand unless it fits your other criteria
Closing remarks
Deadlift socks are a small, smart investment that can take a lot of the inconvenience out of your deadlift training. If you're changing your technique to avoid shredding your shins, a deadlift sock is an investment in your comfort and your performance.
We've put together this list because some of the products are great examples, and some are great bad examples. The products are all suitable for different needs and we're big fans of many of them.
The Best Deadlift Socks on the Market
Our top pick for today is the Hoplite sock for the innovative, reinforced shin pad. It offers great basics all throughout the product, but this addition adds serious durability and functional benefits.
It's a more expensive product but the quality and value it adds is second to none. We love the investment this sock represents and the fact that it achieves the primary goal (protecting the shins) really well.
There are a lot of great products here, but this is clearly standing out for us and we think it justifies the mild expense that it presents over other, lower-quality products. If you've got your own requests/suggestions for review – or have any questions – we'd love to hear them!