We've all been there: you want to put in some decent workout time, improve your cardiovascular capacity, improve your endurance and work off a few calories, but you've got no time to get to them gym and no space at home for a load of clunky, complex fitness equipment. I've got you covered.
A good quality compact treadmill will see you right. Compact treadmills are small, lightweight and easy to store, and should all be very affordable (as are all the items on my list today.) Some fold up whilst others are portable so that they can be easily packed away after use.
Either way, they will fit into the slightest of living quarters, allowing you to pack them away efficiently when you're done with them. Though they are smaller than typical treadmills, this doesn't mean that you'll get off light- they will still give you the workout you're after, putting you through your paces in the best possible way.
In today's article, I will be going over what I think are six of the best compact treadmills you can find in today's market. They will all be worthy inclusions in your life, and will all get the job done well, allowing you to get a decent cardiovascular routine going whenever you need it.
I'll also go over what makes training with treadmills in general- and compact ones in particular- such good cardiovascular exercise.
Top 6 Best Compact Treadmills
The following list is ranked in no particular order. All have their strengths and weaknesses, and all deserve their place on this list.
Our Top Pick
Our top pick for the best compact treadmill is the ASUNA SpaceFlex Folding Treadmill with Auto Incline.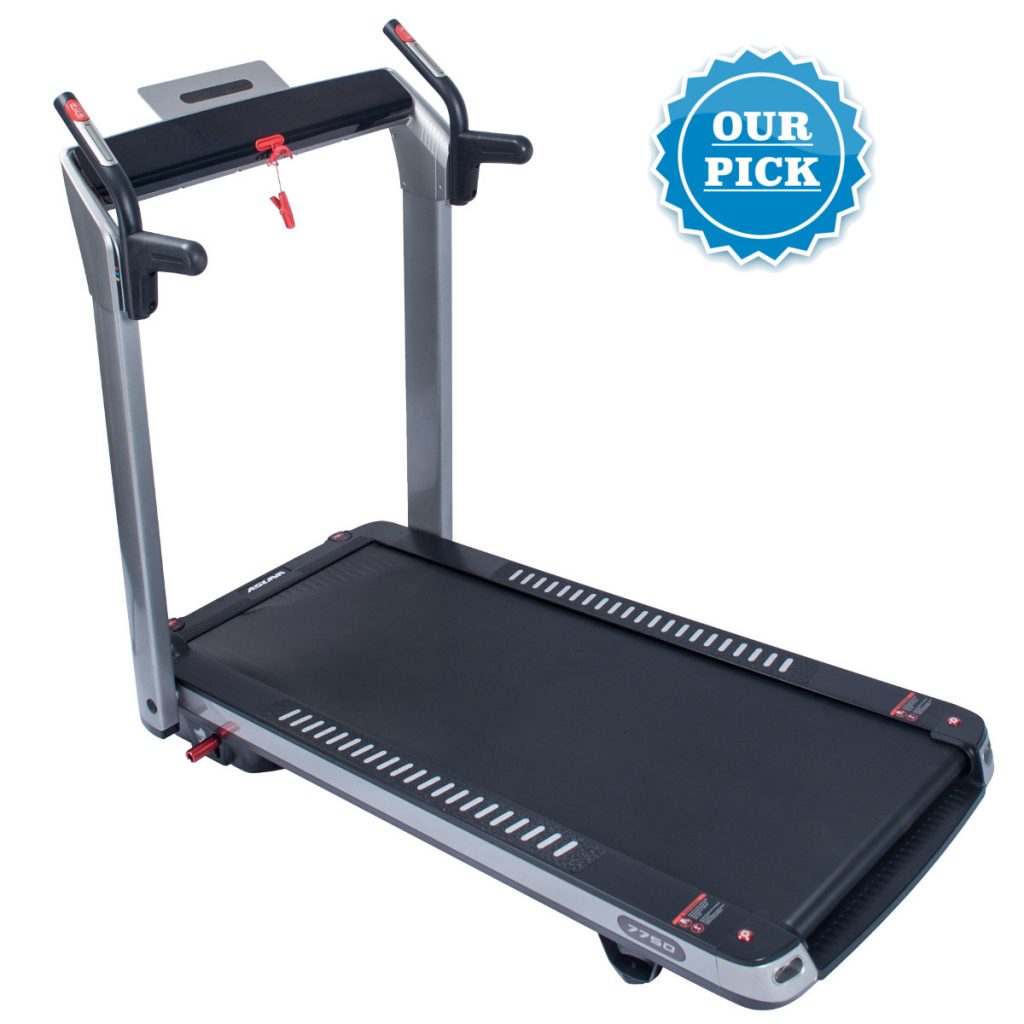 This was a particularly hard one to choose. I've given you six really good pieces of kit in this list and it came down, in the end, to a toss up between ASUNA and the Goplus… and, though both are great, I think I made the right call.
All six featured treadmills come with a few flaws, some of which are common between more than one, but all of them will deliver what they promise. These compact treadmills are all well-built, cost effective pieces of kit that will help you to achieve your fitness goals in a comfortable manner, whilst being unobtrusive and easy to pack away when you're done.
There will always be a product or two that stand out from the rest, however. For me, the ASUNA and Goplus don't have much between them, but both outshine their other competitors. Amazon reviewers have shown both products' enduring quality in their consistently strong reviews. However, with its ability to customise programs, its solid build and its peerless veneer of professionalism, I have to give it to the ASUNA SpaceFlex.
[letsreviewaffiliate url="https://www.amazon.com/gp/product/B0787LMXDK/ref=as_li_tl?ie=UTF8&camp=1789&creative=9325&creativeASIN=B0787LMXDK&linkCode=as2&tag=thisiswhyimfi-20&linkId=8d4dbd4df23e372d08a704850a76ca20″ text="Check Latest Price" size="small" rel="nofollow" target="samewindow" accent="#f8d92f"format="2″ skin="1″ border="on"]
How We Picked Our Winner
Beyond the basic categories of what a good quality, compact treadmill should include, a smooth conveyor belt action, exercise variability, a degree of portability and storability and good finish to the product are key.
I found quite a significant amount of variation in several other areas when I was looking at which compact treadmills to choose. Ease of use fluctuated wildly between models, as did the speed settings and gradient abilities.
At the most basic level, all compact treadmills that I considered for this list had to deliver a satisfying workout, be good value for money, and had to be something that you would willingly and realistically be able to use in your everyday life.
Bearing all of this in mind, as with all the products that we have considered in previous articles, all of our finalists had to:
Enable you to perform a satisfactory, steady state cardiovascular workout. We only considered candidates whose build allowed for a good, steady workout with a comfortable pace and stride to be performed with good form. Any that didn't do so were immediately disqualified from the running.
Be easy to use and handle. You do not want any complications with a treadmill. Anything that would detract from the smooth pace of a regular workout would be unacceptable. Each one should be what it is- a piece of very simple exercise apparatus that allows you to maintain a solid workout geared towards your own specific needs. My selections for this list reflect this desire, with none of those items included offering any extraneous concerns or difficulties.
Be easy to move, maintain and store. Some of the items on my list might be harder than others to move about. However, they are all manageable for most people to carry about and pack away.
What Is a Compact Treadmill?
Most of us have seen a treadmill at some point; most of us have used one. They are machines designed to allow you to walk, jog or run whilst staying in the same place.
However, their history predates modern exercise usage. They were originally developed to make use of the power of animals or people, before powered machines were brought in. Often, they would be used in conjunction with some form of mill, with a person or animal treading the steps of the treadwheel in order to grind down grain.
They were used as punishment in prisons on those sentenced to hard labour in much the same way.
So, if you think you've got it tough by jogging for twenty minutes daily, spare a thought for those poor people and beasts of burden!
Of course, this is not what treadmills are used for today. Today, we use them to exercise with, walking, running or jogging in place. Nowadays, rather than being used to generate power, treadmills are driven by electric motors or flywheels: in this way, their conveyor belts move at an appropriate speed for your workout.
Some more expensive versions are motor driven, whilst cheaper, simpler versions, known as manual treadmills, move only when the user pushes the belt with their feet. On each type, resistance and/or speed should be adjustable to some degree or another.
Treadmills are the largest selling category of exercise equipment today and you would be hard pressed to find a gym without a selection of these handy machines. There are hundreds of treadmill manufacturers in the world, and many varieties: today, we will be looking at some of the top compact treadmills available in today's market place.
Compact treadmills are obviously a smaller variant of the standard, full size, stationary treadmill. They will fold away easily enough in most cases and should be light enough to move around with little hassle for most people. Though sometimes of a lower quality that a traditional treadmill, what you might sacrifice in usability will be made up for by the convenience factor of being able to stow them easily and simply.
Best Compact Treadmill Reviews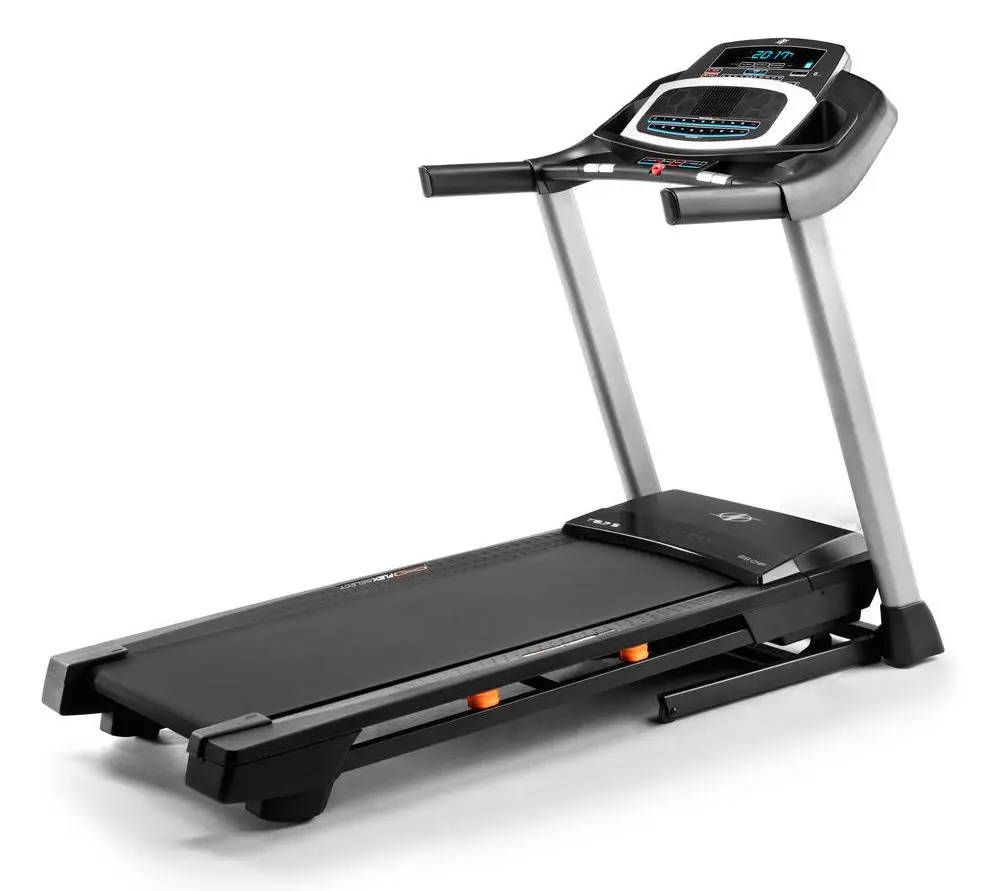 This is one of the most cost effective treadmills that NordicTrack sell- it makes my list for sheer value for money. The 6.5 Treadmill is easily stored away when it's not being used, as it is small, foldable and very light. It does everything that a compact, portable treadmill needs to do.
For such a slimline, light machine, it is surprisingly sturdy and will make you feel secure enough to really pound through your workouts.
More than this, however: it comes with a decent showing of extra gadgets and features. It has an incline that goes up to ten degrees and is digitally controlled. Coupled with the high quality, surprisingly roomy tread belt, this makes for a very comfortable run.
It's iFit compatible and can be set to a Google Maps route for automatic variety in incline and intensity. As well as this, it has 20 inbuilt workouts designed by exercise professionals and adjustable speeds between 0-12mph- one of the highest speed settings on the market- so you need not plateau or get bored- I had some fun playing around with these features.
The machine has a very user friendly display to help you keep an eye on metrics like distance run, speed, time spent, calories burned and heart rate (complete with heart rate sensors, of course). The sound system is integrated and connects well to any iPod or mp3 player, giving you as many techy bonuses as it does workout quality. Overall, this is a very solid first offering.
[letsreviewunique title="Our Verdict" pros_title="Pros" pros="Very good value for money,Well-built frame easy to pack away ,Fast,,,,," cons_title="Cons" cons="Though the gadgets are good but they are a little tricky to figure out,,,,,,," affiliate="Check Latest Price,https://www.amazon.com/gp/product/B0193V3DJ6/ref=as_li_tl?ie=UTF8&camp=1789&creative=9325&creativeASIN=B0193V3DJ6&linkCode=as2&tag=thisiswhyimfi-20&linkId=1ca82bb14422e796d4394b3e377d5a00″ accent="#f8d92f" final_score="91″ format="2″ skin="1″ animation="1″ design="1″][/letsreviewunique]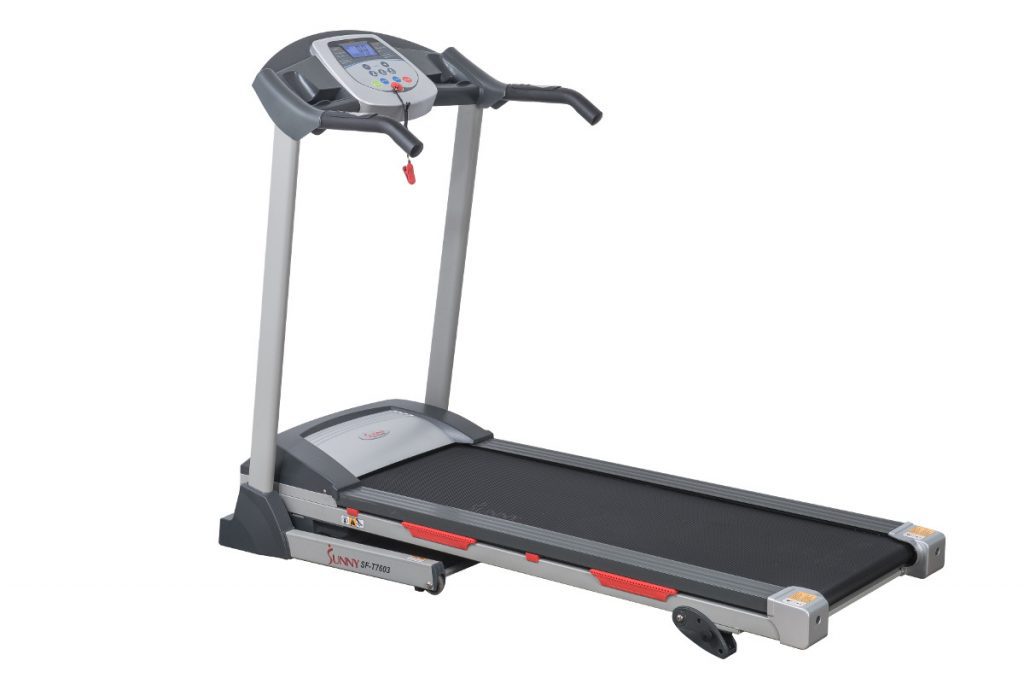 This is another very affordable option that nonetheless delivers a high standard of quality. I always like to include offerings from Sunny Health & Fitness in these lists as this is quite characteristic of their gear: well-built, straight forward and cost effective, with the functioning capacity of larger, pricier builds, they are perfect for most consumers.
There are some sound mechanical reasons for the Sunny Health & Fitness Treadmill's quality. It comes with a powerful, smooth 2.20 peak horsepower motor with a maximum speed of 10mph (again, one of the higher speeds on this list.) The incline can be adjusted to 5% and it comes with 9 different programs for varied results and intensities.
Though this is a step down from the NordicTrack 6.5's variability, it is nevertheless good for most purposes. There is shock absorption technology inbuilt for additional comfort and longevity, making it ideal for older users or those with a history of joint soreness.
This one bats above its weight and delivers a solid, comfortable workout fit for most users.
[letsreviewunique title="Our Verdict" pros_title="Pros" pros="Very reasonably priced- great value for money,Well-built and straight forward,A powerful and fast motor,,,,," cons_title="Cons" cons="Not the most variability in its programmed workouts,,,,,,," affiliate="Check Latest Price,https://www.amazon.com/gp/product/B019ZTXT0Y/ref=as_li_tl?ie=UTF8&camp=1789&creative=9325&creativeASIN=B019ZTXT0Y&linkCode=as2&tag=thisiswhyimfi-20&linkId=bc0fb377668134f783f08f88ca983612″ accent="#f8d92f" final_score="93″ format="2″ skin="1″ animation="1″ design="1″][/letsreviewunique]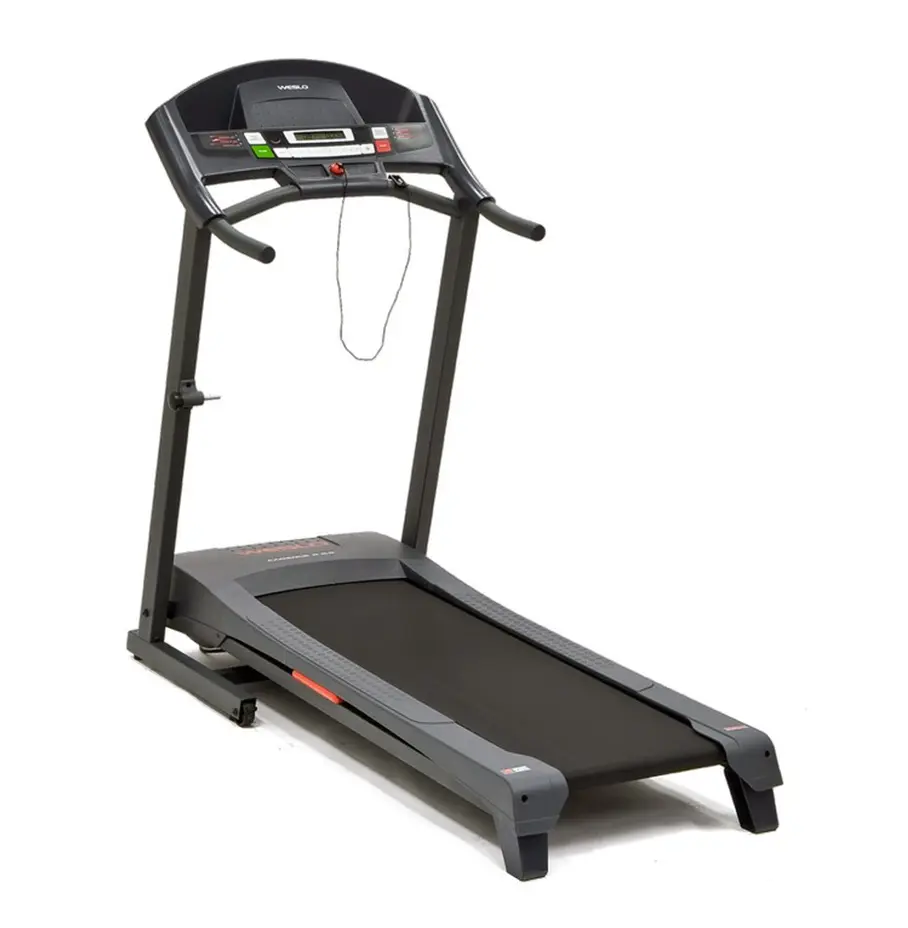 I've included the Weslo Cadence G 5.9 Treadmill because it's a perfect product for those just setting out (though it's also more than enough for more experienced users). It is quite basic, small scale and easily foldable and portable- and it's offered at a very reasonable price, meaning you won't break the bank if you're trying treadmills or running out for the first time.
The incline only has a couple of options, but the tread is smooth with a cushioned feel from the shock absorption technology, making the run feel very comfortable. There are also 6 workout programs integrated into the systems, all written by professional trainers, and the 2.25 horsepower motor takes it up to 10mph- very adequate for most peoples' needs.
As with many such products, there is an LCD screen which shows your running metrics, alongside heart rate monitors to keep an eye on some of your biometrics. Cheap, basic, but a thorough pleasure to use, I would recommend this to anybody.
[letsreviewunique title="Our Verdict" pros_title="Pros" pros="Perfect for beginners and those into light jogging,Comfortable tread,Professional high quality workouts pre-programmed even if there are only a few,,,,," cons_title="Cons" cons="Weslo's packing and customer service leave something to be desired,A little cheaply built,,,,,," affiliate="Check Latest Price,https://www.amazon.com/gp/product/B007O5B0LC/ref=as_li_tl?ie=UTF8&camp=1789&creative=9325&creativeASIN=B007O5B0LC&linkCode=as2&tag=thisiswhyimfi-20&linkId=a1c700d1282d2304118fcc25c4f6dc0c" accent="#f8d92f" final_score="90″ format="2″ skin="1″ animation="1″ design="1″][/letsreviewunique]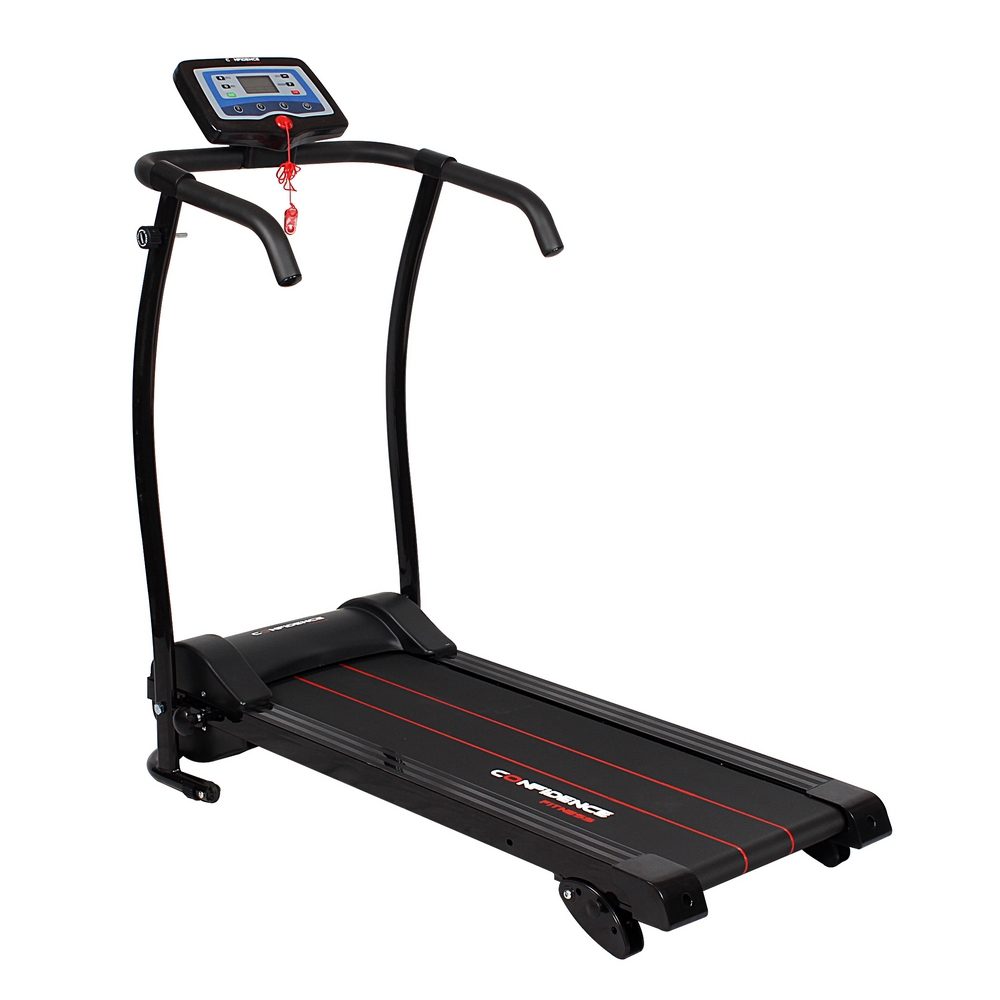 You'll begin to spot a trend with some of the items I have featured on this list: budget-friendly yet functional, simple but with everything you need… well, the Confidence Power Trac Treadmill conforms to this theme quite well.
It's easy to use and well put together. It comes with 12 pretty decent inbuilt workout programs so you need not lack for variety: most exercise goals will be covered by at least one of these programs. You get three incline options, ranging up to 5 degrees, and the LED display is particularly useful and simple to use.
However, the motor isn't the best. At 735W and with a top speed of just 6.2mph, it won't serve for anybody looking to go beyond a moderate jog- I struggled to get into my stride with this one, as will anybody looking for a more intense workout. And when you push the speed to the maximum, the belt gets quite squeaky and clunky, meaning that everyone in your household (and possibly even you, too) will be bugged by it.
This is a good piece of kit- it wouldn't make this list without being. But buy it if you're looking for a longer, gentler jog in comfort. For those looking for a faster run, looking at the other items on this list might well be worthwhile.
[letsreviewunique title="Our Verdict" pros_title="Pros" pros="Very good display,Comfortable to use,,,,,," cons_title="Cons" cons="Can be quite loud at higher speeds,Calorie tracker is wildly inaccurate,Not the best motor nor a suitable top speed,,,,," affiliate="Check Latest Price,https://www.amazon.com/gp/product/B00TJZ8WPM/ref=as_li_tl?ie=UTF8&camp=1789&creative=9325&creativeASIN=B00TJZ8WPM&linkCode=as2&tag=thisiswhyimfi-20&linkId=6a8d0d36d116884a9c4609f7cab7a1ce" accent="#f8d92f" final_score="85″ format="2″ skin="1″ animation="1″ design="1″][/letsreviewunique]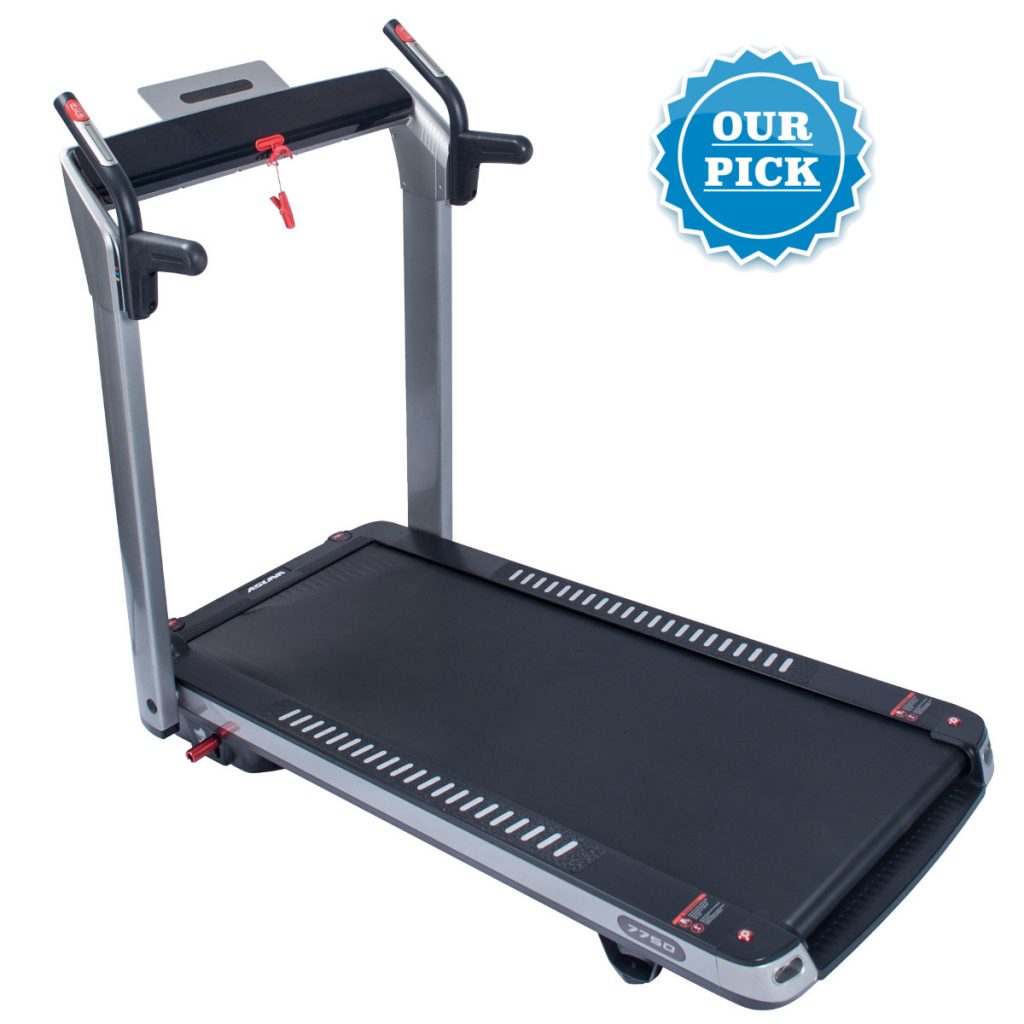 The ASUNA SpaceFlex Folding Treadmill is one of the larger machines on this list. Because of this, it is comfortably spacious- combined with a smooth tread on the conveyor belt, it gives a really very nice user experience. I found it particularly soft and easy to use.
Despite its size, the AZUNA SpaceFlex is pretty compact. It folds down almost flat for easy storage and its wheels make it easy to move about.
It can also be stood upright on its own, meaning that if worst comes to worst, you can still quite easily store it in a handy corner. And it's very solid and well-made, giving you a fair degree of confidence in moving it about and pushing yourself during your workouts.
It's not short of added extras and tech, either. It has a decent, quite powerful and smooth running engine, 12 incline levels ranging from 2 to 5 degrees and 8 inbuilt workout programs. What is possibly my favourite feature of anything on this list is its further 3 customizable programs, so you can always get the best, most personally well-tailored training going.
There is a USB port for charging devices and an AUX cable for connecting your music player; there are 6 LED windows on which your workout data is all displayed; and a remarkably precise pulse monitor so you will always know how your body is responding if you want to.
However, the top speed is a bit of an issue here, too. The AZUNA only goes up to 8mph despite the quality of the motor. For bells and whistles, the AZUNA is in a class of its own. But if you're looking to stretch yourself a bit, a faster model might well be worth considering.
[letsreviewunique title="Our Verdict" pros_title="Pros" pros="Very versatile and customisable programs,Lots of added techy extras,Plenty of incline options,Surprisingly compact when packed away,,,," cons_title="Cons" cons="It's a bit large and will take up some extra room when in use,,,,,,," affiliate="Check Latest Price,https://www.amazon.com/gp/product/B0787LMXDK/ref=as_li_tl?ie=UTF8&camp=1789&creative=9325&creativeASIN=B0787LMXDK&linkCode=as2&tag=thisiswhyimfi-20&linkId=8d4dbd4df23e372d08a704850a76ca20″ accent="#f8d92f" final_score="96″ format="2″ skin="1″ animation="1″ design="1″][/letsreviewunique]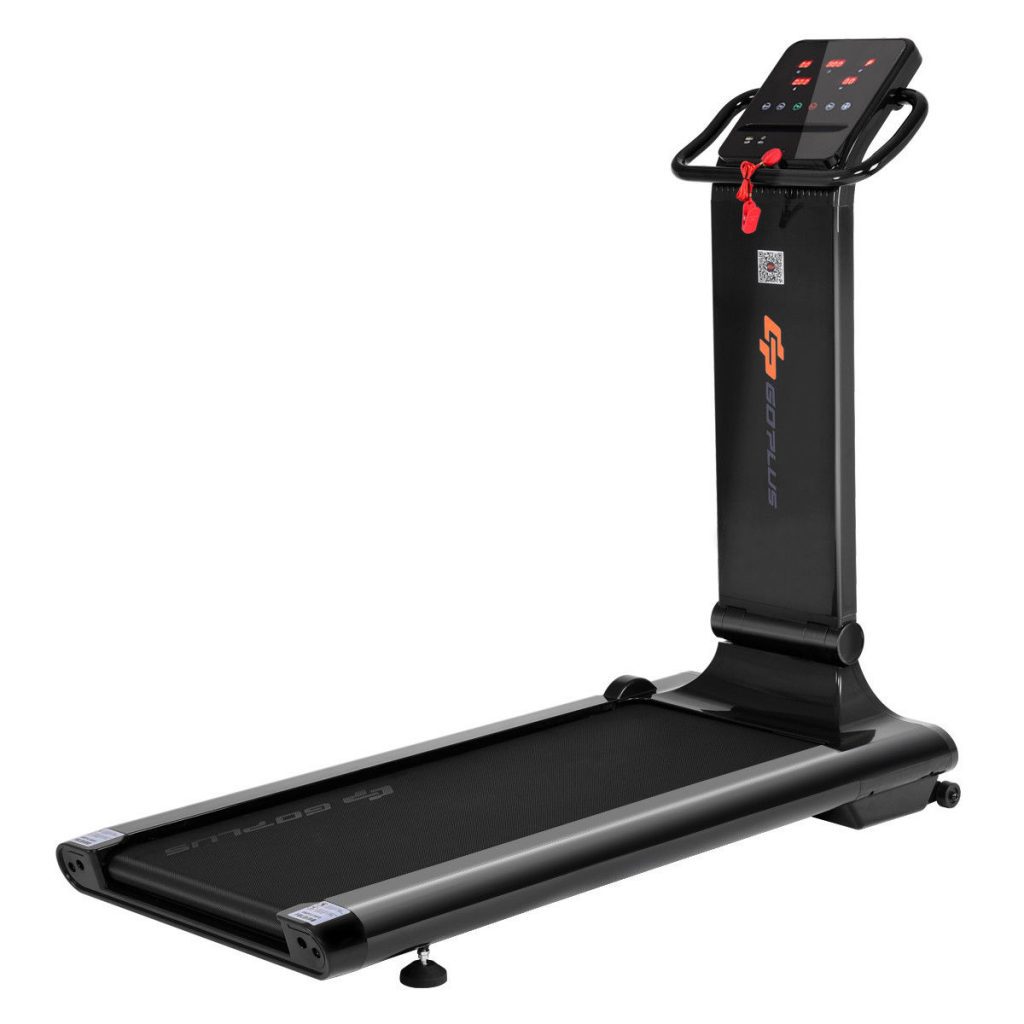 This is a great piece of kit. The Goplus 1.5HP Electric Folding Treadmill comes readily assembled, meaning that you can jump straight in without having to wade through instruction manuals and waste precious time playing around with nuts and bolts as you assemble it.
The Goplus comes with a whopping 99 pre-set programs so that you never need to get bored using it. You will always be able to find a dozen or more workouts specifically suitable to your needs. The hi-fi system is great, too, giving you decent quality sound for your music or podcasts.
There is a mobile app for adding personal touches and storing your training data, a good quality LED screen and a USB charger. The manual incline adjustment is a little off- I prefer machines that do it for you- but this is a small gripe.
The Goplus also folds up conveniently for storage, meaning that it will never get in the way. It only goes up to 7ish mph which, whilst faster than some on this list, is still a little bit lagging. But, once more, the pros so outweigh the cons with this machine that anybody buying it should be thoroughly satisfied.
[letsreviewunique title="Our Verdict" pros_title="Pros" pros="An astonishing number of pre-set programs,Ready to use on delivery,Fantastic music/audio system,,,,," cons_title="Cons" cons="The incline adjustment isn't the best quality,,,,,,," affiliate="Check Latest Price,https://www.amazon.com/gp/product/B078P86KKR/ref=as_li_tl?ie=UTF8&camp=1789&creative=9325&creativeASIN=B078P86KKR&linkCode=as2&tag=thisiswhyimfi-20&linkId=b08bee9647952b8be0cea13bf6d0efd4″ accent="#f8d92f" final_score="94″ format="2″ skin="1″ animation="1″ design="1″][/letsreviewunique]
How To Use A Compact Treadmill
Of course, programming opportunities will subtly vary between each of the products on this list. However, longer distance workouts tend to be best suited to treadmills, and distance based goals are usually handy to maintain. Shoot for being able to run for a solid fifteen minutes at 6 mph, for example, or aim to complete a 5k within a month of starting… these are the kinds of targets you will want to be setting for yourself.
Interval training is also easily programmed on treadmills. Run for two minutes, walk for one; or run flat out 20 seconds of every minute, lightly jogging for the remaining 40 seconds, over and again for ten to fifteen minutes. Either way, your lungs will notice what's being done to them.
One of the benefits of switching between low and high intensity bursts like this is the range of muscle fibres you will be recruiting. Rather than just the slow twitch fibres that traditional, steady state jogging will work, you will also be firing up your fast twitch muscles as you place yourself under brief, intense periods of muscular stress.
The demands and effects of using a treadmill will be less than running outside would give. The treadmill should be kinder to your joints- all the ones in my list are joint friendly- and you can set it to a pace and intensity to suit you. You can also parcel out your energy as you see fit, leading to a lower risk of injury.
Always keep your movements fluid, smooth and even, with a steady stride and a good heel-toe action to your steps.
Outro
You will by now hopefully know enough about the range of compact treadmills available to make a well-considered, well-informed choice in buying your own. This article has covered all the basics and presented you with a good selection of high quality, affordable machines: any of the compact treadmills on my list will mark a good purchase.
You know my favourite (or my top two, at least…) but do you have a preference? Let me know in the comments below: what compact treadmill would you recommend?