COVID-19 drove us out of the gym and into our homes. A lot of us learned that we didn't need all the equipment the big box gym offered. And it was nice not to wait for a station, or worry about what our hair looked like. But… Lifting water-filled milk jugs, and moving the furniture around to do push-ups did get a little old. Many of us started thinking about investing in home gym equipment to turn our limited space into a functional gym.
If you're one of those who are considering tricking out your own space for a bona fide home gym (we're not talking a single, all-in-one, multi-gym machine here), read on.
We've cataloged 10 things you'll need to repurpose space that you have now into a home gym you'll be proud to own.
The first thing you'll need is space. For our discussion here, we'll assume you've got available space the size of a one-car garage, 12' x 20' (4m x ~7m).
Here's our list of considerations, starting from the ground up. Not order of importance, from #1…
#1. Flooring
Many give little thought to what's underfoot at the gym. Frankly, they should.
The right flooring makes a big difference, particularly if your workout includes any moves that require ground forces. Squishy flooring absorbs downward force. Ever run or jumped on sand? Yeah. That.
The wrong flooring or a poor surface can affect your performance and your results, or even get you hurt.
If you're doing Olympic lifts, think about flooring that will withstand dropping the weights.
Consider safety, resilience, affordability, and durability when shopping for flooring. Flooring materials come in rolls or squares. If you select rolled flooring materials like carpet or turf, keep in mind that they may wrinkle over time and require stretching. Those wrinkles can become trip hazards.
For an overall sturdy, attractive and purposeful floor, we like interlocking synthetic tile for gym floors.
Synthetic tile also comes in squares without interlocking edges. The straight edges require careful installation to keep the seams mating evenly so that the edges and corners won't lift.
Synthetic gym flooring can also be eco-friendly. Two brands we found are. Rubber-Cal Shark Tooth is made of recycled tires; Nike Grind composes Traffic Master. Help the planet while you work on your biceps. Very cool and a win-win.
Our Suggestion:
At $4.05 a square foot, the most interesting flooring we found is Traffic Master.
It's interlocking, sold in six-packs with a straight edge and corner pieces, and made of durable, recycled material. Available in three neutral shades, it makes for sharp-looking gym space.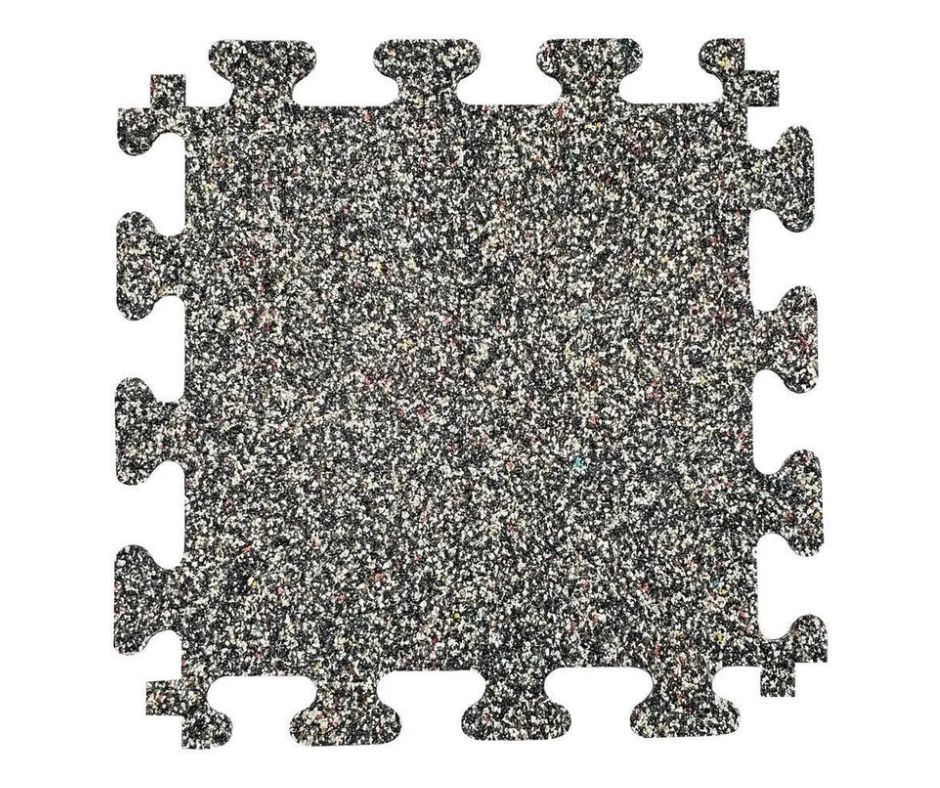 #2. Elevated Surfaces: Platforms, Boxes, and Steps
Your exercise routine may not require a platform at all. Solid, safe, easy-to-clean flooring may be all you need.
Functional fitness, CrossFit, and performance athletes train from elevation or surfaces with special requirements and are sometimes built to precise specifications.
If you fit into one of these groups, your home gym should include these.
Powerlifting Platform
If you're serious about your strength lifts, as in serious enough to compete, you'll want to build yourself a solid platform like the one you'll see at the competition.
You can make your own lifting surface out of three 3/4" pieces of exterior overlay plywood. Use one as-is as. That's the one you'll stand on, and it runs left-to-right. Cut the second one in half. Lay the pieces side by side with grain running perpendicular to the top piece, front-to-back. The bottom piece is uncut and runs left-right like the top one you'll stand on.
Fasten them together using 2" deck screws, not nails. Nails can work their way loose. Deck screws are countersunk and have a thread pattern designed to withstand surface traffic.
Competition floors use three layers of plywood stacked left-right, front-back, and again left-right, secured with 2" screws. Our design above considers your available space. For all the competition-legit platform guidelines, check out the USA Powerlifting standards.
Your home gym platform doesn't need to be too precise specification even if you're competing, but the closer it is, the more accustomed you'll be to the surface once you arrive at a contest.
Risers: Boxes, and Steps
Boxes and steps come in pretty handy in any gym. How many you need, their height and the materials used to construct them depend on what type of training you're doing.
Functionally, you'll want to evaluate boxes and steps based on how high you need them to be. For exercises like lunges, or deadlifts from disadvantage, lower is fine. The ubiquitous step is the Step Original Health Club Step. With elevators, this step can be customized on the spot to various heights.

For performance training where plyometrics are routine, higher and wider is best, as well as safety. Look for a box that's made from sturdy foam—not squishy—and covered in ballistic nylon or Kevlar…a material that will withstand you jumping on it hundreds of times.
When CrossFit became a thing, so did shin injury. These range from superficial abrasions to deep lacerations that require medical intervention to close the wound, or debridement to prevent or treat the onset of infection. Soft-side boxes are best. You can be a tough guy if you like and go for the metal frame or all-wood boxes, but why?
Check out the American Barbell Soft Plyo Box, and the Rep Fitness Soft Foam Plyo Box.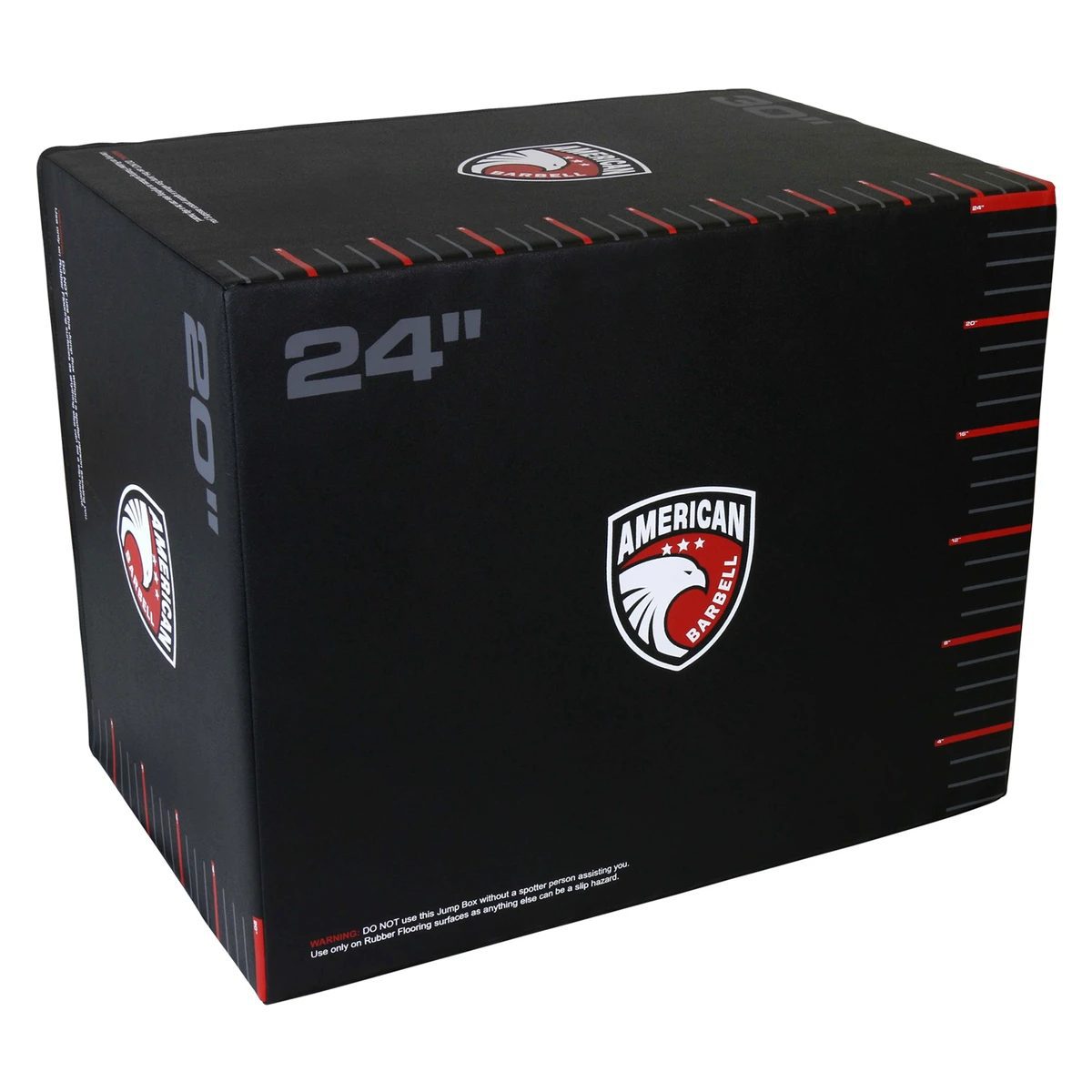 Reserve roughly a one-meter square (36" x 36") area for your boxes, not counting your launch and landing spots for jumps.
#3. Racks: Lifting and Storage
Squat Racks
The range of training types and equipment they support make racks an almost must-have for a solid home gym.
Racks provide structure for barbells, functional movements like pull-ups, tubing, bands, and suspension trainers…and we're probably missing a few.
The market has no shortage of racks, and we're not going to recommend one here, other than to mention a couple that caught our eye. It's completely possible to build your own if you or a buddy is a metal worker. You just need to know what you're doing and not violate anyone's intellectual property in the process…and that means no copying.
Three must-haves for any home gym rack: safety, durability, space efficiency.
Safety
Safety is Numero Uno when it comes to rack selection for your home gym equipment. A rack that's capable of tipping over or collapsing isn't worth even considering. After all, the reason we do this training thing is fitness and health, and having a rack collapse or tip over on you won't get you fit.
Study the specs and customer reviews for racks before you buy. Buying from a respected manufacturer who's sold a bunch of racks is also a pretty safe bet. If you're lifting big weights, it's not outrageous to think in terms of getting one that's got automotive stress standards.
Durability
Not exactly the same as safety, durability speaks to ruggedness. It influences how long your rack will last and withstand the punishment you inflict on it.
Where durability is like safety: wear and tear can take its toll over time and a rack can become less safe as time goes on.
Shop for heavy-gauge machined steel and wide diameter fasteners, meaning big, thick nuts and bolts. Welded seams should be beefy.
Read the specifications sheets for weight capacity and maybe even go the extra step and request the manufacturers' testing protocols. Weight testing can vary: those weight capacities may have been set by simply setting weight on the pegs. You're looking for a rack that will withstand a less-than-gentle re-racking of your weights.
A rickety rack can spell trouble for your body, your gym equipment, and your house. We like the racks that stand on their own and don't require bolting to your wall. This becomes even more important if you decide to move: you won't need to spend hours repairing those gaping holes in the wall that a wall-fastened rack will leave behind. And, it won't be ripping out of the wall along the way.
Space Efficiency
You were probably already ahead of us on this one. Goes without saying that a home gym equipment rack can eat up a lot of floor space. Shop for one with a compact footprint that meets the above safety and durability.
One that caught our eye is the Rogue Monster Lite SML-1 Squat Stand. At 49" x 48" (125cm x 124cm) it's space-saving and stands on its own without wall hardware required. There's no top beam, so you'll need to purchase Rogue's attachments if pull-ups are in your program.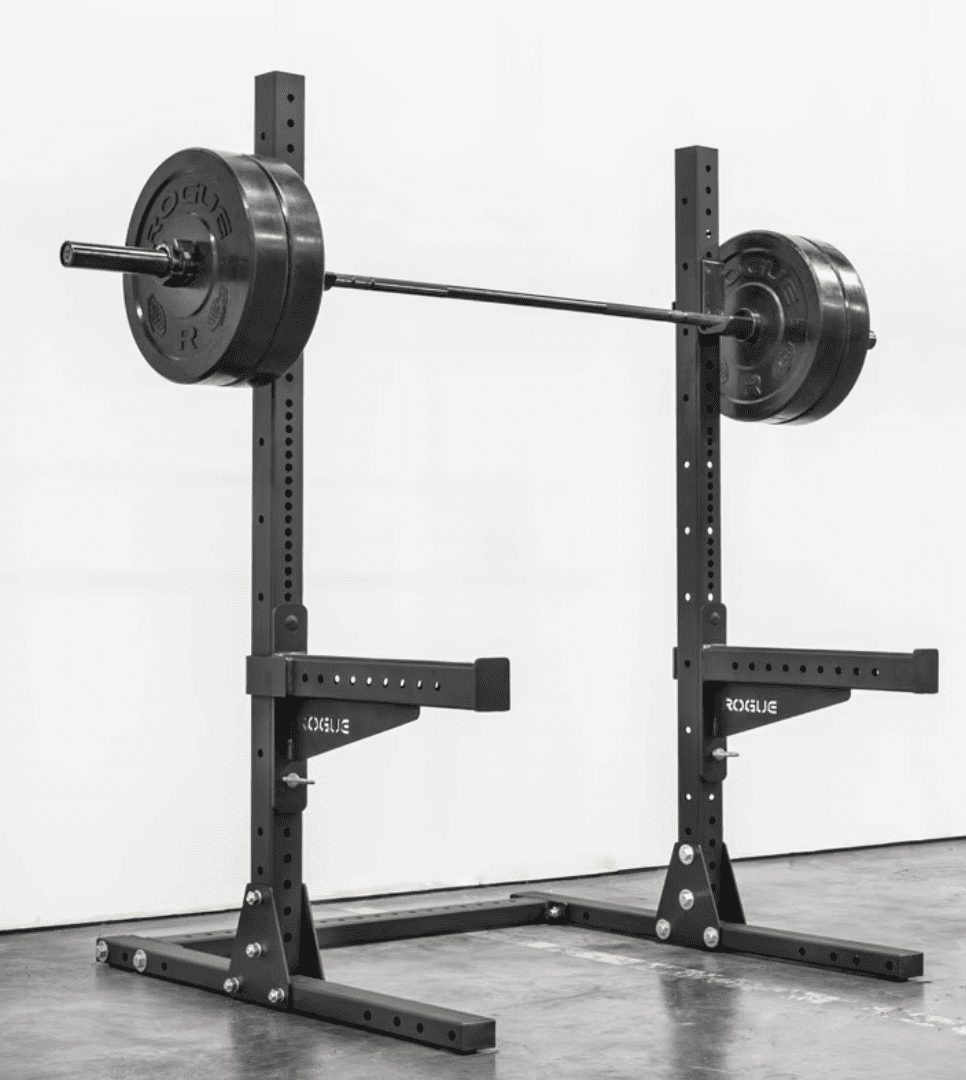 Squat Rack Attachments
Where racks excel for home gyms is in their potential. The really clever designs, like the Rogue Monster Collegiate Half Rack, support a range of attachments for pull-ups, rack pulls, bands, and steps.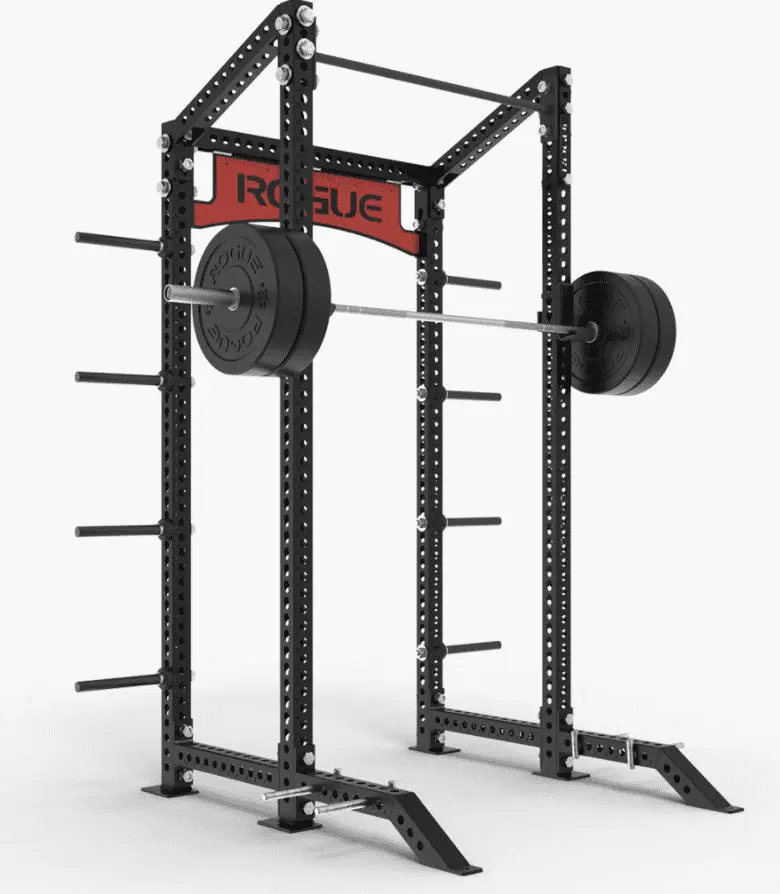 By the way, this rack requires 62" x 53" of floor space (160cm x 135cm) and makes another excellent choice as a multi-purpose rack for your home gym equipment.
Storage
Boring but necessary. Because you're dealing with limited square footage, keeping your space organized and tidy frees up floor space to do what you're there for in the first place.
When thinking storage, look for racks and stands that keep your bars, weights, and functional accessories along the walls and as vertically oriented as possible.
Power Systems' floor stand holds up to six bars, so you can store your Olympic bar, EZ curl bar, and any other specialty bars you've got there in your home gym.
Bar sleeves are 8 1/2″ high with PVC inserts to keep your bars from getting scuffed or scratched by the stand. The base weighs 35 lbs., is 22″ long x 18″ wide x 9″ high, and retails for $127.
Rogue Vertical Bar Hanger. This hanger holds three bars, and frankly, not many home gyms have more than three bars that need storing anyway. At $37.50, this wall-mounted rack is our pick. (Full disclosure: Power Systems has a similar 3-bar wall-mount holder that runs $44.99.) The Power Systems rack has rubber bumpers to keep bars in place. The Rogue rack has a polymer coating to prevent scuffing.
With any wall-mount rack, you'll want to make sure that you find wall studs or use drywall anchors that will hold the rack in place when loaded.
Dumbbell Racks
A good dumbbell rack will be necessary if you opt for fixed weight DBs instead of adjustable. Equipment dealers like Power Systems offer a variety based on how many dumbbells you own and whether you prefer a vertical or horizontal rack configuration.
We're not making a reco for dumbbell racks. Pick one that fits your space and the number of dumbbells you own.
#4. Benches
Unless you've got lots of available square footage or feel you need a selection of benches, one durable adjustable bench should be all you need for your home gym. Sturdiness, selectable angles, transportability (as in, does the bench have wheels), and pad width are the key considerations.
We found three solid choices: HammerStrength Multi-Adjustable, the LifeFitness Signature Series Multi-Adjustable, and the Rogue AB-3 Adjustable.
HammerStrength Multi-Adjustable Bench. You've likely seen this bench in commercial gyms. Well-made, sturdy and popular, it takes up a 54" x 27" x 18" space (137cm x 69cm x 46cm). It weighs 115 lbs. and supports up to 765 lbs. Not too shabby.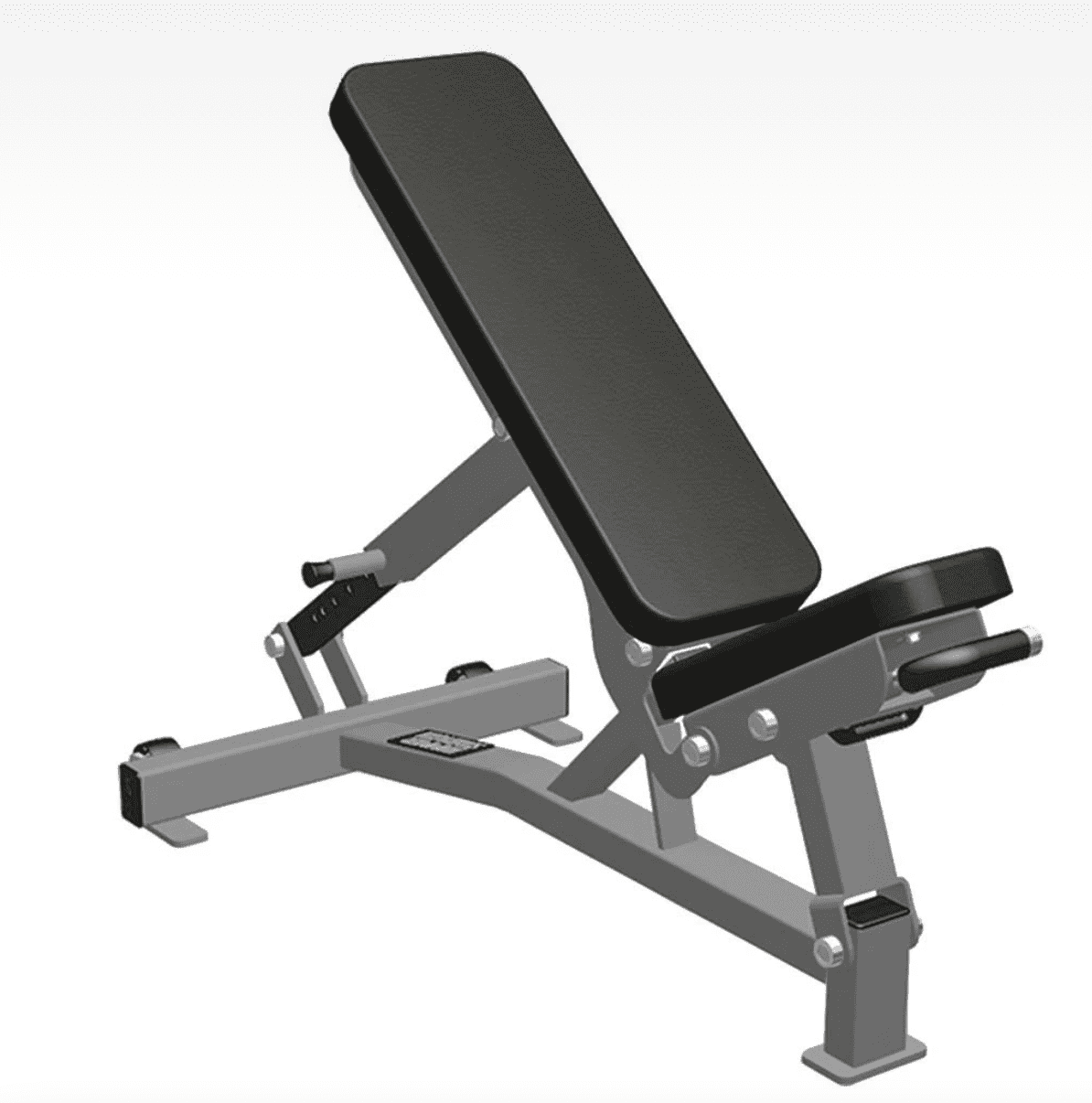 One pin adjusts the back and the seat simultaneously. It also sports eight-seat adjustments in 10° increments ranging from 0°- 80° and has wheels to help you move it around your space. HammerStrength warrants the bench for 10 years, with a briefer 90-day warranty for upholstery. Understandable. This bench will set you back $1,297 USD.
Runner-up for our home gym, the LifeFitness Signature Series Multi-Adjustable. It's difficult to find a big-box commercial gym or hotel fitness center that doesn't use this bench. It's very popular and for good reasons.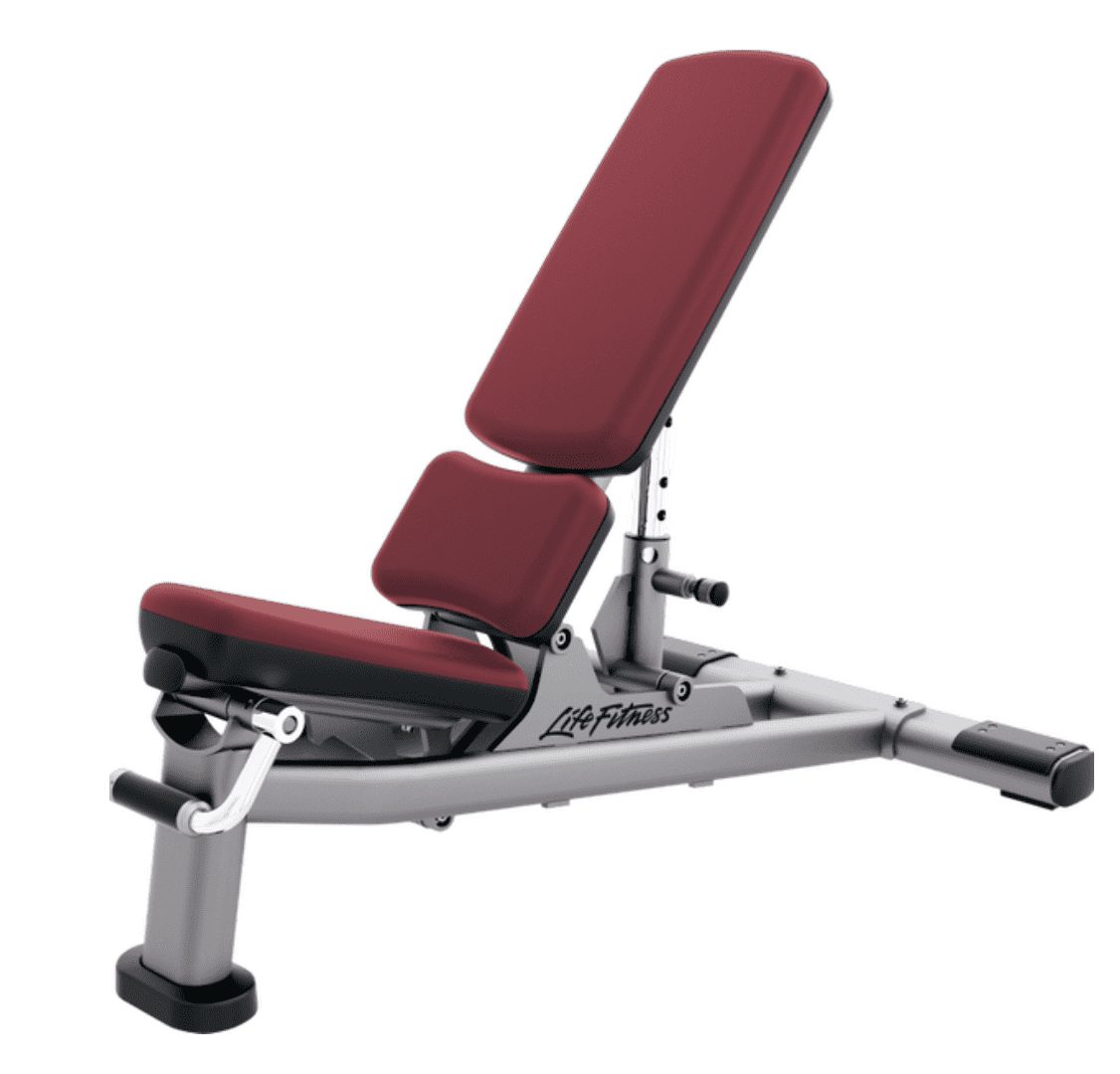 It shares several of the same features as the HammerStrength. The bench is sturdy, safe, and will last a long time, as we've witnessed in gyms where we work out.
Sturdy means heavy. The LifeFitness bench weighs 125 lbs. and supports up to 500 lbs, which is less than the HammerStrength adjustable. The seat adjusts to seven different angles ranging from flat to 20°, 30°, 40°, 50°, 60°, and 70°.
You'll need 53" x 32" x 45" (135cm x 81cm x 114cm) of floor space. Like the HammerStrength model, it carries a 10-year warranty on the framework and 90 days for the upholstery. It lists in the same price range at $1,440 USD.
These benches are relatively easy to move around your space with the wheels provided and can wheel into your squat rack so that you won't need a second bench unless you have company.
Best buy for a home gym
Based on our research, we like the Rogue AB-3 Adjustable bench. Based on features and specifications, this is the bench we'd buy. The others are terrific, don't misunderstand. A couple of features make it stand out for the versatility required in a home gym.
This bench can be positioned in incline or decline angles. Reviews are nearly unanimous as a great buy, citing sturdiness. "Built like a tank," said one.
This clever design provides a range of angles ranging from 78o to flat. The seat can be dropped to -15o facilitate decline bench presses or sit-ups.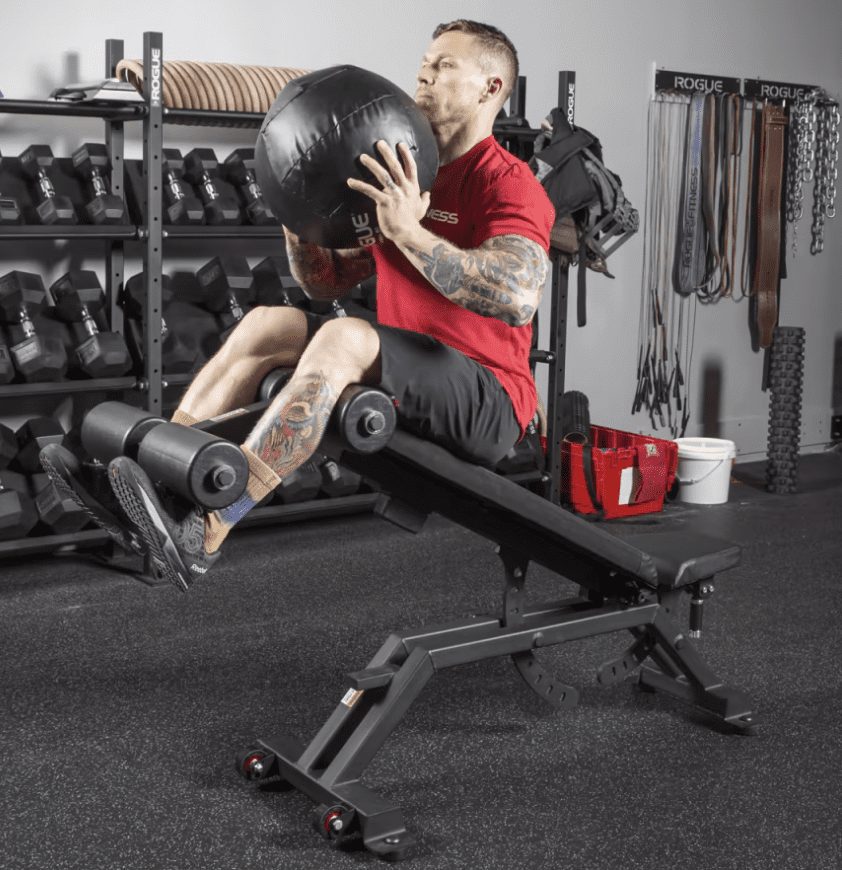 The AB-3 retails for $950 and consumes 51.25" x 22.5" (110cm x 51cm) of floor space. The ability to use the AB-3 as a decline bench or sit-up board makes this our favorite and the sub-$1000 price makes it even more attractive.
Weights
#5. Dumbbells
If you don't have the space or funds for a cable machine, you'd want a set of dumbbells. Dumbbells come in fixed weight or adjustable, with adjustable being the most space-conservative.
For your home gym, think space, affordability, and floor-kindness. Polymer-coated heads are kinder to your floors. Most dumbbells sold these days are covered in vinyl or rubber of some sort. And, you'll get no beast mode points for iron plates that chip your floors.
Fixed Weight
A set of fixed-weight dumbbells makes a home gym look more professional. If you have the available space and money, fixed-weight dumbbells are the way to go.
Some of us more mature iron gamers remember the adjustable weight dumbbells. They had small plates that slid on and off the bar, and the early ones came with a little key required to tighten and loosen the collar. If you lost the key, well.
Hexagonal or Octagonal heads keep the bell from rolling away and into something you don't want it to. A finer point for dumbbell shopping: Head design has some influence on a range of motion. The bigger the weight, the less ROM for some exercises, simply because the dumbbell sits higher off the floor, and is more likely to come in contact sooner with some part of your body. For lighter weights especially, the hex and octagonal heads are better for this reason. Once the weights get heavy, there's no getting around their size.
Ergonomically contoured grip design. Knurling is more than adequate and provides tactile feedback that indexes for the center of mass.
Embossed weight numbers are easy to identify and won't wear off as printed ones do over time.
Fixed weight DBs just say pro in a way the adjustable ones don't. But we get it, space and funds are a thing when it comes to the home gym set-up.
Adjustable
Space economy is the #1 reason to select adjustable dumbbells. There are some good ones on the market.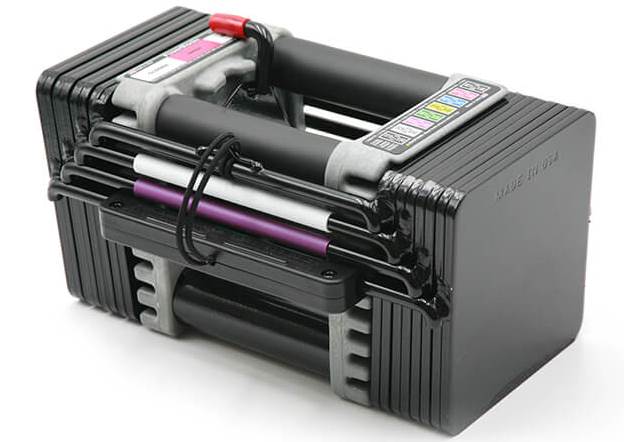 #6. Barbells
As the red pickup truck is to automobiles, so are barbells to the gym.
Barbells are a gym staple, although not mandatory unless you're training for a barbell sport. Functional fitness and biomechanics have shown that a person can sculpt a world-class bod using devices other than barbells, so they're not a must-have for every time of training.
Lifters who require barbells for their sport need a high-quality barbell set all their own. If you're one of those folks, you'll want to get the brand you'll be competing with, if possible.
If those brands aren't available, shop for one that's durable, and that uses the same metals and design.
Bar
Let's start with the bar, the thing you'll interact with while lifting.
What to Look for in a Bar
Bar materials. A high-quality bar is made from metal alloys that strike a balance between being too rigid and too floppy. Too much bar whip once the weights get heavy can be a problem. You do want some "give" so that there's flexibility without permanent bending. You'll know what I mean if you've seen a permanently-bent bar that's been overloaded.
Knurling. Don't overlook knurling. Depth of the knurling and how well it's polished after it's machined makes a difference in grip and comfort. Also, opt for finish and not plating. Plating materials will eventually crack and chip, leaving you with a little shard of it in your hands, on your floor, and allowing moisture to work its way between the plating and metal, degrading the underlying metal.
Sleeve mobility. The sleeves should spin freely and be securely fastened to the bar. It's best to have a bolt or cap at the end of the bar, or other fasteners to tighten the sleeve to the bar. You absolutely don't want the collar "walking" off the bar during a lift. (We've seen it happen.)
Regulation specs. You might as well buy a bar that's got the regulation length, diameter, and knurling. Power bars are scored in precise locations and have knurling in the center.
Types of Bars
It wasn't long ago that the straight bar was the only barbell bar around.
Sometime in the early twentieth century, someone put a slight bend in the middle of a straight bar and the cambered bar was born. Then along came the EZ Curl bar, and not long after that, the safety squat bar.
The rising popularity of strongman and functional fitness has fueled creativity in specialty bar design.
For our purposes here, we'll focus on the straight, EZ Curl bars, and hex bars. Just know that there's a variety of bar designs out there to choose from.
Straight
A high-quality bar with a long life expectancy is going to run you close to $300, maybe more. Thanks to the increased popularity of barbell lifting, there are a number of pretty good bars out there.
We can 100% speak for the one we used when competing, the Texas Power Bar. It's a classic and for good reason.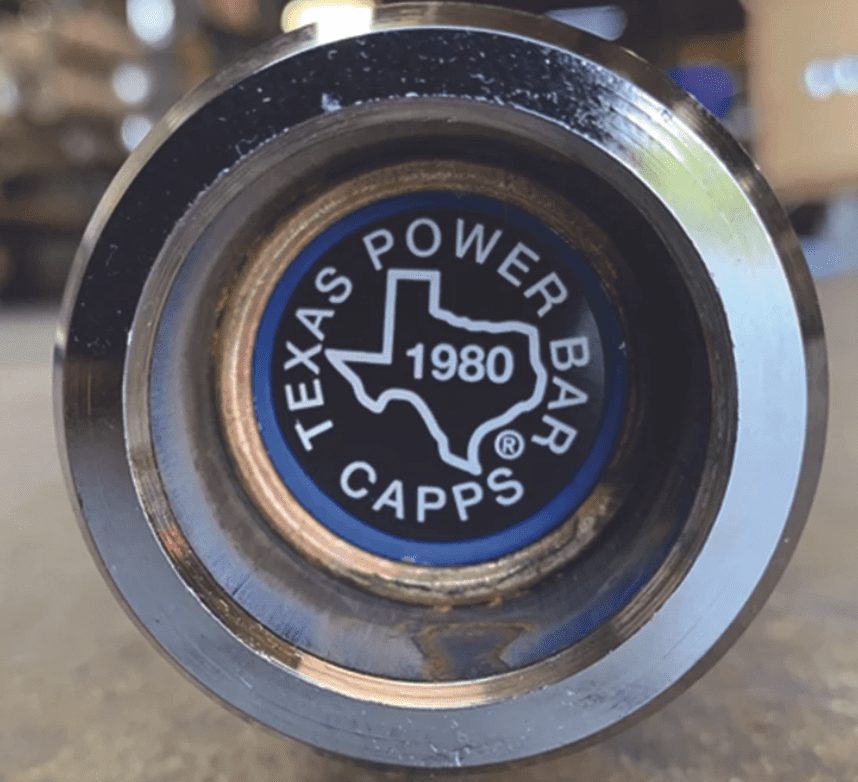 We first used the Texas Power Bar in the competition back in 1982 and still vividly remember its knurling. Saying the TPB knurling is aggressive is like saying a tidal wave is damp.
One thing's for sure: it won't be slipping out of your hands anytime soon. If you've got seasoned, calloused mitts, this is an excellent bar for powerlifting. Chalk is optional with this bad boy.
It will for sure break you from dragging the bar up to your legs during deadlifts. If you're a bar-dragger, have a lot of Band-Aids handy. A lot.
Dr. Squat, Fred Hatfield, broke the 1000 lb. squat barrier underneath the Texas Power Bar. With an unparalleled resume, the TPB goes for $285 on its website and is worth every nickel if you train the powerlifting moves.
Texas was and still is a hotbed for iron sports, and TPB is an example of the ingenuity Texan equipment designers developed.
And then there's Ohio, another hot spot for things heavy…
The Rogue Ohio Power Bar gets high online reviews. I've also used Rogue bars in the gym, and they work just fine. Never used one in competition. Their medium-height knurling is must less aggressive than the TPB, and I also think the TPB has a little more whip, but it could be my memory's fooling me…maybe because I was a lot stronger back in the early 80s.
In our experience, Rogue bars are well-made and beautiful. They work well for all-around barbell lifts, and the less-aggressive knurling makes it comfortable for moves like power cleans, where the TPB might chew up your hands.
Specialty Bars
EZ Curl
EZ Curl bars make gripping for arm work more comfortable, although not necessarily easier.
Muscle magazine photos of Arnold and the arm blaster from the 70s showed the EZ Curl bar in full view, and just like that, everyone who wanted Schwarzenegger-esque guns also wanted one and the EZ Curl bar also.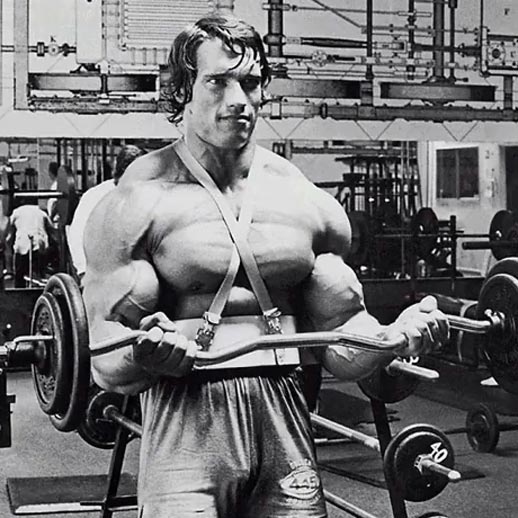 EZ Curl bars put the wrists and forearms in a more advantageous and less-stressful position relative to the weight without compromise to the biceps. They're also handy for doing skull crushers and close-grip chest presses for the triceps. A popular superset for tris is skull crushers to failure, followed by close-grip chest presses to failure a few seconds later.
You'll want an EZ Curl that has spinning regulation-diameter collars as straight barbell bars have. Beyond that, knurling and finish are considerations. Opt for a durable finish that won't chip.
Hex Bar (aka Trap Bar)
Competitive powerlifter Al Gerard invented the Hex Bar, also known as Trap Bar, back in the mid-80s, as a way to train deadlifts without aggravating a back problem he was suffering. His original design was trapezoidal in shape, which led to its name, the trap bar (Schuler L, Cosgrove A. "New Rules of Lifting for Life", Penguin, Dec 31, 2012), not because it was designed to train the traps, contrary to myth. Both the muscle and the bar bear the name of their geometric shape.
The original Gerard bar did not sport an additional set of high handles. Its inventor kept the bar grip height as it would be if lifting from the floor using a traditional competition bar.
Our Suggestion:
A number of equipment suppliers sell hex bars, some with slightly different designs and weights. Most have loop handles that are useful when doing shrugs and partial ROM deadlifts.
We like the one from Power Systems and have trained with it. It weighs 50 lbs., and has a 9" load length, long enough to hold four non-bumper plates per side.
(For longer load lengths, check out Rogue's TB-2 hex bar. It's 88" end-to-end and has a 16" load length). It's shorter end-to-end than some, which creates a favorable center of mass and it's uncoated so there's no plating or coating to flake or rub off.
Pro tip: when training deadlifts with a hex bar, please use the lower grips, not the top ones. Using the top handles reduce the range of motion. Use the top handles for shrugs or for half-deadlifts if overload training. Yeah, you can pull more gripping the higher handles, but you're lifting for strength and muscle, not ego…right??
Plates
First, the big question: bumper plates or iron or iron-polymer coated.
Which depends on your application. If you're going to be training cleans and snatches, invest in bumper plates. If it's squats, bench, and deadlift, opt for good quality machined (not cast) iron plates.
What about bumper plates for deadlifts? You shouldn't need bumper plates for deadlifts because a deadlift shouldn't be dropped or slammed. Dropping the weight is classified as yellow paddle Failure #3 in the IPF Technical Rules book. If you pick up that PR deadlift and then drop it, well, you don't actually get your PR. If you're strong enough to pick it up, you're strong enough to put it down. End of story. If that's not enough, dropping a deadlift cheats you from the training benefits the eccentric part of the lift offers.
Another word on bumper plates. They suck for squats and bench. Two reasons why:
Because of their width, they reduce stability by reducing the center of mass. The farther out the weight is located, the more unstable the bar becomes. Centralize the weight with a set-up that concentrates it as near the center of the bar as possible.
Using bumper plates to create the illusion that you're lifting more is just a flat-out amateur move. Don't be a poser. Get really strong and use iron 100s if you want to use big wide plates.
The final word on plates, make a conscious decision if you want round plates, or multi-sided. The 12-sided plates are popular for their ability to stay put and not roll away at inconvenient times. Opt for a round if you're training for competition since that's what you'll see at the show.
Kettlebells
Like a lot of the gear we discuss here, kettlebells made a comeback in the past twenty years as a part of functional fitness.
Kettlebells are the go-to equipment for exercises like the—you guessed it—the kettlebell swing, and also the Turkish get-up.
Their increased popularity has led to greater availability and creative designs. Kettlebell designs fall into one of two form factors: fixed and adjustable. Consider your available floor space when choosing between the two. Also, consider your flooring and select polymer-coated for the greatest floor-friendliness.
Here are a couple of selections to get you thinking:
Fixed
MetrixxÒ Elite

Polymer coating protects your floors and keeps the kettlebell from obvious rust.

Power Systems

Range of price ranges and designs, including HammerStrength and LifeFitness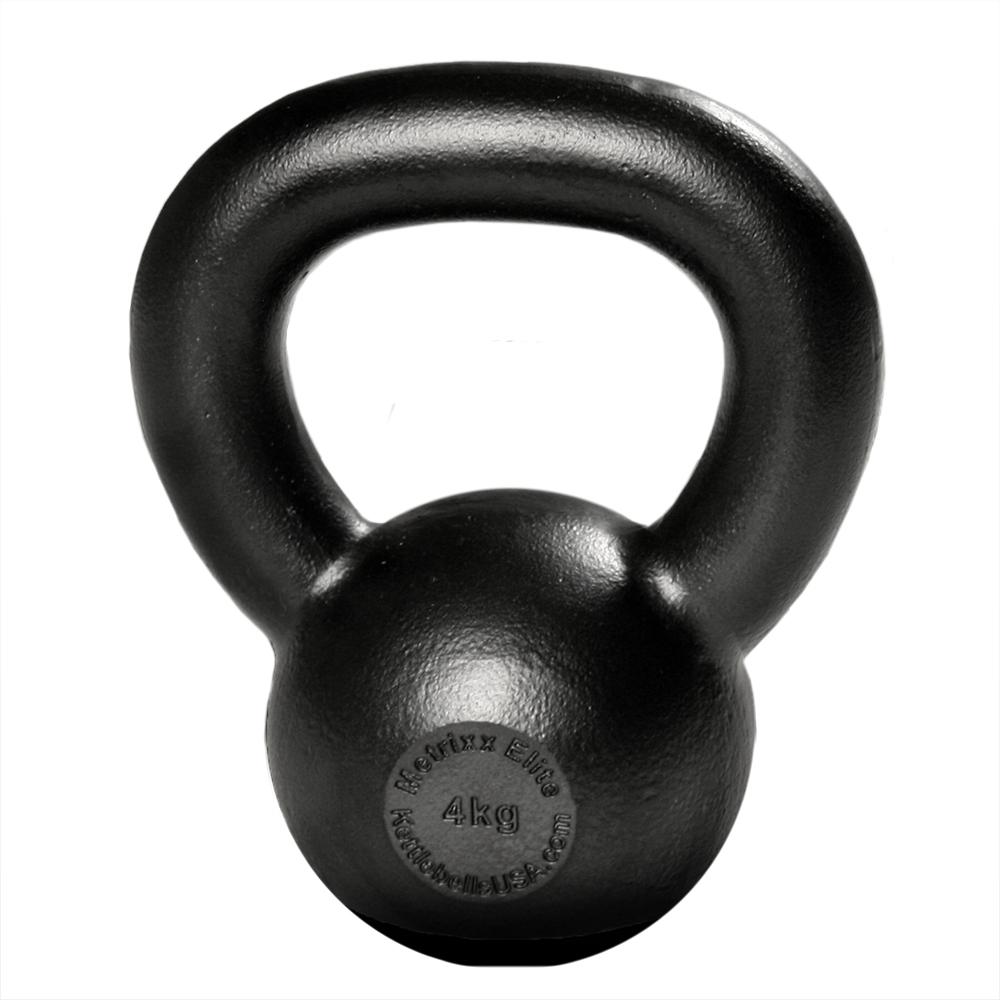 Adjustable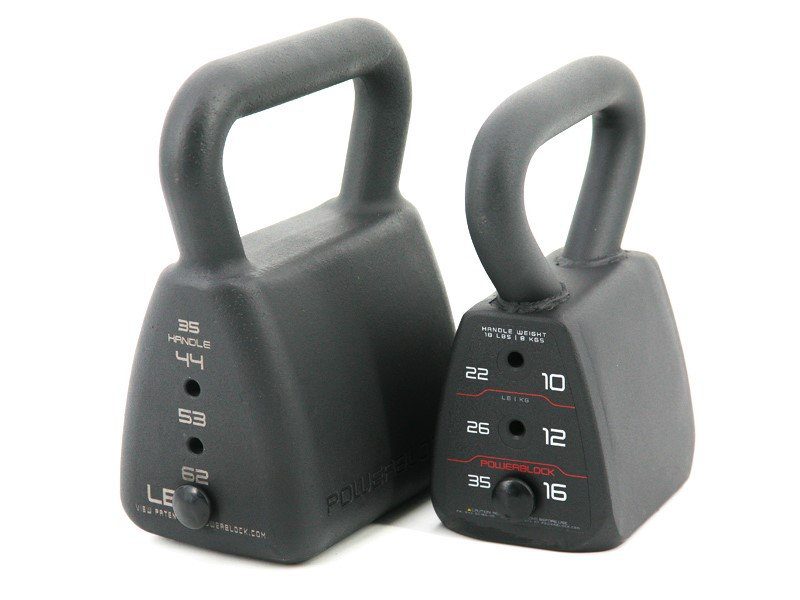 #7. Cables
If you train for physique development and have the space and available funds, the one piece of equipment you should have is a cable machine. A well-designed cable machine may well be the only piece of equipment you need. They are that versatile.
Cable machines are fantastic for physique training. Only dumbbells come close.
Where cables excel is their adjustability, both resistance, and position. The weight can be adjusted and so can the location of the pulleys and your body in relation to the pulleys, empowering you to precisely isolate individual muscles in a way impossible with gravity-dependent equipment.
There are a lot of free-weight fans out there who cry heresy at this, but physics is physics. Working the muscles in direct opposition is key to efficient muscle building and nothing allows things to line up like cables.
If you're a seasoned bodybuilder, you already know you don't need to be concerned about the actual amount of weight you're lifting anyway. If you're not one of those people, know that the constant tension, range of motion, and direction of resistance are way more important than knowing exactly what poundage you're moving. Your muscles will tell you.
And if you're training for physique, who cares what's written on the weights, right? Your muscles can't do the math anyway.
Cable machines suited for home gyms come in three basic designs:
Fixed uprights, adjustable weight stack.
Adjustable, dual-axis arms, adjustable weight stack.
Fixed pulleys, free weight.
Machines that feature vertical and horizontal pulley adjustment (i.e. #2 above) work best for home gyms. The adjustable arm versions don't provide pull-up bars—at least any of the ones we researched. The fixed upright machines have them. If pull-ups are vital to your program, this becomes a consideration.
Our pick: the FreeMotion Genesis Dual Cable Cross. Our reasons: it's hard to beat the ability to swing the arms wide, especially for those of us with big wingspans. This comes in super-handy for back work and cable crossovers.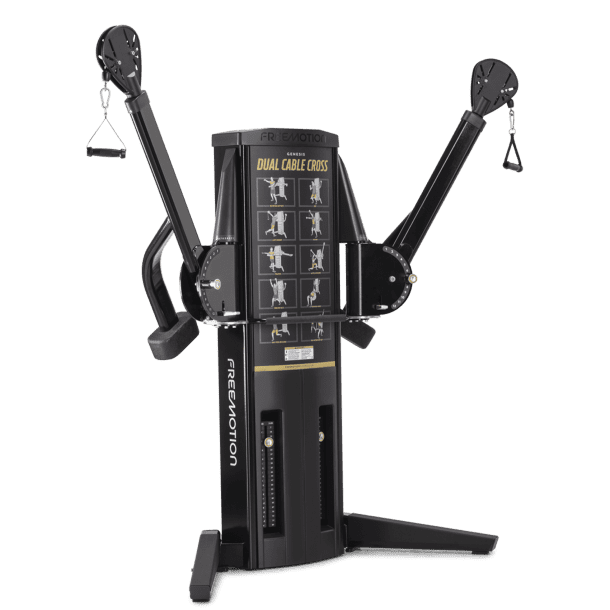 If you're willing to sacrifice the variable width feature, or want a machine that includes pull-up handles, opt for LifeFitness' Signature Series Dual Adjustable Pulley.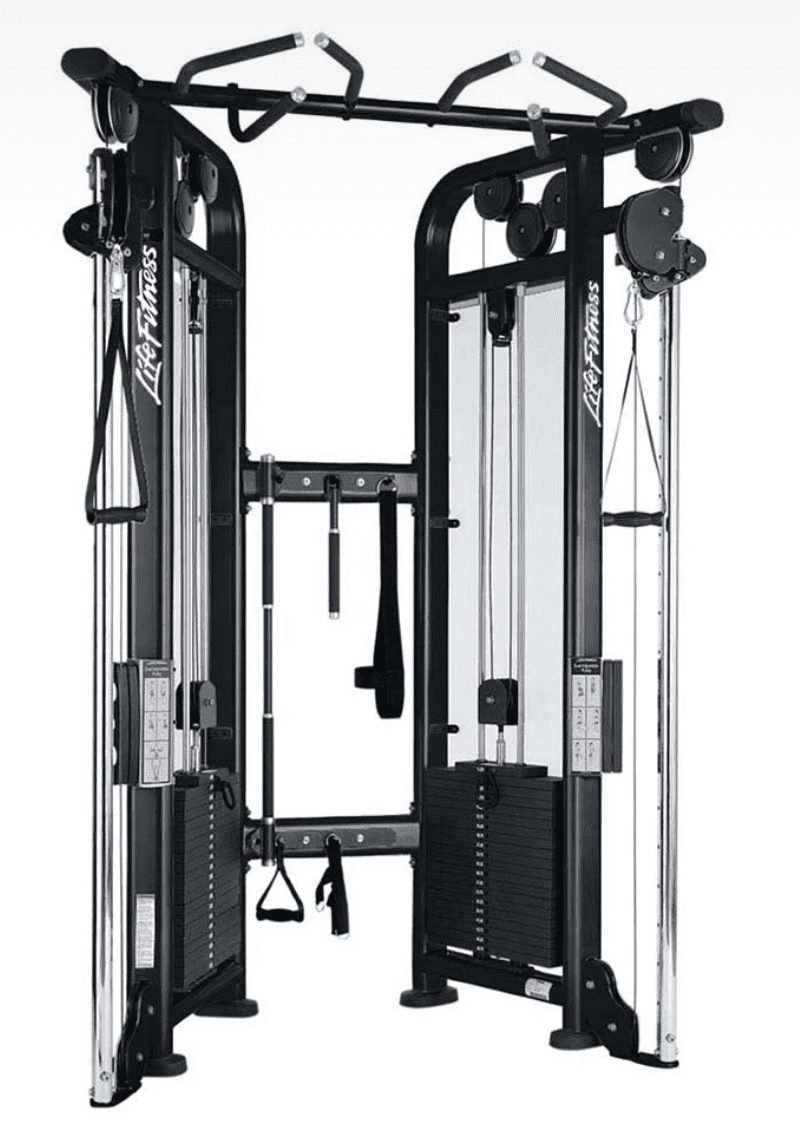 Both these machines will set you back. The FreeMotion machine retails for $7999. The LifeFitness model goes for about a thousand less at $5650. Both can be financed. With the pandemic of pandemic gym closures (sorry, couldn't resist), a local defunct club may have one of these babies available at a deep discount. Worth checking. Hey, they probably have other equipment available as well.
If budget limits you, check out a cable machine that uses barbell plates instead of a selectorized stack.
Functional Equipment
#8. Suspension Trainers
Navy SEAL Randy Hetrick was looking for a way to stay fit while on long deployments. He grabbed some parachute webbing and MacGyvered the prototype TRX and the rest is—as they say—history.
Imitations have come along since TRX was introduced but the unmistakable yellow and blackstrap apparatus stands alone as the functional bodyweight training tool.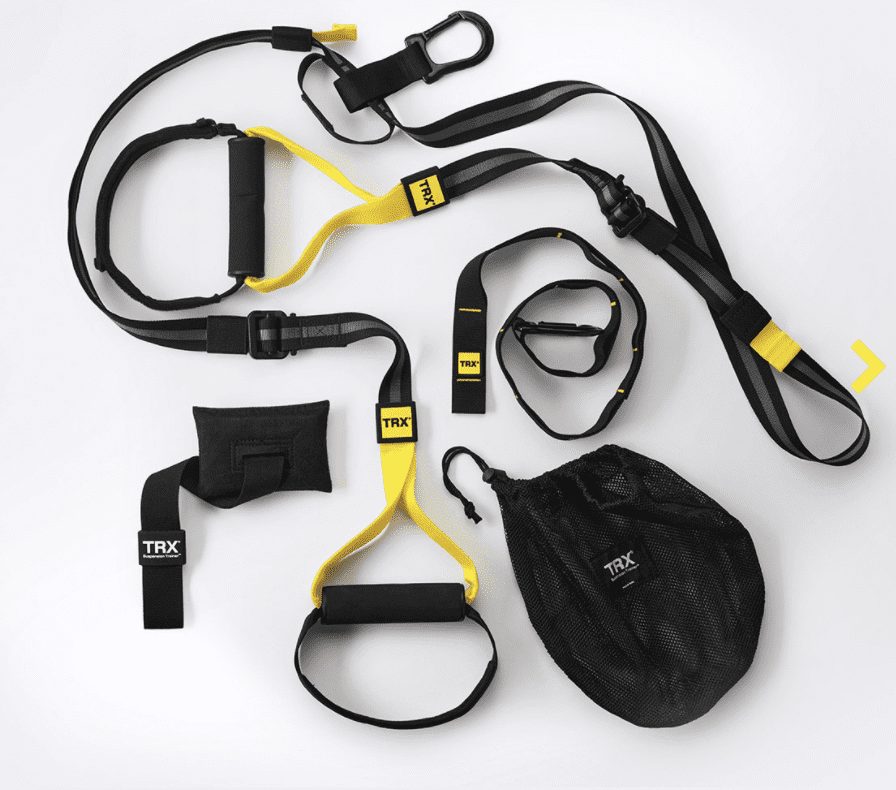 There's not much you can't do with a TRX. (There are probably some things you shouldn't do.) The ability to adjust resistance simply by moving toward or away from the anchor point, and its functionality for skeletal muscle building and stretching make suspension trainers almost a must-have for the home gym.
#9. Elastics
Elastics include hollow rubber tubing, flat loop bands, and sheets. Rubber sheeting, the most renowned is Thera-Band—is seen all the time in physical therapists' offices. We're not covering sheeting here for home gym use because, in our view, it's way down the list of equipment to consider. It is a very useful accessory…only not as versatile as tubing and bands.
Tubing
Tubing most often comes with fixed handles or carabiners at each end where you can attach handles or wrist/ankle cuffs.
Color codes delineate resistance strength and it's expressed in light/easy up to heavy/super-strong. The prettier colors typically denote lighter and the more industrial colors like black and dark blue mean strong. There's probably some psychology at work here in color selection. Color palettes differ by brand…there's no universal color scheme.
For home use, you're best off selecting brands that don't require that you keep a big thick bundle of cables. There are designs where tubes can be added to loop that serves as a door or post anchor, or handles that do the same.
Remember that you can combine tubes to progress the resistance.
Our best tube set pick
If you had to pick one tube set, our pick is the Predator, invented by JC Santana of the Institute of Human Performance in Boca Raton, Florida. JC was a pioneer of functional fitness and still trains competitive martial artists. A crafty equipment designer, the Predator shows off JC's ingenuity.
IHP uses tubing produced by dipping. Dipping produces a sturdier tube than extruding. Dipping is an accretive process where the tube diameter increases each time it's dipped into liquid rubber. As the rubber dries, it's dipped again, laying down another layer, much as you see in tree growth.
We've all seen the growth rings in trees. Extrusion forces semi-liquid rubber through a mold, which leaves weak spots along the length of the tube, making it more susceptible to wear and failure. Failure means snapping, and if you've been on the receiving end of a tubing break, you know that you want to avoid it.

The Predator provides handles and replaceable tubes, and you can progress from one to three tubes. The Predator is a bit long, but its overall utility outweighs that downside.
We also like GoFit Power Tubes. We've got a set we travel with and have found them durable and easy to use. Companion handles and cuffs, and a door anchor, attach easily and make more leg exercises possible.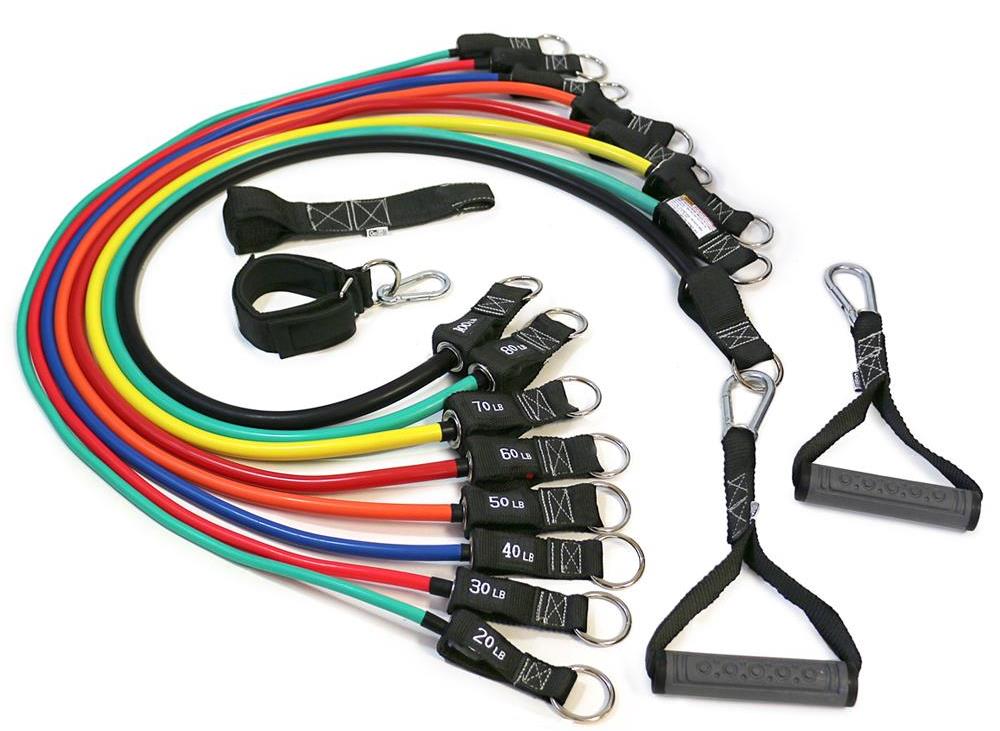 Bands
The bands are color-coded flat rubber loops available in various thicknesses, ergo resistances, like tubing is. They provide the unique ability to position yourself "inside" the loop, and due to their flat design, you can stand on them comfortably, although the heavier a band gets, the more it will stress your feet when used for band squats, rows, or deadlifts.

If you like bands for those floor-based exercises, check out the X3 Bar Elite. It features a ground plate that sits over the bands for floor work, relieving the tension on the outside of the foot when heavy bands are used.
#10. Balls
Stability Balls
Stability balls, also known as Swiss balls, gained popularity along with functional fitness. They're inflatable, and because they provide an unstable surface, they're believed to require more coordination and thereby develop the body's support muscles during exercise, core in particular.
A Swiss ball can serve as a bench alternative for chest presses, sit-ups, and crunches, and back support for wall squats.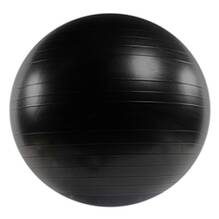 Swiss balls should never be used as a standing platform. More on that below in Bosu Balls.
Stability balls make a versatile home-gym accessory because they can double as a desk chair. There are pros and cons to this; physical therapists and spine specialists don't agree on there's more upside or downside when it comes to spine health. Switching between a ball and back to a traditional desk chair as your trunk fatigues seems to make sense.
Stability ball as desk chair alternative
If you want a stability ball for the gym and a desk chair alternative, pick at least one that meets you're seated height.
To select a dual-purpose ball, measure the distance between the floor and your seat at the height where your thighs are parallel to the floor, then pick a ball diameter that approximates that.
A number of manufacturers and fitness equipment vendors sell stability balls. Look for burst pressure when shopping, and of course, pick the diameters that serve your individual programming needs.
Bosu Balls
Bosu is one of those lucky brands where—like Coke, Kleenex, and Frisbee—the brand became the generic name for the product type.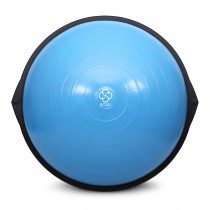 Correctly called the BosuÒ Home Balance Trainer, the Bosu "ball" can be used ball side up, or down, depending on the exercise. They're a nifty accessory for upside-down push-ups, in particular when paired with a suspension trainer.
Like any tool, the Bosu can be used incorrectly. Disclaimer: We're expressly recommending against any weight-bearing exercises while standing on one of these. Squatting or deadlifting, for example, while standing on a Bosu isn't daring or beast mode, it's just flat-out stupid. There are plenty of ways to work your core and train your balance that doesn't carry the risk of spinal injury.
Medicine Balls
Medicine balls are a really—really—old gym implement. As in thousands of years old.
Functional fitness training has brought them around again and now they're everywhere, lying around commercial gyms like so many giant pine cones fallen from a resistance-training tree.
If your routine calls for medicine balls, they're easy to add to your home gym set-up.
Medicine balls come with the more traditional stitched covers, and also the relatively more-durable solid all-rubber versions. And then there's the solid polymer skin filled with sand or birdshot, sometimes called a "slam" or "dead" ball. Which you choose is a matter of preference.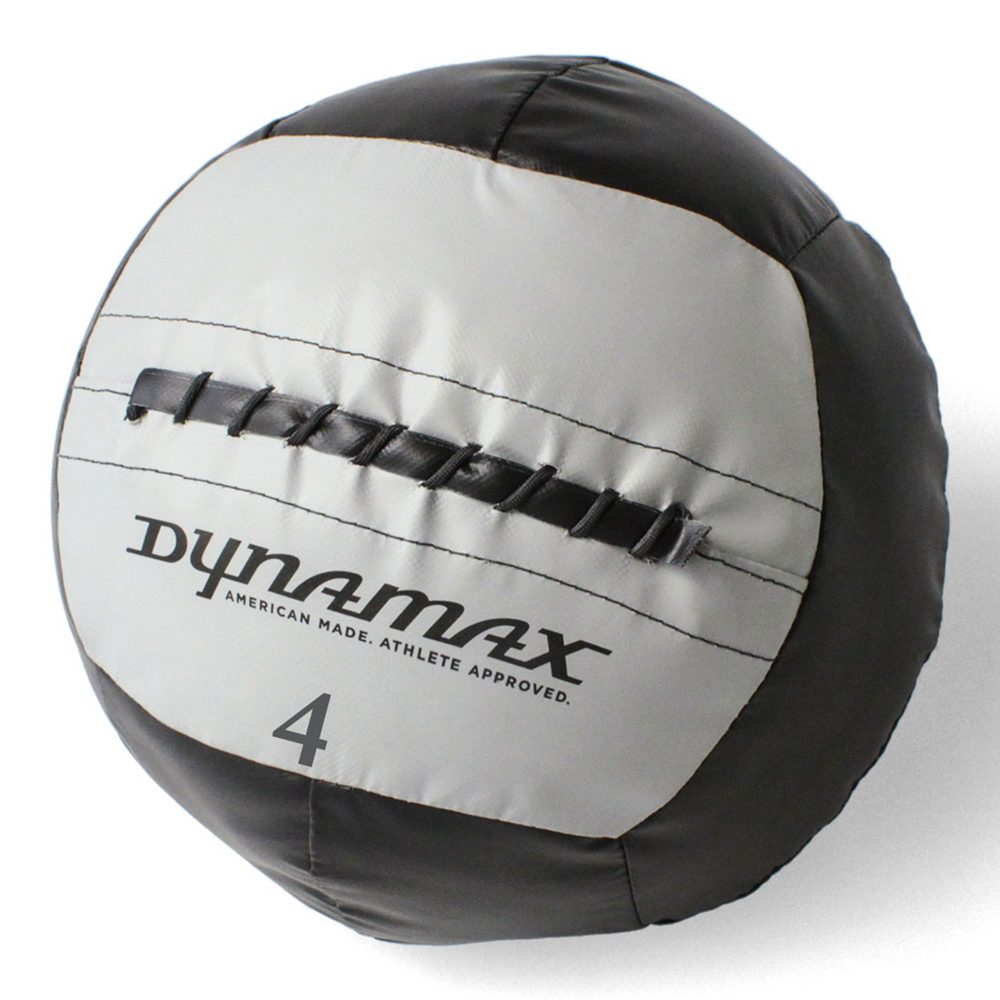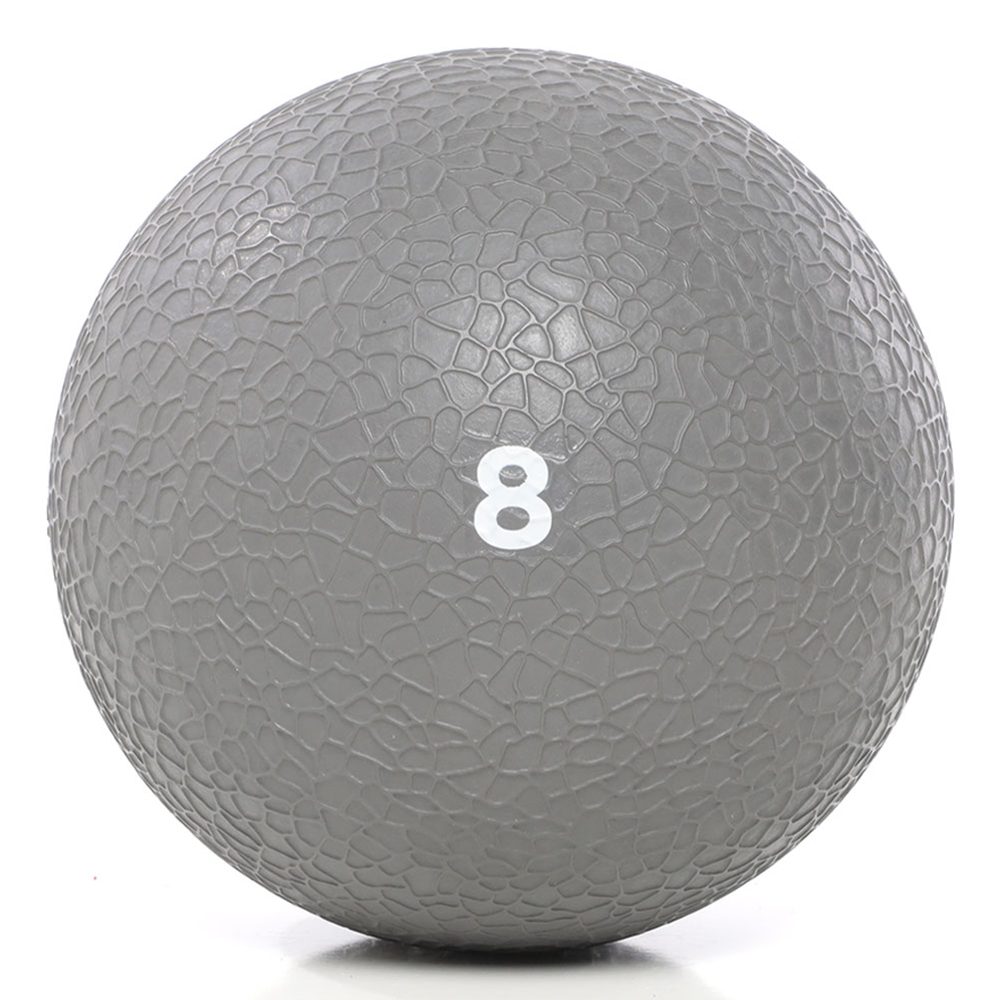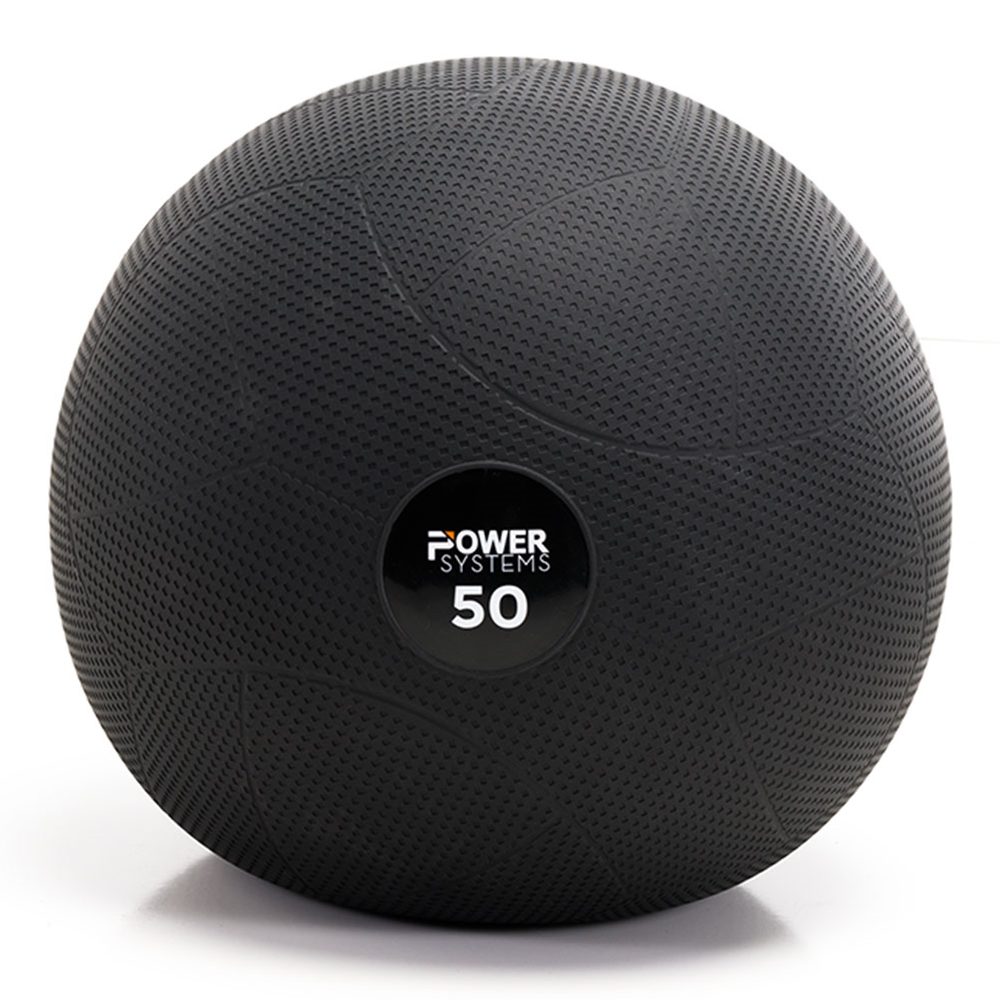 The stitched variety exhibits a little more "give" than the all-rubber types, and the all-rubber may work a little better when gripping the ball or using it as a push-up accessory.
Other Accessories
For our purposes here, we stuck to what we viewed as the basics and didn't get into the other useful accessories you can add to trick out your home gym. Among these are specialty bars, weighted clothing, Bulgarian bags, sliding discs, slant boards, cable cuffs, and so on.
None of these accessories takes up much room but if you've got a bunch of them, they can create clutter. Get yourself a storage box for your accessories to keep your space tidy, organized, and professional-looking.
Final Thought On Home Gym Equipment
What we've provided here are some basic guidelines to keep in mind as you build out your space. Where we have a preference, we've stated so.
Don't let us over-influence you. Use the guidelines here plus a Google search or two when selecting your own home gym equipment.